Confessions of Sarah Everett: The James Madison Girl
So unless you have been living under a rock for the past two years (or are a freshman), it is possible that you have heard of "The James Madison Girl." But do you know Sarah Everett, the woman behind the man that we all love? Sarah, a senior, was generous enough to take the time out of her midterm-filled week to answer some questions for Her Campus about what her final thoughts (and a few confessions) were during her last semester at James Madison University.
HCJMU: What made you leave Alaska and come to JMU?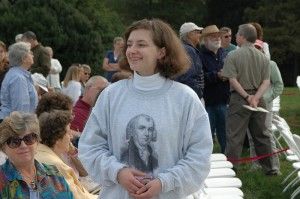 Sarah: I left because of James Madison. I was fascinated with James Madison prior to going to college and I decided once I was done with high school, I would transfer to JMU as soon as I could. I did two years at a community college first to save money and then I transferred to JMU in fall of 2010.
HCJMU:
Before you came to JMU, did you have any assumptions about the campus? Now that you are a senior, were the assumptions correct?
Sarah: I came to JMU not really caring about what the culture/system would be like. I knew it would be different from Alaska. I also knew JMU was a party school, but that didn't matter to me because I knew it was such a great school. This school is a spirited community in the sense that it has both school spirit and a religious culture. In Alaska, you are encouraged to be different, be an individual and yourself, while here people are kind of the same. There is an underlying culture on the East Coast that basically promotes everyone to watch the same thing, talk about the same things, etc. Which is probably why I am a mystery to people; I am boldly and blatantly myself, which makes me stand-offish to some people because I am "different" from the norm. I don't have a personal presence. I have a personal presence as James Madison but not as Sarah. At least that is my personal view. 
HCJMU: What are your favorite classes and why?
Sarah: French 300 and Theatre for Young Audiences/Children's Theatre. French, because I have a bit of a passion for learning French, studying and working hard in it. Theatre for Young Audiences/Children's Theatre because it deals with puppetry, imagination and storytelling. Those things have been strengths of mine, even when I was young.
HCJMU: What is the most shocking thing that happened to you during your stay at JMU?
Sarah:
Most shocking thing: September 11, 2010, when after having been on campus for only a week, we won the football game against Tech and I was James Madison that day. I was completely invaded by hundreds of JMU students who flocked to the football stadium. They crowd surfed me and it was a complete culture shock; it was fun but it was like whoa! But that broke the ice for people to be more comfortable with me as James Madison.
HCJMU: If you had found out that you would get this much attention by being James Madison when you transferred, would you still have gone through with it?
Sarah: Yes, but I would have been intimidated, had I known. But you always follow God's will, no matter what the stakes.
HCJMU: What is it you are looking forward to the most about graduating?
Sarah: Being free.
HCJMU: Free from what?
Sarah: The rigors of having to follow academic standards that all my life have never fit me. I have always struggled in school because the academic system seems to never have been able to teach me in a way that I understand and learn. I've known that ever since I was in the third grade.
HCJMU: How has your experience living on campus been?
Sarah: It's been convenient. I have enjoyed it, but I have had roommates who have either been uncomfortable with me or intimated by me. Adjustments had to have been made because of that.
HCJMU: I am sorry that you had to go through that. Are there any suggestions you would give to people living on campus and picking roommates?
Sarah: There are three things I would suggest. One: People have to learn to be gracious and understanding toward people's differences. Two: People should find other people who share the same faith and are not afraid to talk about their faith with each other. Three: People should find roommates who share the same living schedule or living style, because if one person is a night owl and the other is not, it will create a lot of tension.
HCJMU: How are you now with your final JMU roommate?
Sarah: I honestly can say that she's the best I've had in all the aspects that I've [given]. It seems that every semester it has gotten better and better. The first semester was the hardest, but my final semester is the best. Looks like God was teaching me the whole way through.
HCJMU: So I thought I'd ask you some silly questions so everyone can see the fun side of Sarah Everett. Now, we all know you love James Madison, but if you could be a superhero, what power would you possess?
Sarah: Flying; I would love to fly. I would also love to breathe underwater. I don't really know why but I think those are just two things I wish I could actually do.
HCJMU: Do you have any guilty pleasures?
Sarah: Yes. I am a huge fan of Michael Caine. I own just about all of his films. I listen to the artist Enya almost nonstop. I listen to music in French as well. Also, my favorite childhood character, next to Finn McMissile from Cars 2, is Sebastian the crab from The Little Mermaid.
HCJMU: That is so interesting! Have you tried speaking in an accent?
Sarah: Yes! I speak in a French accent frequently. Occasionally, I like to speak like Michael Caine in a cockney British accent. And I even made up my own accent; it's called cat language! It is how I talk to my black cat, Misty. It's a combination of the meowing sound of a cat with childlike English words.
HCJMU: That sounds like fun!
Sarah: It is fun! And Misty talks back!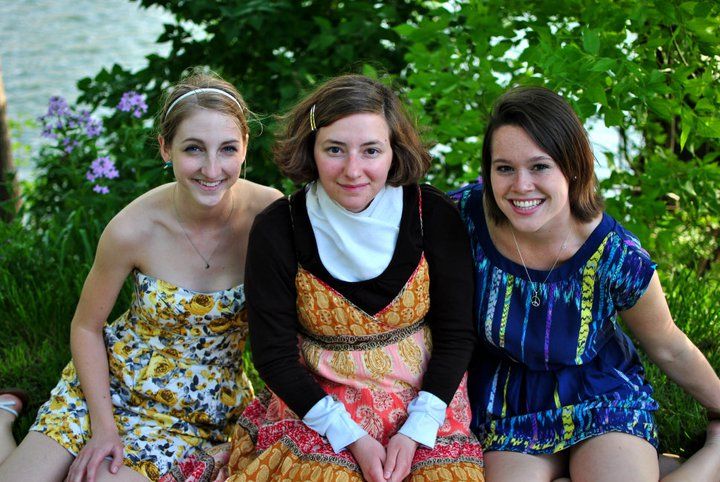 HCJMU: Looks like you are a real cat lover. Now I have to ask the question that I am sure everyone wants to know. What is it you will miss the most about JMU?
Sarah:
Bottom line: being James Madison for James Madison University.
HCJMU: Anything else?
Sarah: The people. The friends that I've made; but they're all graduating with me. Ha! Oh, and the food too.
Looks like Sarah is ready to go off into the real world after her journey as a student at JMU. As a senior myself at James Madison University, and her current roommate, it is safe to say that we will all miss you.