My roommates and I have gotten very creative this semester with ways to spice up our weeks, especially during these times. From fall weekend adventures to movie nights at the apartment, we're making the most of the time we have. 
One thing we've been implementing are weekly "fancy" vegan meals. (I put fancy in quotes because they are quite simple, with minimal ingredients needed. We're still college kids on a budget after all).  
Being the only vegan of the group, my friends have made it a tradition to find one vegan meal a week that we all cook and eat together. We find a recipe on none other than Pinterest, split up the ingredients among our weekly grocery orders and pick a night. 
This has become one of the highlights of my week; something we all look forward to. It's a great way to spend quality time with my roommates while finding some delicious new recipes. I tend to eat the same meals, as my friends love to point out. (What can I say? I'm a creature of habit). This forces me to try new meals and expand my culinary horizons. Not to mention, I find it to be  a huge destressor. We cue some bops and get to choppin'. 
Here are 5 simple yet flavorful vegan dinner recipes we've attempted with success: 
*adjust quantities as needed*
Cauliflower Buffalo "Wings"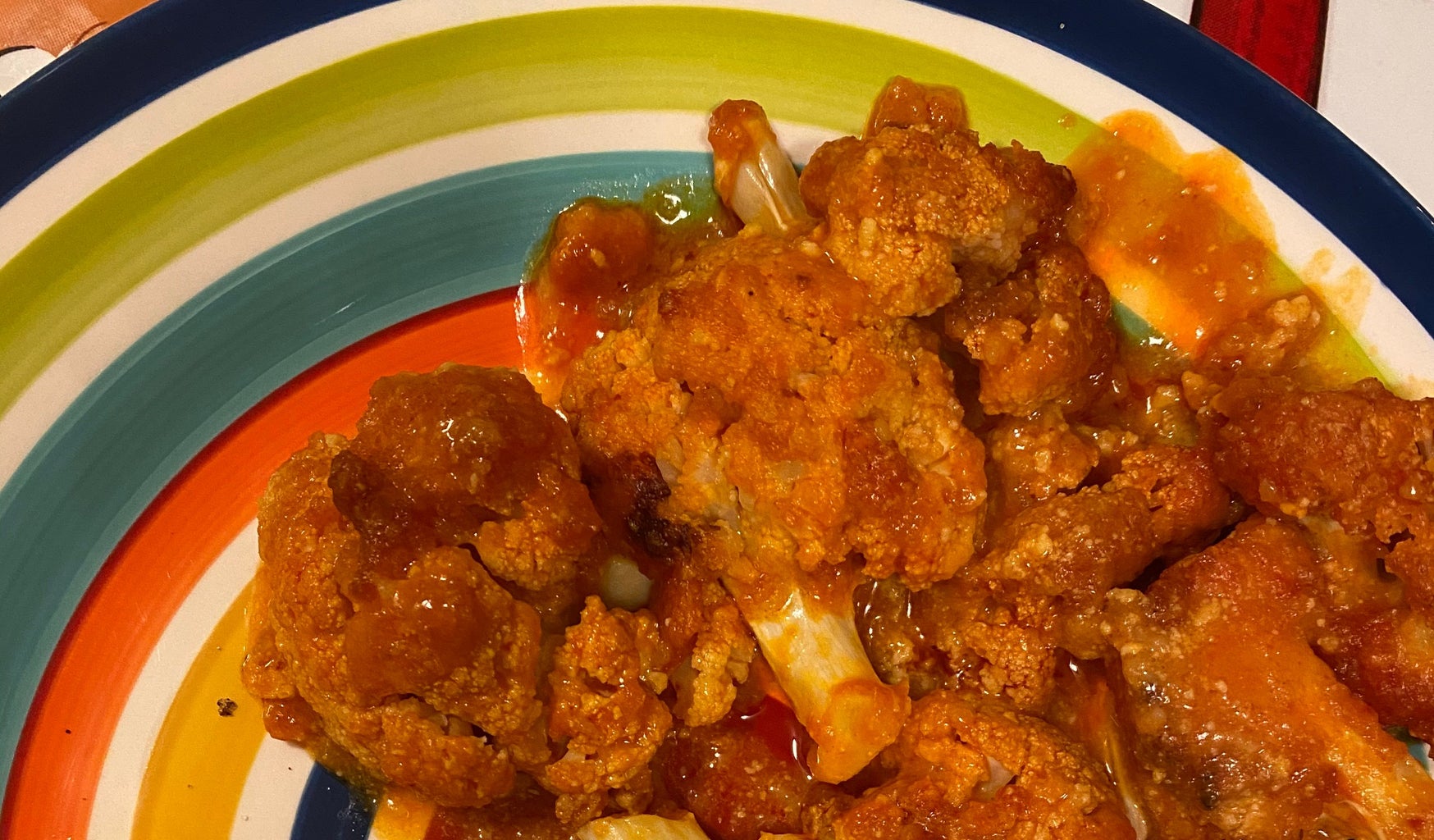 Ingredients:
1 large head of cauliflower (cut into florets)

Olive oil

¼ cup almond meal

¼ tsp of garlic powder

3 tbsp of almond milk (or any non-dairy milk of choice)

½ cup of breadcrumbs

½ cup of hot sauce or buffalo sauce
Recipe:
Preheat the oven to 425.

Line a large baking dish with parchment.

In a large zip lock bag toss cauliflower florets with olive oil.

Add almond meal, breadcrumbs and garlic powder to a large bowl. Add in almond milk.

Toss florets and coat them in the bowl's mixture and line on the baking pan.

Bake for 25 minutes.

Dip cauliflower in the hot sauce.

Bake for another 15 minutes. 

Serve with choice of side and bon appetit! 
Black Bean Taquitos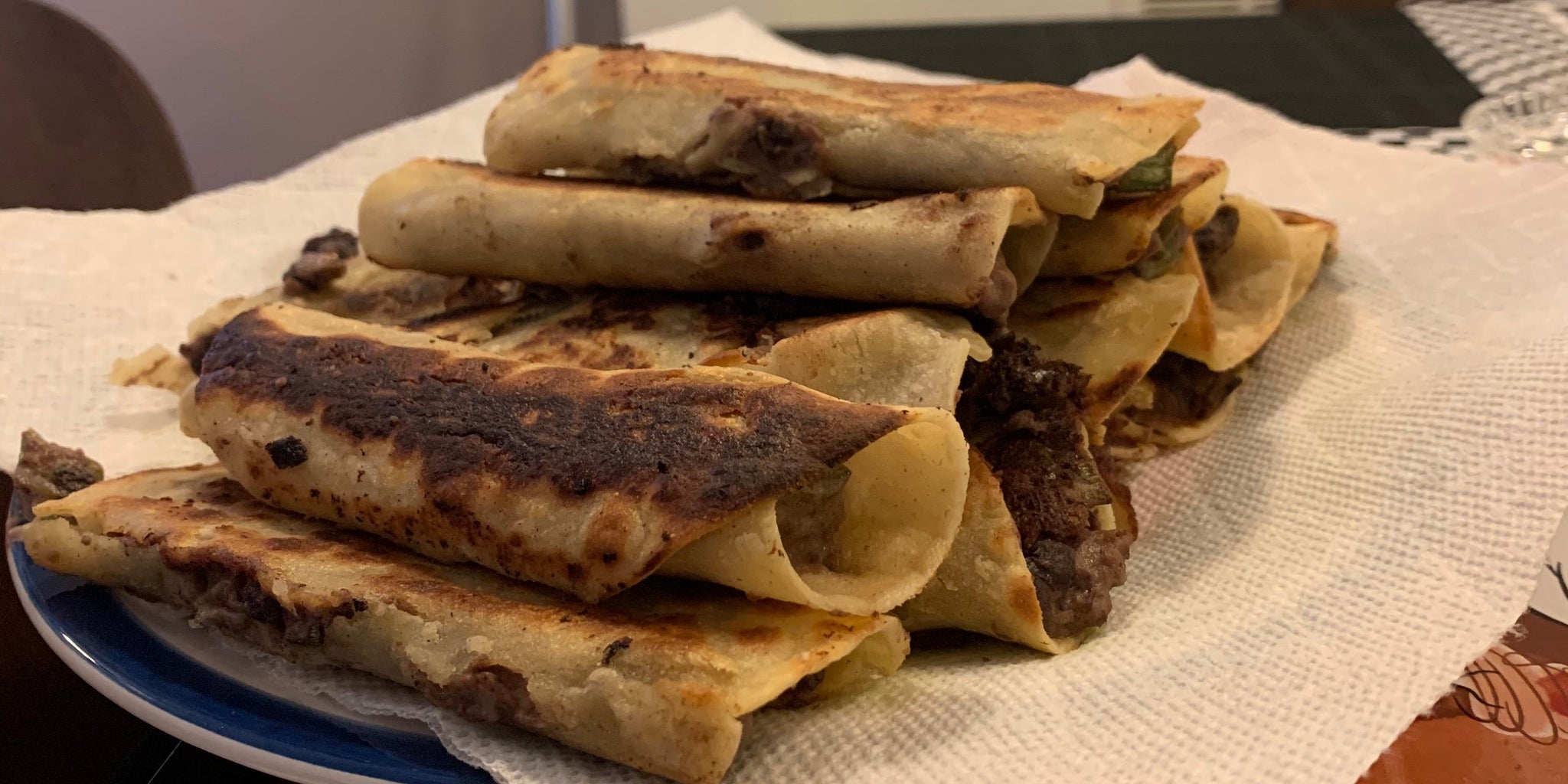 Ingredients:
4 oz. Miyoko's vegan cream cheese (we used the sensational scallion flavor but plain will also do) 

Corn tortillas 

15 oz. can of black beans

4 oz. diced jalapenos 

2 green onions

Garlic powder (we always opt for fresh garlic in addition to powder)

Salt 

Olive oil 

Any other spices of choice 
Recipe:
Rinse and drain jalapenos and green onions.

Add vegan cream cheese, diced jalapenos, black beans, green onion, garlic powder and salt into a large bowl. Stir together until evenly blended. 

Stack tortillas on a plate, cover with a paper towel and microwave for 20 seconds to soften. 

Heat cast iron-skillet or large non-stick pan over moderate heat. 

Put 2 tbsp of black bean filling in each corn tortilla, then roll shut. 

Add oil to the skillet.

Add filled taquitos. Cook on each side until crispy brown.

Serve & enjoy :) 
Lentil Bolognese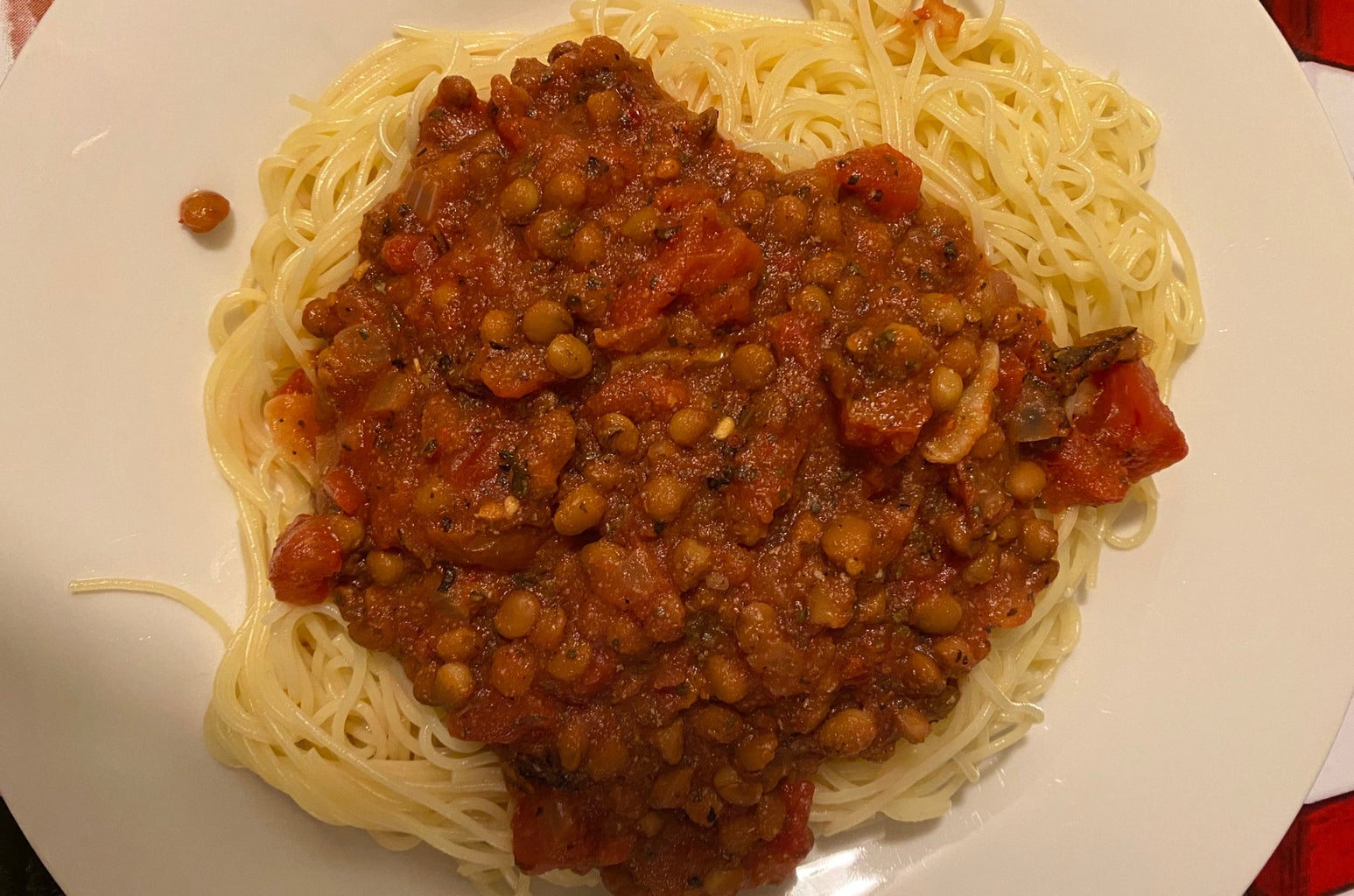 Ingredients:
1 bag of lentils

1 can of mushrooms

1 yellow onion

1 can of diced tomatoes

1 can of pasta sauce

Fresh garlic

Oregano 

Red pepper flakes 

Pasta 
Recipe:
Cook the pasta as normal.

Sauté the vegetables (onion, garlic, spices and mushroom) until soft. 

Add diced tomatoes, tomato sauce, lentils and water. Bring to a simmer for 25 minutes.

Add red pepper flakes, oregano and any other spices of choice.

Plate pasta and bolognese sauce. 

Opt: add nutritional yeast as cheese alternative. 
Spaghetti Squash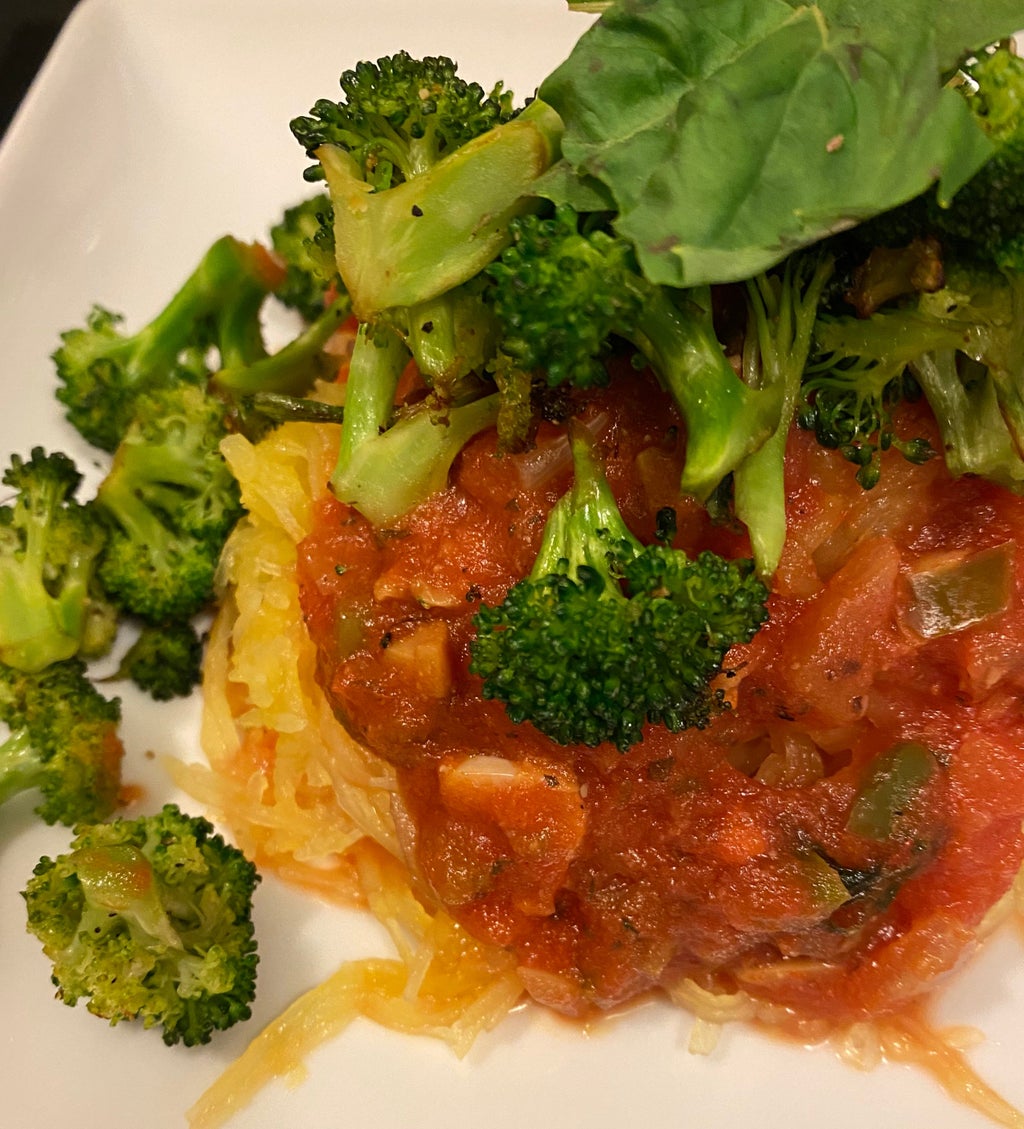 Ingredients:
Fresh basil

Fresh garlic

Garlic powder

1 yellow onion 

Diced green pepper 

Oregano

Spaghetti squash (we used 2 for 3 people) 

1 can of tomato sauce 

Salt 

Olive oil

1 head of broccoli (cut into florets)

Opt: nutritional yeast for a cheese alternative 
Recipe:
Preheat the oven to 350.

Add broccoli florets to a pan with olive oil. Sauté and season with garlic.

In a separate pan add olive oil, fresh garlic, onion, diced green pepper, tomato sauce and spices.

Cut open each spaghetti squash into two halves and scoop out the seeds. Line the insides with a drizzle of olive oil.

Place squash on a baking pan lined with olive oil.

Bake for 40-50 minutes. 

Scrape out the insides shredding into a spaghetti like texture.

Plate spaghetti squash with sauce, broccoli and garnish with extra fresh basil. 
Vegan (S)Mash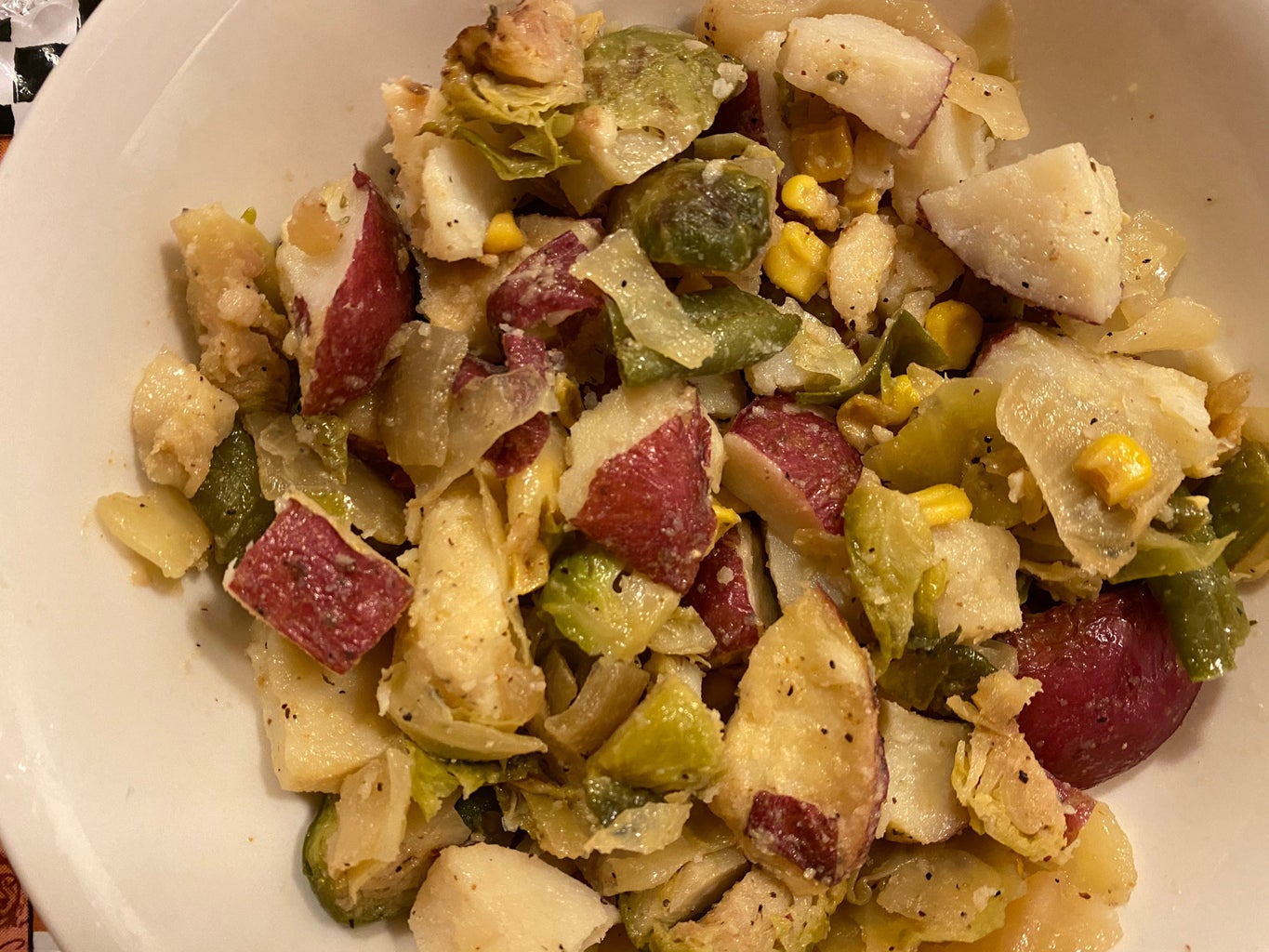 Ingredients:
1 bunch of brussel sprouts

1 bag of red potatoes

½ head of chopped cabbage

1 can of corn

1 can of green beans

1 yellow onion 

Olive oil

Fresh garlic, onion powder, basil, cayenne, paprika, parsley, s&p 

Nutritional yeast 
Recipe:
Cut and chop all vegetables. 

Boil potatoes in a pot for twenty minutes. Then lightly smash. 

Put in the oven at 425 with olive oil, garlic, onion powder, parsley, s&p.

Sauté chopped cabbage in olive oil with cayenne.

Sauté green beans and corn in olive oil with paprika.

Sauté onions and brussel sprouts in olive oil with garlic, pepper and basil. 

Mix all vegetables together in a large bowl and top with nutritional yeast. 
Chef it up in the kitchen with your roommates, friends or have yourself a nice candlelit dinner for one (done that). All of these recipes involve minimal ingredients and little time. In the end, you're left with a delicious meal, made with care from start to finish, that you can be proud of. 
Follow Brianne Petrone on Instagram.