Original photo by Grace Feuchter
29 Rooms: The Alternative Reality
This past weekend my friend Gracie and I took a weekend trip to DC to ~expand our reality~. 
Back in May, we purchased our tickets for the 29 Rooms "experience." 29 Rooms is essentially an interactive art exhibit put on by the brand Refinery29. It's a place to explore different styles and be a part of the art - a photoshoot dream, in a nutshell.  Refinery29 hosts this event several times throughout the year, with pop-ups in different cities around the country such as, LA, NYC, Chicago, DC etc. It's always on the move and the exhibits are always changing! 
Refinery29 collaborates with different brands, visionaries and nonprofit organizations when creating their interactive rooms, each unique with its own statement and creative expression. A lot of the rooms incorporate, technology, art and culture into their designs. 
It's a "one-of-a-kind experience" and I'm gonna give ya'll a rundown on how to tackle it, what to expect and how to get the most out of your experience.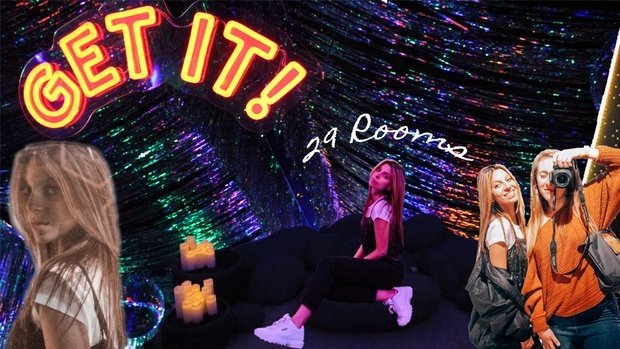 Original photo by Grace Feuchter
The Prep
It's all about the preparation. The better you prep, the more confident you'll feel come the day of, be able to enjoy the experience and just be present. As far as preparation goes, I'm talking outfit, what to bring and your plan of attack…
Planning your fit:
It's pretty much a given that lots of pictures will be taken this day. There are several different backdrops to consider (29 to be exact), all different colors, different vibes, etc. Because of this, it's best to go basic with what you wear. You don't want to clash with any of the rooms or the vibrant colors. Also, when planning your outfit try to think of some layering options you can have. If you're looking to take as many pics as we did, have some simple outfit changes so not every photo looks the exact same. It gives you some variation. 
For instance, I work a simple white crop from Brandy Melville that I paired a silk tank over for that funky layered look. I also brought an oversized black thrifted bomber jacket with me. I wore the layered tops, took the silk tank off and just had the white crop, and added the jacket in at times. I essentially had three different outfit options without having to change in a bathroom. I paired it all with some black pants, my fila sneakers, a chain belt and called it a day.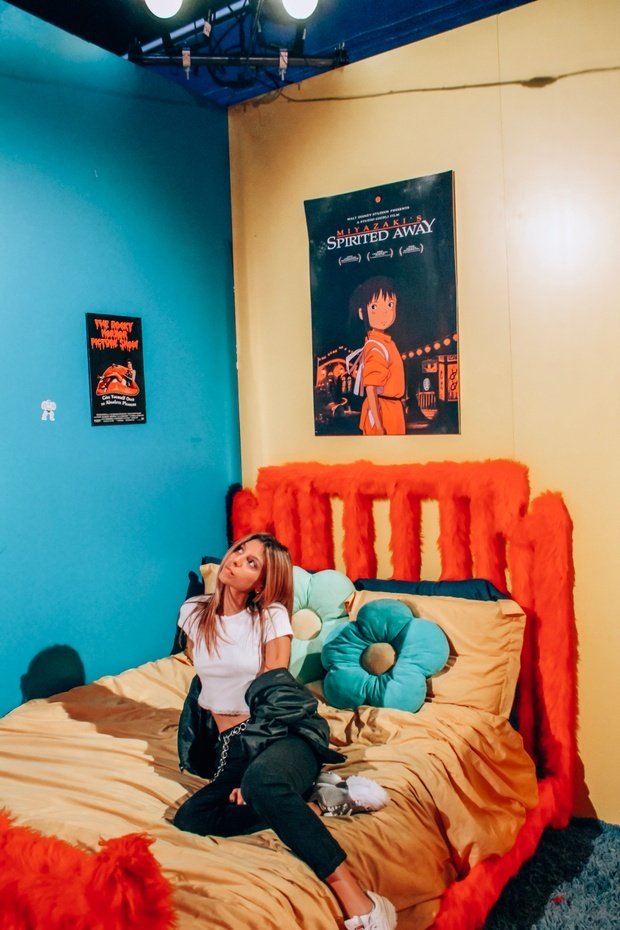 Original photo by Grace Feuchter
What to bring: 
Besides your phone and any other cameras you wish to bring, keep it minimal with your baggage. They do check bags at the door (which doesn't take up too much time) but you don't want to be lugging around a bunch as you move from room to room, taking pics and interacting with the exhibits. I brought a mini backpack, easy to carry around, fit my phone and camera and that was about it. I also recommend bringing a mini water bottle with you. They do allow waters. Save some extra coin on concessions and, I promise, you will get dehydrated.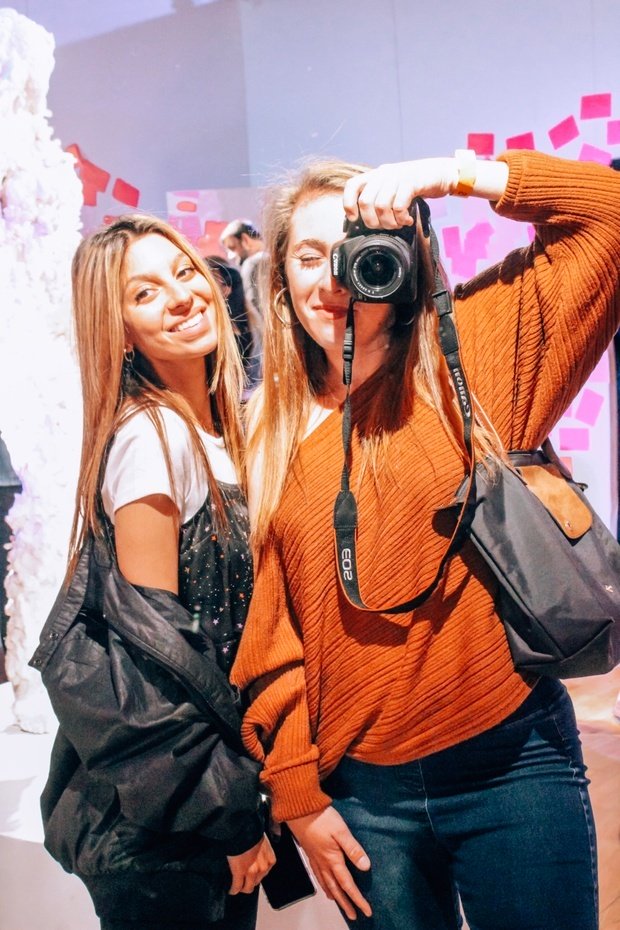 Original photo by Grace Feuchter
Plan of attack: 
Not that you need to map out your every move (cuz what's the fun in that?) but try to go in with some sort of idea of strategy. Basically, what Gracie and I decided was, there were 29 Rooms and we had 2.5 hours for our ~experience~. We came to the conclusion we probably weren't going to get to every room, nor would we like every room or feel the need to take a picture in all of them. So, we decided to just go for it, start in one corner and work our way through. We knew at first glance we'd be able to tell if we vibed with a room or not. Our plan of attack worked really well. We were able to get to all the rooms we wanted by the end of our time slot, and even had time to participate in some of the art.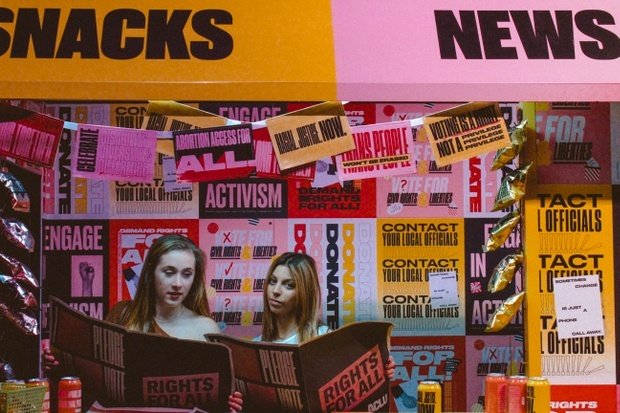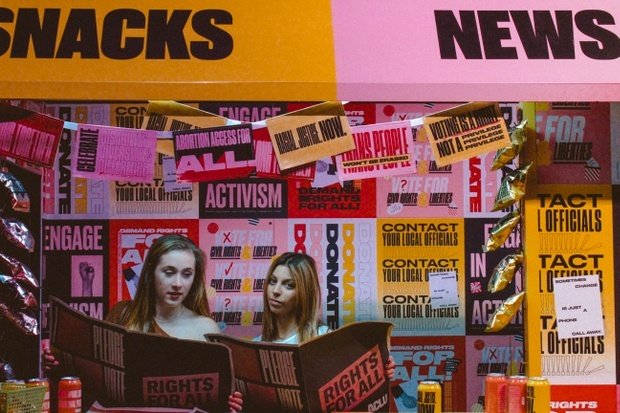 Original photo by Grace Feuchter
The Rooms
As a said before, there are 29 Rooms, and it's pretty impossible to get to all in 2.5 hours, especially since the more popular ones will have a line of people waiting to get in. But I will say, Gracie and I made it to the majority of them, and I wanted to highlight some of our favs. 
*Disclaimer: I will be giving most of them my own name because I'm unsure of their real ones. 
The Disco Tech
This was a full-on dance party with neon signs, colored lights, a live DJ, disco balls – I mean, what more could you ask for?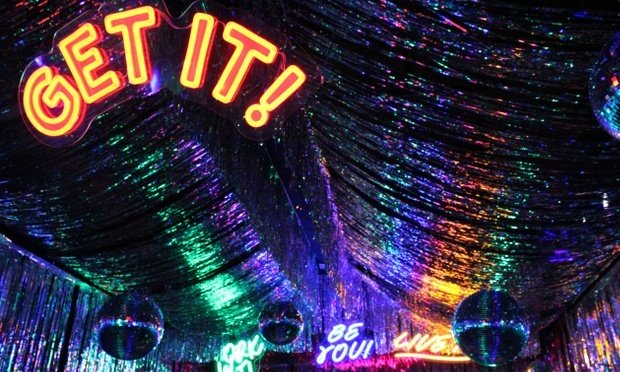 Original photo by Brianne Petrone
The Optics
This exhibit was sponsored by Transitions Lenses. They let you try on their glasses to wear in pics, use their transitional light technology, and try on a bunch of different styles. This was the first room we went to and it was a way to great start. The staff was super friendly and offered (throughout the entire event) to take a photo for us if we ever needed (that was literally part of their job).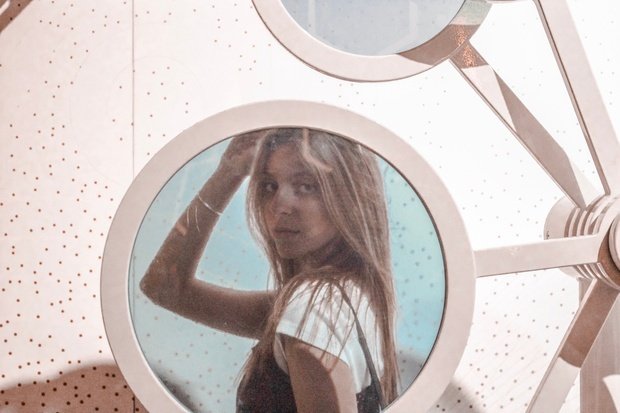 Original photo by Grace Feuchter
Read All About It
Extra! Extra! This one was super fun. It was an exhibit with a statement. It was cool to use the props in our photos, and the overall stand had a great message behind it.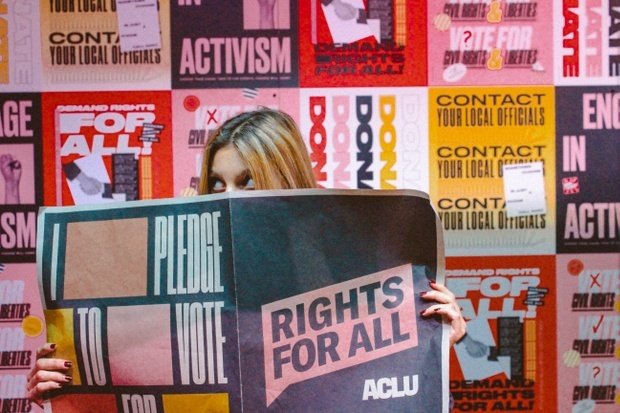 Original photo by Grace Feuchter
Mirror Mirror
This one was super cool. It had a corner area of upside-down furniture, and this sick mirror that Gracie and I saw a vision for. We experimented, got creative and I think it paid off! That's the beauty in going to something like this – it forces you to think outside the box, while providing you with the opportunity to get super creative.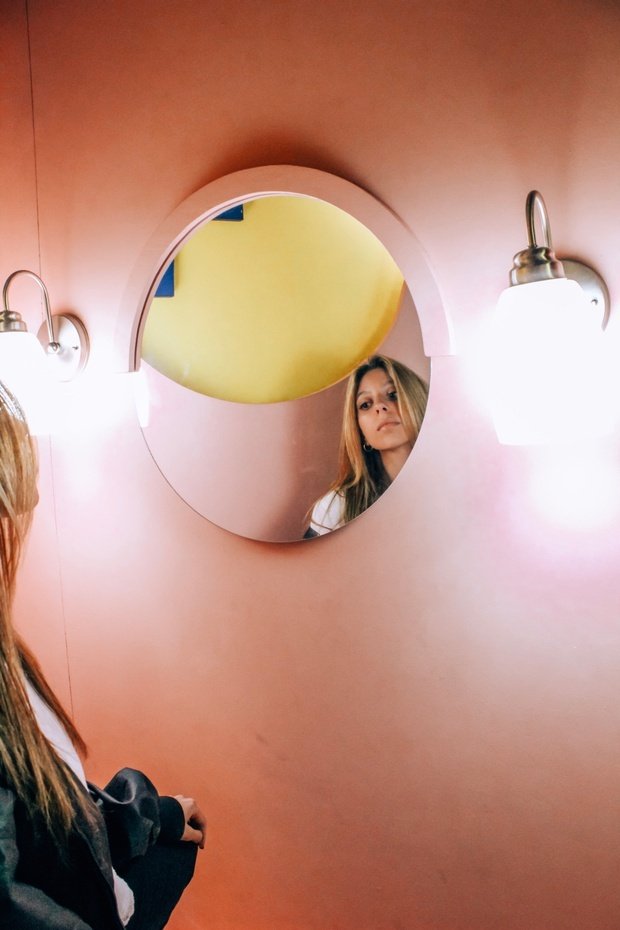 Original photo by Grace Feuchter
Dream Teenage Bedroom
This room was my person favorite. Not only am I a HUGE fan of the 80s, but the colors in this room were so vibrant, it made for a great photo location. The entire room was covered in fuzzy material from the bed, to the carpet, to the furniture. There were posters of JLO, Clueless, The Spice Girls and more. I felt like I was in an 80s movie. There was even a closet rack of super fun (and very EXTRA) fuzzy jackets to put on. We took full advantage. We were given 4 minutes in this room and we were on a race against time. These ended up being some of my fav photos!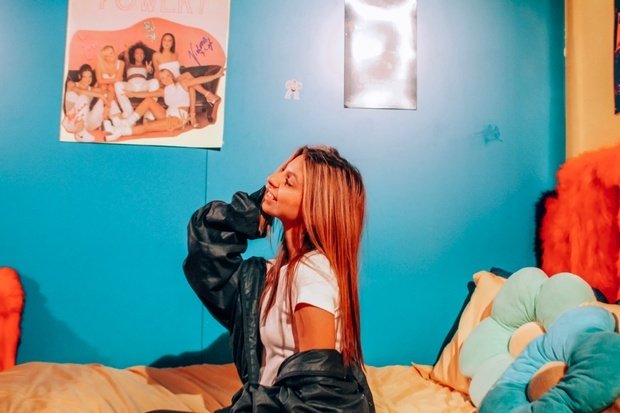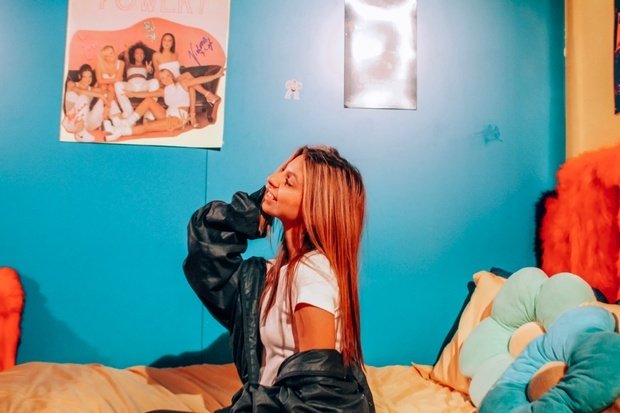 Original photo by Grace Feuchter
Bewitched 
This room was another personal fav. Gracie and I had TWO MINUTES to tackle it – wild. It was the room with the longest line throughout the entire event. Think palm readings, witches, "step into my lair," zodiac signs and crystal balls. It was right up our alley and with spooky season here, it was the perfect time for it!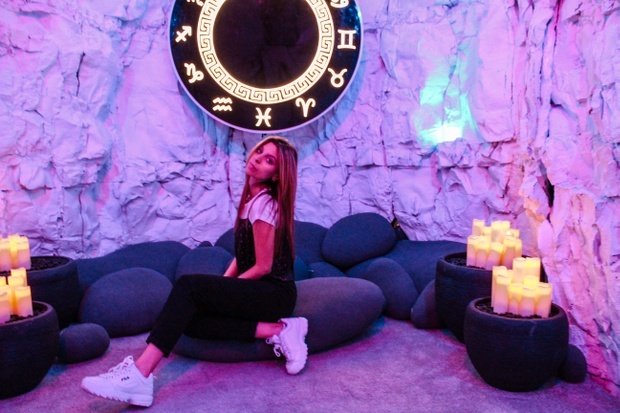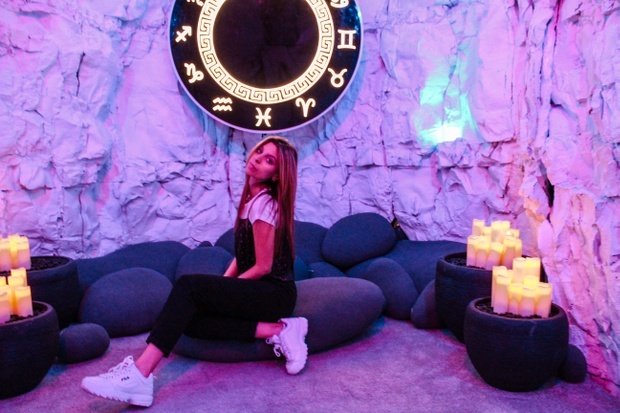 Original photo by Grace Feuchter
Do's & Don'ts
Now, here's a quick run-down of the do's and don'ts from my experience. Things that worked well and some things I would've done differently. 
Do's:
-Go with a FRIEND (part of the fun is experiencing it with someone who is as passionate about it as you. I'm so glad I had Gracie to enjoy this with!)
-PRIORITIZE where you go (start with rooms that don't have major lines at the beginning, so you don't waste all your time waiting. Go back to those once they've died down a little more.)
-Keep your eyes PEELED (while the rooms are the main attraction, there are several little displays around that you can turn into a great photo opportunity! Example below – this neon sign was outside the Bewitched room. As a I said before, that's the beauty of an event like this. Think outside the box, get creative and a plus – there was NO LINE!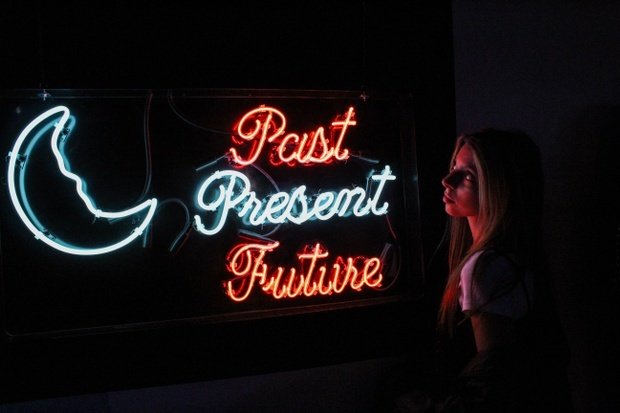 Original photo by Grace Feuchter
-HYDRATE (This one may seem strange, but trust me, taking photos can be DRAINING. Gracie and I noticed we had major headaches once the event ended and it's because we didn't take a single sip of water the entire time. So please stay hydrated!!) 
Don'ts: (or rather Don't Forgets) 
-Don't forget to ENJOY the experience (It's easy to get wrapped up in just taking photos. But try to put the camera down from time to time and just be present and enjoy the exhibits. A lot of time and work went into it, so take time to notice the little details. I'll admit this is something I don't think I did enough, but I did make efforts throughout to be more present.)
-Don't forget to INTERACT with the art (This is part of the experience. A lot of the rooms involved adding to the art itself based on its theme. For instance, we wrote on sticky-notes something we'd love to tell our younger selves and created a story with a female protagonist to stick up on a wall.)
I really recommend going to this event and checking it out! It was a super cool, fun and creative experience that I'm so glad I went to! Check out 29 Rooms when they come to a city near you and prepare to have your reality ~expanded~.