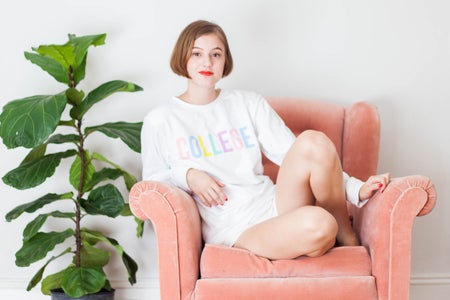 Kristen Bryant / Her Campus
One of the best things about being in a relationship of any kind is sharing clothes with the person you're spending so much time with. Sweatshirts and oversized t-shirts from your person become staples in your wardrobe and become objects of comfort. But what happens when that relationship ends, and you're left with the items and every time you wear them, they just make you sad? I was cleaning out my closet with my best friend and came across a sweater that a boy l was with left at my house one time, so I naturally stole it from him and started wearing it as my own. I loved the sweater, it was warm and had good colors but every time I wore it, I thought of the boy who I stole it from. When I asked my friend what I should do, she introduced me to the sweatshirt theory.
The first couple times you wear the sweatshirt after the relationship is over, you're going to think of him, but after that, make it your own. If you keep thinking of it as his sweatshirt, it's always going to be his sweatshirt. If you take it as your own and say "this is mine" the meaning of him will fade away. Getting over a person is hard and takes a lot of time, but you should keep the sweatshirt and have with you as something that helps you grow from that relationship and as a symbol that you can take ownership of your past and turn it into something new and better.