10 Reasons Why We Should All Be More Like Mrs. Doubtfire
The recently departed and beloved actor and comedian Robin Williams passed away in August. One of his most famous movies was Mrs. Doubtfire, which was released in 1993.
As those who are lucky enough to have seen this movie know, Robin Williams portrayed a recently divorced dad, who does not get to see his kids as often as he would like. So, he creates an alter-ego, "Mrs. Doubtfire" to be able to spend time with his children.
Mrs. Doubtfire became what we have come to recognize as one of the coolest old women and nannies that we all wished we had as a child. Here are 10 reasons why we should all be a little bit more like Mrs. Doubtfire:
1. She's got awesome dance moves.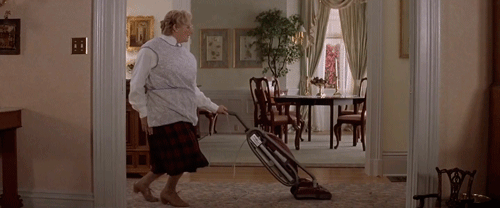 2. She is innovative. 
 3. She is not afraid to speak her mind. 
4. She keeps calm in high stress situations.
5. She is comfortable with her body type.
6. She has an excellent sense of style. 
7. She has gone through tough times.  
8. She knows how to stand up for herself. 
9. She always puts family first. 
10. She has a great arm. 
Mrs. Doubtfire was a brilliant character portrayed by a brilliant comedian. Unfortunately, Robin Williams's lost his life to his long struggle with depression. And the world lost a beautiful and talented man that day. If you feel like you have lost hope or have thoughts of suicide, please contact the National Suicide Prevention Hotline at 1-800-273-8255. And remember, you are not alone.