Maybe it's your first Thanksgiving away from home or you've been given cooking duty- it's time to learn how to cook a turkey! As the centerpiece of the meal, it can be quite intimidating having such a big responsibility, but with this New York Times recipe, everyone will be impressed with your cooking skills. The recipe author Melissa Clark starts out the recipe a few days before Thanksgiving so be aware this includes preparations ahead of time!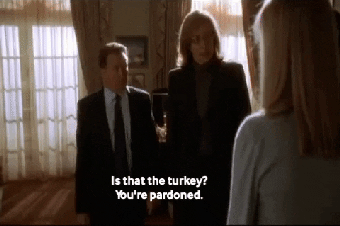 Tips before starting
You need a roasting pan for your turkey- make sure it comes with a rack or find one that fits your pan. The roasting pan should be heavy enough to handle the weight of your turkey!
To get the best roast possible for your turkey buy an instant-read thermometer.
Make sure you defrost your turkey in advance- not the day of! For every four pounds you should give your turkey a day to defrost; so, if your turkey weighs 8 pounds it will need at least 2 days to defrost in the refrigerator.
Before you start, make sure the turkey cavity is empty. There may be a sack inside with the innards of the turkey.
ingredients
This recipe is written for a 10 to 12-pound turkey, but can easily be adjusted.
1 turkey
Coarse kosher salt
1 tablespoon black pepper
1 lemon, zested and quartered
1 bunch fresh thyme or rosemary
1 bunch fresh sage
12 garlic cloves, smashed and peeled
1 bottle hard apple cider- 12 ounces
Dry white wine (optional)
2 onions, peeled and quartered
3 bay leaves
Olive oil or melted butter, as needed
Cooking instructions
Check inside your turkey for giblets, the neck, or other innards and set aside, these will be used for stock/gravy. Pat all parts of the turkey with a paper towel to dry. Rub salt (1/2 teaspoon per pound), pepper, and lemon zest all over the turkey including the next. Place turkey into a appropriate sized resealable plastic bag along with herbs and 6 garlic cloves inside. Seal and secure bag to be placed in the refrigerator for 1-3 days. Turn the turkey over every day or for a 1 day marinate turn it after 12 hours.
When you're done marinating, take out your turkey and pat dry with paper towels to be placed back into the refrigerator on a baking sheet, uncovered. Refrigerate for at least 4 hours and as long as 12 hours. This helps crisp the skin when cooking.
When you are ready to cook the turkey, remove it from the refrigerator and allow it to come to room temperature for one hour.
Preheat your oven to 450 degrees Fahrenheit. To the roasting pan add cider, enough wine to bring the liquid to ¼-inch deep (optional), half the onions, remaining garlic cloves, and bay leaves. Place the rest of the onions and lemon quarters into the turkey and brush the skin with your choice of oil or melted butter.
Slide your turkey onto the roasting rack, breast side up, covered with aluminum foil, and place into the oven for 30 minutes. After 30 minutes reduce to 350 degrees Fahrenheit and continue checking your thermometer until it reads 165 degrees- have your thermometer inserted in the thickest part of the thigh. This should take about 1 ½ to 2 hours, then remove turkey from the oven and allow it to sit for 30 minutes before carving