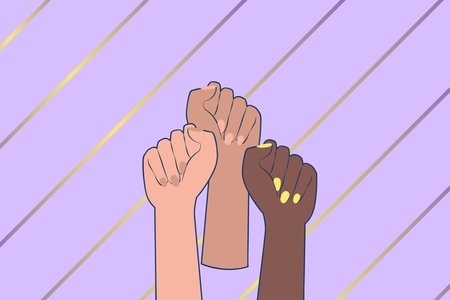 Original Illustration by Gina Escandon for Her Campus Media
The Creation of Space & Why It Matters in Social Justice
If you haven't seen or heard it yet, Parasite, the South Korean hit, took the 2020 Oscars by storm! Winning 4 awards, Best Picture, Best Director (Bong Joon-ho), Best Foreign Language Film, and Best Screenplay, this cast gave the Oscars something that was rarely seen before: representation.
It isn't unknown that minorities have been underrepresented in the Oscars. Whenever there's a film that is directed/written/edited by or has a cast primarily made up of a historically underrepresented population, it's a big deal for a lot of people. Because let's be honest, the majority of both the Oscar nominees and winners were made up of white men...and I'm not just talking about this year.
This year specifically, many people were up in arms about the lack of nominations and wins for women, specifically Greta Gerwig, the director of Little Women and the nominees from it: Florence Pugh and Saoirse Ronan. Lots of people believed that the cast was snubbed, and it deserved more than what it got. 
Anyways, with all this talk of who deserved what, let's also celebrate the wins! Of course, it is fine and valid to be disappointed, and I understand why Little Women fans – including myself – were disappointed with the lack of awards going to women. But I think it's important to recognize the wins for other minorities as well! We can be disappointed and excited at the same time, but what matters the most is when we voice our disappointment and excitement.
Creating space for voices of minorities is extremely important and here's why: voices that have been traditionally silenced get heard. Parasite was a huge win for foreign movies and Asian representation, so it's important that we celebrate that! But at the same time, I recognize that there should be more female representation within the Oscars as well. However, bringing up the underrepresentation of women in the same space as Parasite is counterintuitive. It derails the celebration for Asian folks (especially if that's the only time that underrepresentation of women is brought up!), and it feels like female representation is more important than Asian, even though they both are. I can't count how many times I've seen tweets celebrating Parasite and then the responses under them were "but Greta Gerwig!" 
Being able to celebrate the wins and fight for losses simultaneously is an important part of social justice! Creating space for the celebration of minorities is equally as important as fighting for the rights that we still need. When bringing awareness to a topic – such as underrepresentation of women in the film industry – we can, but we must do so where it doesn't take up the space of another fight! 
Using your voice to stand up for what's right is so important, especially today, but remember that your voice isn't the only one out there. The only way we can fight injustice is together, so let's let all those voices ring loud and clear!