If you're staying on campus this year, you need to make sure that your dorm/apartment room is a space you love, especially since we'll all be spending a good chunk of our time stuck in our rooms. Unfortunately, most college rooms come super bland and tiny with just some random furniture thrown around that has all seen better days.
Don't worry though; since dorm rooms are so boring, that just means there are so many options for creating your own individual space! Here are some design tips to revamp your room without going overboard financially. 
1. Art Wall
Artsy prints are a great way to transform any bland wall into aesthetically pleasing eye candy. Some great sites to shop for cheap prints are Society6, Redbubble and etsy. Combine posters or pintables from these websites with a collage of favorite photos of your family and friends. If you're feeling thrifty, get creative and make your own art! Buy a tube of paint and a cheap canvas to create a one-of-a-kind painting that will add some uniqueness to your room. There are a lot of easy and affordable ways to create your own art so you don't have to spend money on expensive designs. Not to mention, personalization is a huge advantage of creating your own art – you choose the color, images and other details you want so you don't have to worry about anything clashing with that theme you planned out all summer. 
2. Removable Wall-Paper
Hit up the website Spoonflower for peel and stick removable wallpaper! This site has hundreds of top-trending designs from cheetah print to polka dots. Create an accent wall and transform the whole vibe of your room. 
3. Buy All of the Lights
Underlit and gloomy rooms can really affect your mood, but with some inexpensive novelty lighting, you can easily fix that. Let's be honest, overhead lighting is kind of the worst. If you're not liking the selfies you're getting from the fluorescent lights that occasionally blink in-and-out, consider adding cute fairy lights or string lights. These trendy lights are a great way to add interest to a wall without spending a ton. I highly recommend buying some remote-controlled LED lights that let you change the colors and brightness to fit whatever mood you're feeling.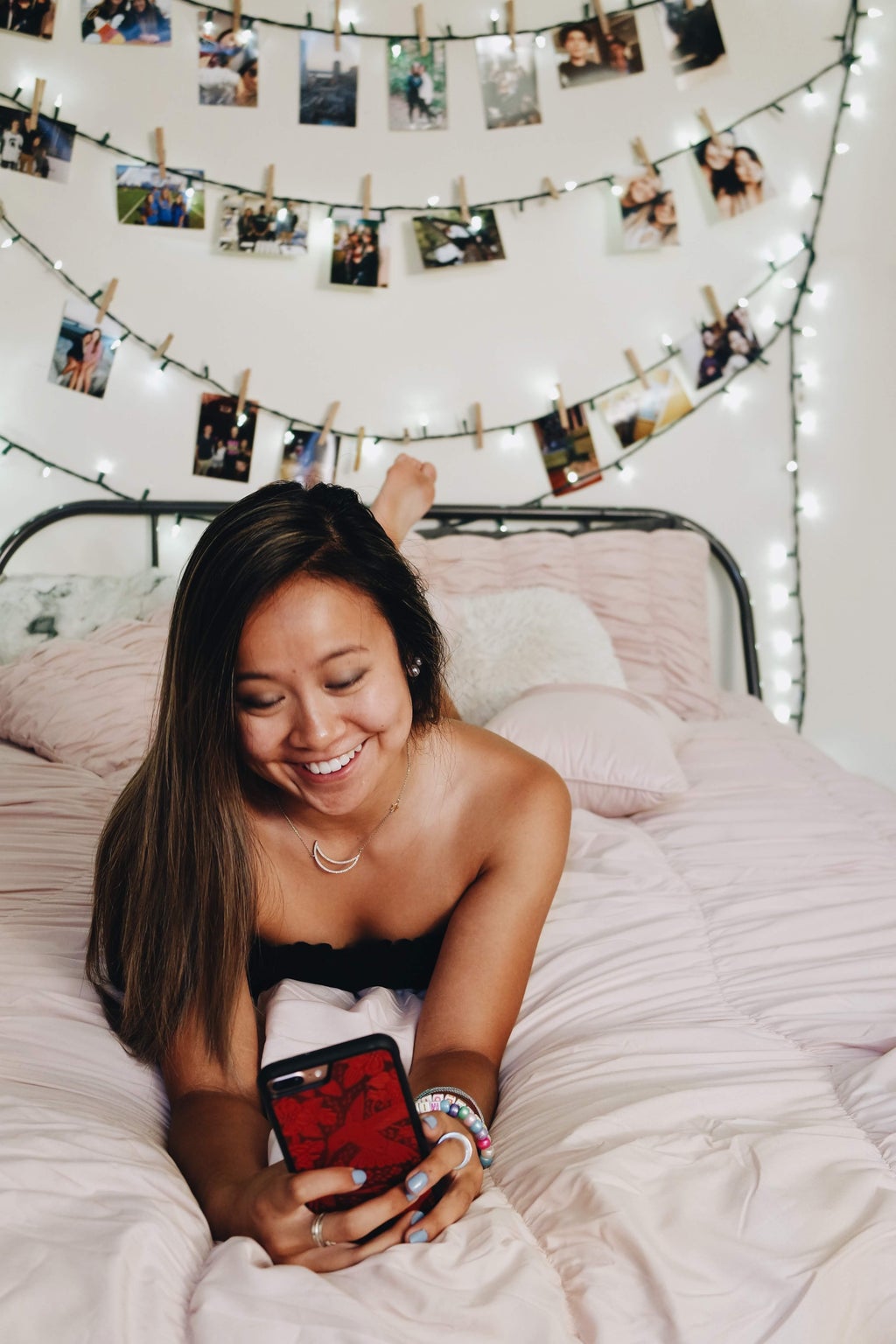 4. All Things Fluff
Faux fur throw pillows, soft rugs and cozy blankets will make you not want to leave your bed, which is perfect because staying in bed right now is actually recommended! I swear there is nothing like jumping into a pile of fluffy cushions and burrito-ing yourself  in your covers to binge watch that Netflix season—preferably with an actual burrito lying next to you ready to be eaten. Now I'm hungry. 
The opportunities truly are endless when it comes to being creative with your college room without breaking the bank. Happy decorating!