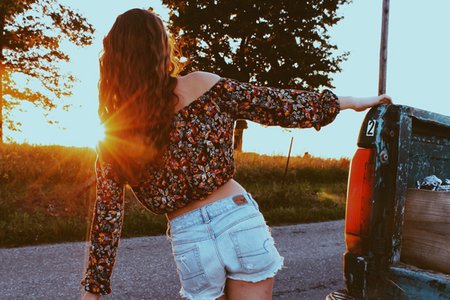 Amelia Kramer / Her Campus
What to Wear to Barn Dance
It's finally Fall… which means one thing: barn dances! It was a struggle for me to find the perfect outfit for the bance (barn dance) I was attending. I knew everyone else would look amazing and I was worried about standing out. If you are feeling stressed out like I was, don't worry! I am going to share a few staple clothing pieces that will take your look to a whole new level.
Plaid
Flannels may be the most common clothing piece you will see but they go well with multiple outfits. There are a wide variety of colors and patterns and the best part is they are inexpensive. Seriously! Check them out at your local Walmart. If you aren't into the plaid trend I would recommend using a bandana either in your hair or tied around your leg, which gives off a country vibe but in a more subtle way.
Denim
Whether you want to wear jeans, overalls, a skirt, or a jean jacket, any type of denim will spice up your outfit. You can purchase an item with white or black denim if you would prefer a sleeker look. Long-term these options could be more versatile in your wardrobe if you wouldn't typically wear blue denim.
Braided Hair
Having your hair put together is something that can help you feel more confident. If you have long or thick hair try French braiding your hair. If you have short or thin hair try taking a small section to pin back that you can braid. This will add a little flare to help complete your look.
Shoes
Boots!!! Cowgirl boots or fashionable booties are the way to go. Keep in mind you will have to wear them for several hours so make sure you purchase/borrow a pair that are comfortable to bust a move in. Don't sacrifice the cute shoes for sore feet (trust me, you will thank yourself).
Accessories
Hats!! If you feel like you are missing something (that isn't clothing related) the next thing to do is accessorize. Wearing a country hat will 100% complete the look and put you in the country mindset.
At the end of the day always remember you are beautiful no matter what you wear. I hope you find these ideas helpful and feel free to share them with your friends. Lastly, if you are attending a barn dance this year have an amazing time and remember to take a ton of pictures!