As someone who has always appreciated video games, but has never been great at the competitive ones, I am a long-time fan of the "Animal Crossing" franchise. I was introduced to these delightful games by a friend, and once "Animal Crossing: New Leaf" came out I jumped at the chance to buy it!  For anyone who is not yet familiar with these games, they focus on your daily adventures as the "representative" for your town (or island, depending on which game in the series you're playing). You can earn bells, the in-game currency, by fishing, catching bugs and picking fruit to sell to the local shop. If that wasn't enough, there are also lots of adorable animal villagers that inhabit the town/island as your neighbors and friends. I absolutely loved the concept, but ended up losing interest after a while.  
Fast forward to the announcement of "Animal Crossing: New Horizons" (ACNH) in early 2020. I picked up my Nintendo 3DS with my old copy of "New Leaf" and played until I could save up enough to buy a Nintendo Switch with my very own copy of "New Horizons." Playing an "Animal Crossing" game on this updated platform was so refreshing and gave me a great outlet to feel productive during the height of the COVID lockdowns. Unfortunately, it started to lose its luster after a while as well–that is until October 15th, 2021 when the ACNH Nintendo Direct announced a huge update and $24.99 downloadable content package (DLC) for the game! That is what brings me here to talk about what Nintendo has in store for us!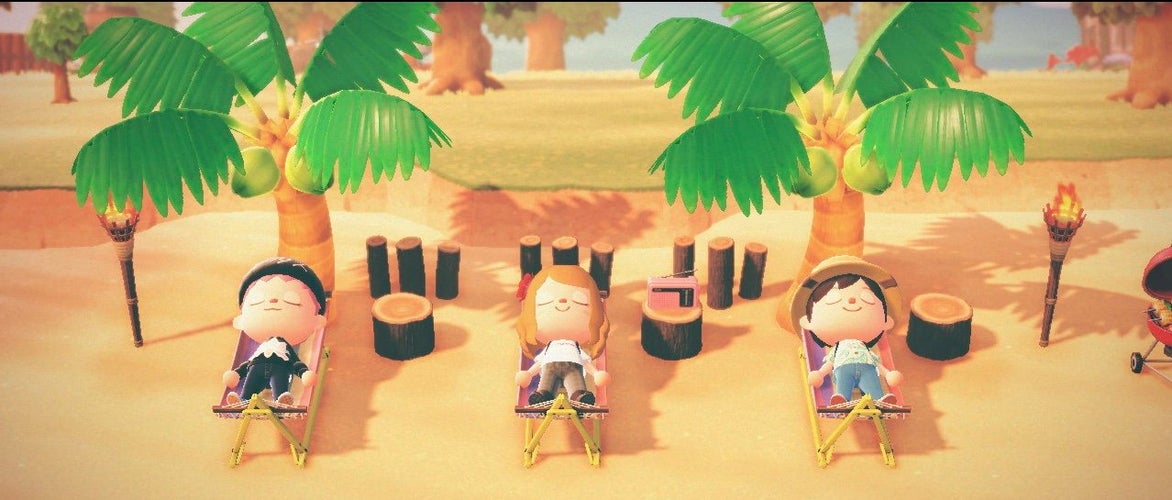 Free Content
1. The Roost
The Roost is a cafe located on the upper floor of the museum. Visit Brewster the Rooster in this quaint cafe for a fresh cup of coffee. Other island residents may be visiting as well, and you can invite your friends online or new characters via the use of Nintendo "Amiibo" cards.  
2. Kapp'n Boat Tours
Kapp'n is back to lead you to mysterious islands while serenading you with his wonderful sea shanties! When taking a boat tour with Kapp'n, he may lead you to islands with never-before-seen plants to collect, a different season, or maybe even a different time of day! 
3. Harv's Island Expansion
Visit Harv's Island to see the changes that are underway! Harv's friend Harriet has joined to help grow the Island and teach you new hairstyles. Once the donation requests are filled, many familiar characters such as Leif, Sahara, Reese, Cyrus and many more will set up their shops here!  
4. Town Hall Updates
Many changes are being implemented at the Town Hall. New items are being added to the NookStop Catalogs, you can ask Isabelle to enact a town ordinance that aligns with your gameplay needs, and Tom has new home exterior options and an item storage expansion for you! Right outside the Town Hall on the Plaza, there is a new ABD for bells and a boombox that has a tape for community stretching sessions. Join in with your JoyCons to take a stretch break with your residents and friends!
5. DIY Recipes Updates
DIY recipes have been expanded to include cooking recipes! Grow many new types of produce on your island and use the harvest to cook delicious meals in your kitchen. Additionally, there is a new tool that you can craft. The Ladder Set-Up Kit allows you to set permanent ladders on your island in places that inclines can't be built.  
6. Decorating, Construction, and Design, Oh My!
With Pro-Decorating and Pro-Construction Licenses, you now can add accent walls, ceiling decor/lighting to your home and up to ten bridges/inclines and nine new fence types to your island. You can also now wear custom designs and use them as flooring or wallpaper!
7. Gyroids Join the Game!
If you've ever wanted to build a structure on your Island, you have encountered Lloid. He is what is called a "Gyroid."  Now you can find buried Gyroid pieces just like you can find fossils buried around your island. If you plant and water these pieces you can grow unique Gyroids that can be placed in rooms and customized to add a unique sound to your home.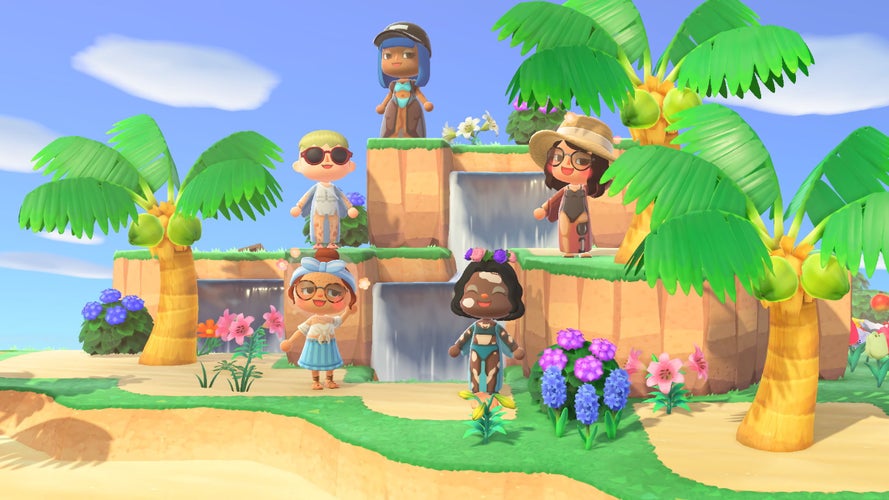 Happy Home Paradise DLC
1. Time to Go to Work
Visit Orville at Dodo Airlines Airport to fly to the "Archipelago Vacation Home Resort." Upon arriving, you will meet Lottie the Otter and her friends at the "Paradise Planning Office." Here you can work as a vacation home designer, consulting with clients about their design dreams and making them a reality!
2. Designing Vacation Homes
Once you've found a client you'd like to work with, compile all of their requested furniture and place it in the home that you think best fits their style. Once the requested furniture is placed, you have the creative freedom to do the rest!  Use the furniture, wallpapers, flooring, and other decor supplied by "Paradise Planning" to bring your vision to life!  Partition walls, counters and pillars are available to change up the layout of the home. And you can add finishing touches with soundscapes and furniture polishing. These features will also be available to use on your own island's homes. 
3. Cha-Ching!
After a long day's work as a vacation home planner at "Paradise Planning," you will be paid in a new currency called "Poki." The shop located in the "Paradise Planning Office" contains rare furniture and items that can only be purchased with "Poki."  
4. Expanding the Resort
Homes are not the only buildings that you can design at this resort. Schools, Restaurants, and other facilities can be placed and designed to your liking to enhance the lives of the resort residents!
There are many more exciting additions to this update that I couldn't cover here, but I can't wait to get back into playing ACNH with all of these new updates! This new era has lots of potential for some amazing islands and "Happy Home Paradise" designs. I hope that all of you "Animal Crossing" fans out there are as excited for this amazing update as I am!