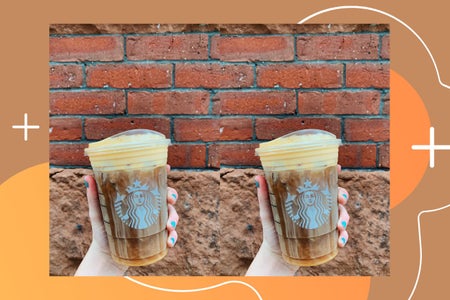 Starbucks Drinks You Have to Try According to TikTok Queen AnnaxSitar
Another day, another Starbies! I'm sure you have all seen TikTok queen AnnaxSitar driving through the Starbucks drive thru by now. She is notoriously known for asking the Starbucks baristas to make drinks with weird and random requests. Some of the ones she has tried are absolutely delicious. According to her 7.9 million TikTok followers, they agree! I went through her account and found some of the tastiest Starbucks drinks she's tried so you can try them on your next Starbucks run! 
This is for all the people who have a hard time liking matcha. Anna herself said she wasn't a fan until she tried this drink. Order a venti iced matcha with 2 pumps of chai and you'll fall in love!

2.

2 Drinks Mashed Together

For this drink, Anna asked the Starbucks barista to combine two of their favorite drinks into one venti cup. They decided to combine the Mango Dragon Fruit Refresher and the Passion Tango Tea Lemonade for a sweet and refreshing drink! 

For this round, Anna asked the barista for her favorite simple drink. To order this one, order a venti cold brew with 2 pumps of toffee nut, 2 pumps of white mocha, oatmilk, and salted cream fold foam. She gave this one a 10/10 and it sounds like I need to run to Starbucks to try this one!

4.

The Least Favorite Drink

In the drive thru, Anna asked for the barista's least favorite drink…. Which takes some courage if you ask me. She ended up loving it! To order this, ask for an iced triple espresso with 3 pumps of white mocha, 2 pumps of cinnamon dolce, vanilla sweet cream cold foam, and cinnamon powder to top it off! Not only does it look beautiful, but it will taste delicious.

5.

If You Could Only Drink One Drink for the Rest of Your Life....

She asked, and Starbies provided. Anna asked if they could only drink one Starbucks drink for the rest of their life, could they make her what it would be? She was a little nervous but ended up falling in love! To order this drink, order a venti iced blonde latte with oat milk and a honey packet. This drink is a little less sweet but it is so simple and so good! 
There are obviously a ton more options that you could choose from, so go to Anna's TikTok page to scroll through and find some more inspiration for your next Starbucks run! 
HCXO,
Alyssa