Recap of the Meghan Markle Oprah Interview
Discussions of their baby's skin tone, depression, suicidal thoughts, family arguments, and a baby gender reveal were just some of the shocking topics discussed in Sunday's interview on CBS between Oprah Winfrey and the soon-to-be ex-royal couple, Meghan Markle and Prince Harry.
Oprah sat down with the couple to get some burning questions answered, as well as some rumors squashed and clarified. Finally being able to open up about her side of the story, Meghan said she had turned into a victim of "character assassination" from how poorly she was framed by the press. She addressed things said in the tabloids such as the statement made about her making her sister in law cry, and how the story was completely twisted by the media "it was in fact quite the opposite" she said during the interview as she confirms she was the one who was actually crying. She also opened up about how unprepared she felt to enter the world of royalty, and that she received no guidance or help on how to "be royal." Meghan brought up an example of when she first met Harry's grandmother, the Queen, he asked her if she knew how to curtsey for her, she described that it was at that moment she knew it was not going to be a normal relationship. 
There were some dark and shocking moments during the interview as Meghan opened up in detail about how the press, and even treatment from within the royal family, led her to be extremely depressed, and even suicidal. She talked about how it got to a point where she knew she couldn't be left alone, and the pressure she felt to appear happy at public events while silently suffering.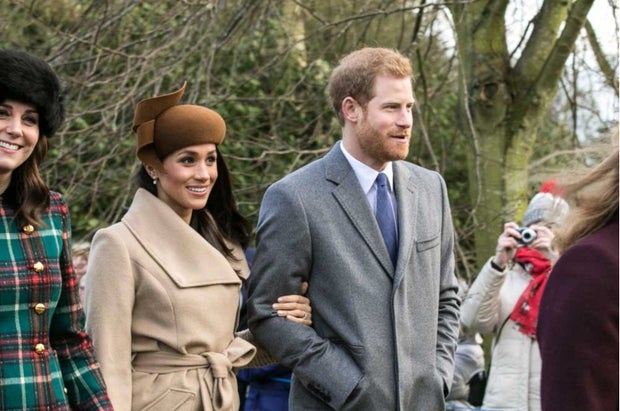 Wiki Commons
Arguably one of the biggest bombs dropped during the interview was the topic of her baby's race, specifically what his skin color would look like, even before he was born. This left even Oprah appalled and speechless as she only responded with "What?" Meghan brought up how she had several conversations with the royal family about what his skin color would "mean or look like" as he would be the first person of color within the royal family. She refused to say who asked about his skin color as it could be "very damaging to them." Oprah questioned Harry about this as well and he confirmed that it was something brought up, but that it is something he will never feel comfortable sharing with the public and is still shocked about.
Oprah focused her questions with Harry on how his relationships have been with his family members since announcing his decision to leave, especially his grandmother, who the tabloids said was blindsided by this. He denied it by explaining that he had several conversations with her about leaving before announcing it to the public. He also shared that he and his brother, Prince William, were taking some space, "time heals all things hopefully" he said implying that he and his brother will eventually work towards a better relationship. His relationship with his father, Prince Charles, was most impacted, as he says he was very disappointed by his response to them deciding to leave the royal family and wished for more support. 
On a positive note, the couple shared that they are expecting a baby girl, who will be arriving sometime this summer. Oprah said that there were 2 hours of the interview that did not make it to air. The interview ended with Oprah asking Meghan and Harry if they had any regrets. Harry said he had none, and Meghan said her only regret was trusting that she would be protected by being silenced within the royal family. She said how strongly she believes in advocating for women, but when it was her time to speak up she was silent. 
Meghan and Harry took their opportunity to clear their name, explain their side of many stories, and share the dark times they went through that ultimately left them with no choice but to make a royal "meg-xit." They seemed overall content with their decision and look forward to a life of somewhat normalcy, with or without the support of the royal family.