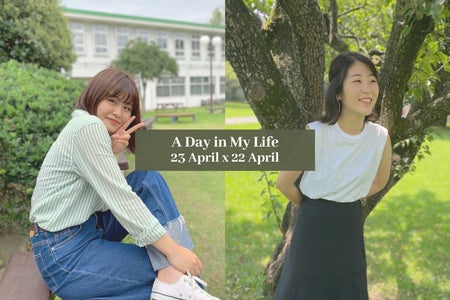 Original photo by Jun Fujii
A Day in My Life—'22 April × '23 April
Hi, this is Kanako. I'm a second-year student and just got transferred to ICU this April. In this article, I will share a normal day in my life with you!
Hi, I'm Jun. I am a junior student studying Anthropology at ICU. I want to share a day in my life as a university student in Tokyo!
1.

Good Morning, it's a new day.

Original photo by Kanako Shimizu

Kanako- Around 9 am the morning alarms (What Makes You Beautiful by 1D) ring through my room every one minute. After I feel irritated with them for some minutes, I give up sleeping and get out of bed. Then, my routine starts with weighting myself after going (because I'm just on a diet). I like drinking a cup of lemon water for refreshing and detox. I highly recommend it because it will also prevent a cold! I have yogurt with oatmeal, banana, a teaspoon of peanut butter, a bit of cinnamon powder, and oligosaccharide for breakfast. They are all inspired by Romee Strijd, one of my favorite models of victoria's secret.

The morning routine is so essential for me because it is the beginning of the day! If interested, check out and take in someone's morning routine on Youtube.

 

Jun - Most of my classes this term start from 11:30 AM, so my mornings are pretty relaxed. I usually get up at 8:30 or 9:00 and would spend about 30 minutes scrolling through Instagram to wake myself up. I know that looking at your phone first thing in the morning isn't good for your eyes and mental state, but it's become a daily routine for me. 

Once I finish checking my SNS, I would wash my face, make my bed, gather my breakfast set, and head to the kitchen. I went to Costco a few weeks ago and bought heap loads of muffins, so my breakfast these days is a cup of coffee, a muffin, and some eggs. Since I live in a university dorm, whenever my friends are already in the kitchen, I would eat breakfast. It's always nice to talk with someone while eating, and it helps to get my engines running for the day.

2.

No one likes to study, but it's your duty sweetie.

Original photo by Kanako Shimizu

Kanako- Now I have some hybrid classes, so I go to ICU once or twice a week to meet my friends. When I take an online class at home, I usually burn aroma oil to switch into study mode. I chose peppermint today because I'm a bit tired this morning. I also enjoy having a face-to-face class in the classroom. Although I'm getting used to Zoom, I still feel lonely that there's no normal chat after a class. So when I go there, I often have lunch or a conversation with my classmates.

 

Jun - One study tip I always do is to make a TO-DO List. I know many people do this, but I like to make a to-do list for the day and the week. Especially in this online experience, I find it very difficult to keep track of all of my assignments and group meetings, so making a list for both the day and the week helps me stay focused on what needs to be done. 

I also like to have study dates with my friends. Studying with another person can be stressful for some people. Still, personally, I think going over class materials and having discussions about them with someone can help deepen your understanding and motivate yourself to study more. I have a fixed study date every Monday afternoon with one of my close friends this term, and meeting up to study with her is fun, productive, and motivates me to work harder! (I'm sure you know who you are!)

3.

How I spend my beloved "Break Time" 

Original photo by Kanako Shimizu

Kanako- Actually, I didn't like bitter coffee. But I started drinking last month, just because I want to pretend to be an adult:) With coffee, I like reading a book, especially mystery novels written by Keigo Higashino. While reading it, I can concentrate on it and forget about other complicated tasks. Instead, I forget about time and cannot stop reading! I also have sweets during break time. During Stay Home, I often make some scone or chocolate cake with my mom.

 

Jun - I love baking, and whenever I have some free time, I like to bake sweets like cookies and cakes. I've been busy the last few weeks and haven't had the chance to bake anything, but I'm planning to bake a Very Berry Cupcake next! I found this recipe on Instagram (like always), and it looked excellent, so I can't wait to bake it!  

My dorm room is usually for two people, but I have one whole room to myself because of the pandemic, which means I have two beds! So I decided to set up the second bed into a sofa, with cushions, blankets, and stuffed animals. This "sofa" is my recent favorite relaxing spot, and I usually watch Netflix, read a book, do some assignments, or take a short nap in my free time. 

4.

Sunset looks amazing, doesn't it

Original photo by Jun Fujii

Kanako- I usually have a part-time job after all classes. If not, I like having a chat with my friends, especially on Bakayama. I look forward to this moment because we couldn't see each other due to Covid-19. I really enjoy it even if I have many ELA classes (as a transfer student)!

After going back home, I have dinner with my family. During dinner time, my family usually watches the baseball game on TV. Can't wait until the Giants become a champion this year!

 

Jun - I usually have my part-time job in the evening, so I get ready and head out to work once my classes end. I work as a bilingual teacher at an English cram school for kids, and it's the best job ever! There is so much fun in teaching kids English, and supporting their English learning journey is very rewarding. The cram school is located in Ochanomizu, a 30-minute train ride from ICU, so it's a bit far from where I live. But I always listen to music or go over the teaching materials for the day on the train, so the long ride isn't such a burden. 

Oooh, I can't wait to see my students!

Original photo by Jun Fujii

Kanako- After having assignments or other tasks, again, I start some routine. These days, I do twenty minutes workout and some stretch things. I like the workout video by Pamela Reif because you can try easily in a short time. I promise I keep doing this exercise at least until Christmas! Get off my fat! After that, I take a bath, reading a book, or watching a movie or drama. (Now I watch "Record of youth 青春の記録," a Korean drama!)  When I get out of the shower, I put on some cream of Laura Mercier. I love relaxing this routine. 

 

Jun - I like to end my long busy day with a nice bath…, but unfortunately, my dorm only has showers, so I usually take a really long shower to wash off all my worries and fatigues away. After a nice hot shower, I eat dinner, maybe chat with my friends in the kitchen, do some more assignments, or have phone calls with my friends or family. I don't really have a fixed night routine, but I like to relax rather than party all night, so I spend a pretty chillaxed evening. 
And that's what our daily lives are like!
We hope you enjoyed reading this and getting a little peek into our everyday lives!