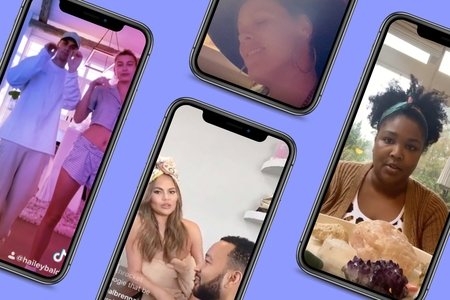 Emily Veith / Justin Bieber / Hailey Baldwin Bieber / Pink / Lizzo
Neon and psychedelic letters radiate the computer screen introducing Miley Cyrus' latest project: Bright Minded. 
It's easy to get swept up in the news and the chaos but in dark times, Miley Cyrus is proven to be a beacon of light by creating a streaming talk show. 
While everyone sits in their homes they are faced with harsh realities that may be difficult to cope with. Before the pandemic, people had many distractions including classes, work, friends and family but now everyone is facing a different kind of solitude. 
Over the past few weeks celebrities across the country have brainstormed how they can help their communities, whether that be through donating to different causes or providing some much needed creative content. Miley is using all of her talents for common good which include her rare authenticity, creative mind, and spunky demeanor. She has set a national stage that people can access at their fingertips. 
The show is Miley's way of providing people with a sense of relief. For the past few weeks, Miley has been hosting and producing a weekday talk show on Instagram live called Bright Minded. She focuses on how she and her guest stars are staying uplifted during this time in hopes of seamlessly inspiring her viewers. In her latest episode, she chalked it up with Elton John, Kerry Washington, and Selena Gomez. 
Elton John joined the show from his home in Los Angeles. He hopes that during COVID-19 people will be more kind to each other now and as society moves forward. John is working vigorously with his foundation, the Elton John AIDS Foundation, to donate $1 million over the next three months to help marginalized communities and those affected by other diseases and pandemics during this time. His main focus is to ensure that people suffering from another global pandemic are not forgotten. John said, "We have to step up with the organizations that we know globally, and make sure that they are doing their job too."
John's goal is to be able to guarantee medical assistance and resources to people on a regular basis. One thing that keeps him going during this time is calling his family and friends during the day. His advice is to reconnect with people that really matter. He enjoys showing appreciation and love for them although he is far away from them physically. "Give them love, that's all you can do," said John.
Actress, producer, and activist Kerry Washington joined Miley next. They kicked off their conversation by discussing how they are staying calm and keeping their hearts open. They acknowledged how everyone has their own unique process and their process is constantly changing as they adjust to no longer having a "norm." Similar to John, Washington relies on staying connected to her loved ones. Another hot topic was Washington's latest project, Hulu's Little Fires Everywhere, which is produced by Lynn Shelton, Liz Tigelaar, Pilar Savone, Reese Witherspoon, Lauren Neustadter, and Washington herself. Washington elaborated on the importance of women being involved in the creation of women's stories and keeping check of one's mental health. Washington said during this time women are trying to be strong for everyone, their partner, children, and other family members that sometimes one forgets themselves. 
"It's important to self check and make sure that I am being strong for me, so that I can be strong for other people. If I am pushing my needs down for other people that's not going to work," said Washington. 
The show then welcomed singer and actress Selena Gomez, who like others encouraged viewers to reconnect with people via phone that they love and appreciate. Gomez also opened up about her ongoing battle with mental health. She talked about how she processes her emotions.
"Sometimes I have to center myself and think about what is the root of this and it really helps me," said Gomez. 
Lastly, Miley was joined by late night talk show host Jimmy Fallon. She took a brief moment to thank Fallon for his influence. 
Fallon said, "I thought to myself, wow she's[Miley] fantastic at this."