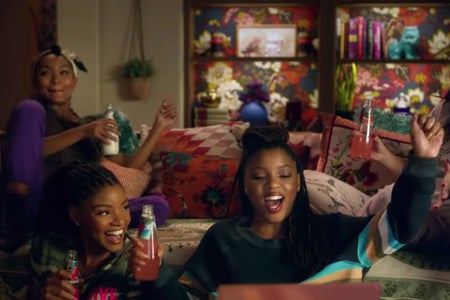 Chloe x Halle Continue To Step On Necks With "Ungodly Hour" Video
Chloe and Halle Bailey have done it again. 
Since the release of their sophomore album "Ungodly Hour" in June of 2020, Chloe x Halle have consistently served up the most quality vocals, tennis-court performances, and music videos. 
They have only added to this roster of excellence by releasing the official video for the album's titular song.
The video, which premiered late Feb. 24 on The Tonight Show with Jimmy Fallon, was directed by Alfred Marroquin, who also worked with the duo on their Billboard Women in Music performance of "Baby Girl."
The ethereal vocals of the sisters, coupled with the video's use of futuristic visuals, bring the audience into an experience unlike any other, as blues, greys, and flashes of red convey an overall sense of glamour, elegance, and sensuality.
Not only is the aesthetic value of the video absolutely stunning, but the choreography of each sister perfectly complements the other. Chloe, whose every move correlates with a beat in the song, works in perfect harmony with Halle, whose movements are more fluid. 
Between this video and the release of the "Ungodly Hour (Chrome Edition)" album, it is clear that 2020 was only a preview of the power and talent that Chloe x Halle have the potential to exhibit-- our necks might never be released!