Must See Monday: Grace and Frankie
I know what you're going to say. This isn't a show for young people or this generation in period. It's more headed to the baby boomer population, which let me tell you is an absolute lie. This comedy, brought to you by the minds behind Friends, stars Jane Fonda and Lily Tomlin as Grace and Frankie, respectively, who discover that their husbands are leaving them for each other. Shocked by this news, our female leads take it upon themselves to start a brand new life at the ripe age of 70. Sam Waterson, Martin Sheen, Brooklyn Decker, June Diane Raphael, Baron Vaughn and Ethan Embry also star.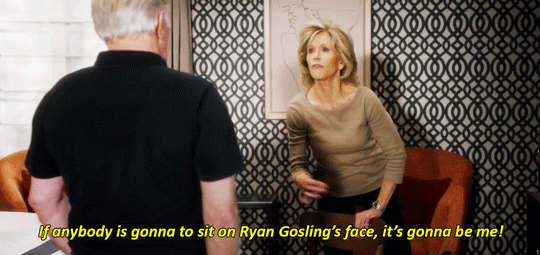 Why Should I Should Watch This?
Because there is no world except this one where Martin Sheen's Robert orders a chair with Ryan Gosling's face as the cushion as a gift to his partner. In all honesty, I was never skeptical about this show. Some of the best actors of the century star and they mesh together so well. Whether it be Jane Fonda's Grace throwing serious shade at Tomlin's Frankie or June Diane Raphael's Brianna running something that closely relates to a tyranny at her family's cosmetic business, this show knows what it's doing. There are plenty of laughs to go around from Frankie trying to learn how to tweet, to Grace trying online dating, this show is a goldmine.
Not only does it shed light on life after kids, but it also goes behind the scenes of what marriage is like 40+ years in. The wants, needs and desires can change and the show proves that life can actually start at 70! Happiness, the overshadowing theme in Grace and Frankie, beautifully uses it in order to make these characters finally choose what they want, rather than thinking about everyone else. It's all about doing what's best for each individual character, sparing feelings (sometimes). 
Need more reasons to watch? Here are some highlights!
Netflix took a humongous risk with Grace and Frankie, but the rewards have reaped so far. Lily Tomlin was nominated for an Emmy for her portrayal of Frankie, and there continues to be buzz surrounding the show in a variety of characters for possible Golden Globe and SAG Award nominations. Comedies these days have become sadly formulaic at this point, whether it be surrounding a family, a race, or a workplace. Grace and Frankie defy every norm in comedy, delivering a show that speaks to the heart, soul and mind.
The first season of Grace and Frankie is available to stream on Netflix now. The second season is expected to premiere in mid-2016.