The Most Dramatic Season Yet of The Bachelor: Season 22 Episode 6
I call this episode: Bye Bye Krystal 
Last week, The Bachelor crew tripped it to Paris with plenty of physical and emotional baggage. Even though I had hoped Arie left his boring personality in Fort Lauderdale, spoiler alert— he didn't. However, to add some excitement, Chris Harrison mixed up the dates in Paris like a strong drink with two one-on-ones, a group date, and the first two-on-one all while in "the city of love."  
Gif courtesy of Giphy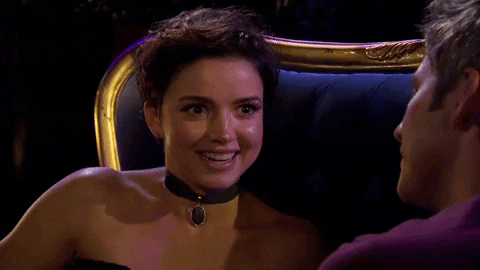 Lauren B. received the first one-on-one and they hit all the tourist spots in Paris, which seems incredibly romantic, but Lauren B. just could not muster any form of a conversation. We all thought Arie would send her home, but after a vague and choked up excuse, that included some sob story about her having major trust issues and made me wonder why she would even come on the show then, Arie decided that was enough to give her a rose. 
Welcome to a group date in Paris where either the producers, interns, or Chris Harrison thought it would be a good idea to have these girls become the dancers for Moulin Rouge. This group date was sloppier than a single white girl at a frat party. 
Gif courtesy of Giphy
Even though the costumes were more extra than the girls' personalities and they all lacked any dance talent, it was painfully boring. Someone needs to let the people in charge know that you cannot make up for Arie's lack of personality by creating absolutely ridiculous dates. The stakes were higher because the winner of the rose would return to Moulin Rouge and dance on stage with Arie while the rest of the girls watched from the nosebleeds. After some painful conversation that I honestly zoned out on, Baby Bekah got the rose and I would say she danced with him on stage, but neither of them could dance, so it really was a sad excuse for a photo op. 
Everybody can-can at the Moulin Rouge! #TheBachelor pic.twitter.com/qJ3FtXpvjV

— The Bachelor (@BachelorABC) February 6, 2018
We hoped with the introduction of the two-on-one to the season, things might get more interesting but, again, just because you create an over dramatic situation does not make things actually entertaining. The two-on-one pitted Smitten Kitten Krystal against Kendall. It was odd to say the least. 
Gif courtesy of Giphy
A truly entertaining two-on-one would've been Smitten Kitten Krystal and Baby Bekah, but nobody listens to us mere viewers for which the whole show has been created for. Arie's idea of a good date was to take two women to a French chateau and make the two run through a maze to get some time with him. This truly was so boring I don't know what else happened it was literally so forgettable. Smitten Kitten Krystal spent her entire date trying to sabotage Kendall and Arie decided to send Smitten Kitten Krystal home. 
Gif courtesy of Giphy
Now, during any other season, with any other guy, sending home the biggest drama queen of the entire show is a HUGE production. Yet with Arie, the theme continues that some stuff does not get better with age, as he sent everyone's least favorite villain home in the most anticlimactic way. The girls back at the house popped champagne as Krystal's baggage is wheeled out of the house, and betting began on how long until the launch of Diff x Krystal. 
Gif courtesy of Giphy
Jaclyn (who?) had the last date, and their car broke down right away. Awks, but he took her shopping, so that was cute. Well, they went to dinner and she talked a lot about her career requiring six more years of school and she isn't ready to move to Scottsdale. Things got tense for minute, as Arie worried if their lives would fit when they leave and then he shook us all when he gave her the rose anyway. It was a total snooze fest. 
Triumph! Mileage may vary. #TheBachelor pic.twitter.com/Q7sXZQ5x9x

— The Bachelor (@BachelorABC) February 6, 2018
We popped right into a rose ceremony because four dates was more than enough anti-climactic drama for the night and without Krystal what would happen during a cocktail party that would be worth watching? Only three roses were given out, so only seven girls will continue their "journey" after tonight and, shockingly, it won't be Chelsea or Jenna (who again?). 
Some real drama that is actually important, but not yet mentioned in The Bachelor: Baby Bekah is also missing person Bekah. Why are we not surprised she was reported missing in November and worked on a weed farm? She's got to figure out why her mother is reporting her missing because it is very sus tbh and confirms all my feelings of dislike for her.
Where's Bekah?

#TheBachelor pic.twitter.com/AK50qBbNfv

— The Bachelor (@BachelorABC) February 6, 2018
Season 22 Episode 6 Highlights
Date Roses: Baby Bekah, Jaclyn, Lauren B., Kendall
Krystal was sent home. 
Front runners: Becca M, Tia, and Baby Bekah 
Eliminated: Chelsea and Jenna
Memorable Moments from Season 22
First kiss: Brittany T.
First French kiss: Chelsea
First steal: Makel from Chelsea
First Impression Rose: Chelsea 
First one-on-one date: Becca K. 
First girl sent home on one-on-one: Lauren S.
First trip: Lake Tahoe
Villain: Krystal 
Season 22 Episode 7 airs January 12 at 8pm ET/7pm CT on ABC. 
All gifs courtesy of Giphy