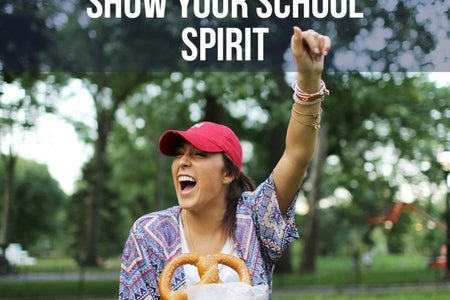 7 Unique Ways to Show School Spirit
Showing school spirit is a rite of passage for every college student. Even amidst a pandemic, school spirit is vital and a great way to send the positive message of how we're all united.  Whether you're showing school pride and wearing your college colors or even following your school on social media, there are some other alternative ways to show your school spirit. While we can't go to tailgates and attend college football games due to social distancing, there are still ways that everyone can show school spirit.
One of the ways you can show school spirit is by using your school colors through nail art. For those who aren't artistically gifted, there are plenty of easy nail art tutorials on YouTube or even Pinterest. One of the easiest nail art ideas is to paint your nails all one of the two school colors and then use the second color for designs. The great aspect of this example to show your school spirit is you will have nicely painted nails, while showing your school pride.

2.

Face Mask with Your College Logo/Colors

Of course, amidst the COVID-19 pandemic, another way to show your school spirit is to have a face mask with your school colors. Some great websites to get college logo face masks are Amazon and Etsy. If you don't think the face masks on these websites are cool, then use CustomInk to customize a face mask.

The great thing about CustomInk is you can order a pack of five, so you can share with some of your college friends. If you don't like or don't want your school logo on the mask, then mix it up and try using your school mascot or even just the colors to show your school spirit, while following the COVID-19 guidelines.

3.

College Game Day Lokai Bracelet

In addition to their Disney and Causes bracelet collections, Lokai has a collection called Game Day, which not only has NFL and NHL Game Day bracelets but College Game Day bracelets. This collection has over 90 Lokai bracelets featuring colleges across America.

For those who don't enjoy their school logo or mascot, the Lokai College Game Day bracelets are just the school colors. This collection has the same features of a traditional Lokai bracelet, which are a white bead containing water from Mount Everest and a black bead containing mud from the Dead Sea.

4.

Water Bottle with College Stickers

If you have an old water bottle that you want to DIY and spice up, then this school spirit recommendation is for you. Whether it's a clear or colored water bottle, just add some of your college stickers and maybe some club logos and voila! School spirit at it's finest and it may remind you to stay hydrated throughout the day.

Amazon has some great recommendations if you aren't a fan of your school's logo because they have some 70s lettering, which will make your water bottle unique. Decorating your water bottle holds endless possibilities: you can use some club logo stickers, stickers that have your school colors or maybe just even a cute version of your school mascot.

Whether it's printing out some of your favorite spots on campus to maybe just even your school mascot, decorating your dorm is a great idea to show your school spirit. Fairy lights are always a good way to go when dorm decorating and you can make a border around your favorite picture. Etsy, Amazon and even Party City may have some decorations to change up your standard college dorm. Decorating your dorm in your school colors will not only make your dorm look modern and cool, but will express your school spirit even if you don't like your school's logo or mascot.

6.

Buying from your Local College Store

What better way to show school spirit than to support your local college store? Not to mention, as a student, you will have some savings as you attempt to show your school spirit. From apparel to accessories, buying merchandise from your local college store is a great way to show your school pride, while even saving some money. In addition, the local college stores have a wide range of options to choose from to express your school spirit.

7.

Joining School Clubs/Extracurricular Activities

What better way to show school spirit than by representing your school in a club? Although most events are online due to COVID-19, school spirit never takes a break. Try to look on your school calendar to see what clubs are meeting on Zoom or what clubs seem interesting. The great aspect of clubs is you can start building your resume as well as partaking in a club of your interest. Not to mention, as a club member you are representing your school.
Even if you try all or none of these suggestions, it's up to you if you wish to show school spirit especially during these challenging times. While some events had to be changed or cancelled altogether, showing spirit is something anyone can do even when socially distanced.