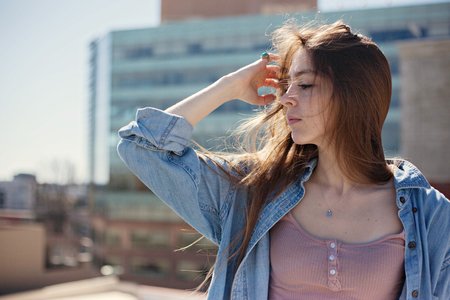 Kristen Bryant / Her Campus
Here's what I Learned from Being a Member of a Dance Group
I have participated in a dance group for five years now. It has taught a lot to me while being a good way to exercise mind and body. Dancing is a super diverse exercise that will never get boring. There's always room for improvement and growth and endless dance genres to explore. 
Dancing is a great way to get to know your body. You will see how your body moves and learn to control the muscles when making moves. Learning choreography is a very good memory exercise for your muscles and your brain. Learning new choreographies often makes the progress easier than doing it seldom. You will notice after memorizing many choreographies that your body will remember them for a while even though you think you forgot about them. The process of learning can be so much fun that you will not even notice the work out you are doing because you are simultaneously having the time of your life!
Dancing in a group is very much a social activity. You get to connect with like-minded people and share the experience. In the beginning it is very important to build trust between the members. That way everyone is comfortable expressing their opinions and being creative. The group members need to share the same vision and have common goals so that the dance group serves its purpose. Commitment to the group and weekly practice is essential to make progress and improve. For me it has been very precious to be able to participate in a dance team full of friends where everyone is important and valued. 
Dancing in a group teaches a lot about performing. My dance group has always been interested in going to competitions and performing. While getting ready to competitions or a performance, we have tried our best to get our choreography to the best level possible. That has taught about criticism and how to accept it as a part of the process and not to take it too personally. Making progress is not always easy, but will be rewarding after getting it right. 
Performing to people is another experience of learning. It is necessary to learn to control stress and anxiety before going to the stage. The best way to overcome these is to perform often. Every performance and act in front of an audience, like a presentation, will help you to be natural on stage.
 A good dance performance is a lot more than just dancing. To make the performance enjoyable and interesting you will need to learn how to keep a facial expression and remember to show emotion as well as energy. A good way to exercise these expressions is to look at artists such as singers, who dance while they perform or watch great dancers perform to see how they do it. Then you can take notes on what makes it a good performance. The best outcome is achieved when the whole group is motivated to practice and is willing to do their best. 
If you are curious or even little bit interested in taking dance classes or joining a dance group, do it! There is no better time or age to do it than right know. There's no need to be perfect from the start, you will learn and make progress along the way. Keep going and keep dancing!