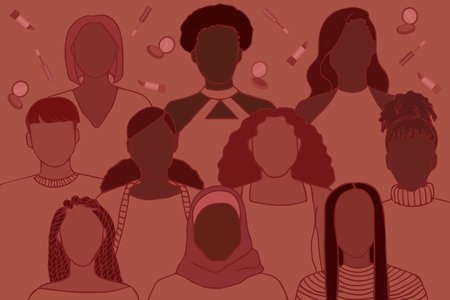 Adebusola Abujade / Her Campus Media
10 Important Moments for Women in 2018
1. On September 27th Dr. Christine Blasey Ford testified before the United States Senate Judiciary Committee about sexual assault allegations made against her by Brett Kavanaugh. She states that Kavanaugh assaulted her while they were in high school. Even though Kavanaugh was later accepted into the Supreme Court of the United States, Ford's testimony led to protests in her support and all sexual assault survivors alike. Her powerful and emotional testimony is very empowering to assault survivors and women in general, proving that however difficult it might be, speaking up is the right decision.
2.  Former USA Gymnastics national team doctor Larry Nassar's trial featured victim impact statements from over 100 people whom he had assaulted. Several women testified, delivering chilling statements. The most emotional was by six-time Olympic medalist Aly Raisman, with her saying: "Larry, you do realize now that we, this group of women you so heartlessly abused over such a long period of time, are now a force, and you are nothing." After assaulting over 265 athletes, Nassar was finally sentenced to 40 to 175 years of prison.
3. Emma Gonzalez's speech at a gun control rally on February 17th following the mass shooting at Marjory Stoneman Douglas High School, was one for the ages. Several students turned their sorrows and anger into activism by becoming advocates for gun violence prevention. Starting the March For Our Lives movement, Gonzales gave an emotional and raw speech stating that "If all our government and president can do is send thoughts and prayers, then it's time for victims to be the change that we need to see".
4. The Time's Up movement was one of the biggest triumphs for women around the globe in 2018. More than 300 women in Hollywood published a letter announcing the Time's Up Legal Defense Fund. 13 million dollars were donated to the fund in order to help women to seek justice for sexual assault and harassment. The Golden Globe Awards also shined light onto this movement. Women dressed in black to protest harassment and support the movement. Advocates such as Michelle Williams invited activists like MeToo founder Tarana Burke to attend the awards ceremony.  
5. Following the #MeToo movement and the impact it has had on the way the public and victims see sexual assault, Megan Twohey and Jodi Kantor won the Pulitzer Prize for Public Service. The New York Times' writers reported the allegations against Harvey Weinstein that helped the public see the full picture regarding the mogul's years of harassment and abuse in the entertainment industry. Twohey and Kantor's reporting reignited the #MeToo movement and led to several other influential men being investigated.  
6. Women also made history during the United States midterm elections. Inspired by the result of the 2016 election, even more women wanted change and thus ran for office. Not only did a record number of women beat their opponents in the primary elections, but a record number of women were elected to the House of Representatives on November 6th. For the first time ever, these representatives include the first Native American woman, Muslim woman and the youngest congresswoman ever, Alexandria Ocasio-Cortez.
7. In 2018, the second Women's March was held in Washington, as well as other cities all over the world. After the first Women's March was held in 2017 following the election of Donald Trump, the tradition was kept alive the following year. While the 2017 march focused on protesting the outcome of the election, the 2018 march focused on encouraging young women to vote. Women were especially encouraged to vote in the 2018 midterm elections, which as stated before, resulted in a record amount of women being sworn into congress.
8. It was also an important year regarding abortion policy. While there were many efforts to restrict women's rights, especially abortion rights, there was also a lot of progress in this area. Women's movements fought for better reproductive health and abortion rights in countries around the globe. Great victories were achieved especially in Ireland, Argentina and Chile. Abortion was previously banned in both Ireland and Chile, but it was finally decriminalized. In addition to these victoried, Argentinian women's rights groups as well as political support helped bring an abortion bill closer than ever to being approved.
9. Mothers in politics also had big moments in 2018. Illinois Senator Tammy Duckworth made American history by casting a Senate vote while caring for her baby. This occasion was a result of a recent rule change that allows newborns to be brought onto the hall during voting. The Senate had to change the outdated rules that banned members from bringing outside guests onto the Senate floor. Prior to the vote Duckworth tweeted about her baby's outfit: "Made sure she has a jacket so she doesn't violate the Senate floor dress code requiring blazers. Not sure what the policy is on duckling onesies but I think we're ready."
10. Women also thrived in business this year. On May 15th, Stacey Cunningham became the president of the New York Stock Exchange. She is the first woman to be appointed president in the 226 year history of the NYSE. In addition to Cunningham and NYSE, Adena Friedman was appointed as head of Nasdaq, the second-largest stock exchange in the world. For the first time ever, both of the world's largest stock exchanges are led by women.
Photo credit: Marie Claire, Elle, Glamour, Cosmopolitan