Alooooohaaaa and welcome to the University of Hawaii! You better buckle up because these next few years are going to FLY by!! 
I'm sure you're going to hear that at least once a day for your first month here but I just wanted to be the first to say it. It's honestly so true though- college is one of the biggest "new chapter" in someone's life so hopefully these tips can ease your nerves a bit!
Classes:
Scheduling can be frustrating, intimidating and confusing. Make sure you schedule an appointment with your assigned advisor semesterly to be confident you are on the right pathway to graduation. If you are undeclared/ exploratory, our campus has the "Manoa Advising Center" to assist with any questions you may encounter. Navigating through STAR can also be confusing- ask questions during your advising appointments, it'll help you in the long run!
Pro Tip: If you are taking classes back to back, be sure to give yourself at least 15 minutes in between them! 30 minutes is ideal so you can break at Campus Center, eat a snack, and get organized again!
RateMyProfessor is honestly going to be your bestfriend when signing up for classes. Sometimes you have to suffer through a really bad class for you to realize you should've done more research on the professor's teaching style. Also as a student, write a review on your professors after taking the course to help others out!!
After you've been registered for classes, I strongly suggest you walk to classes prior to the first day of school. Grab a couple of friends, a long board and some music and go explore our beautiful campus! 
Here is the link to a campus map: https://manoa.hawaii.edu/wp/wp-content/uploads/2017/09/uhmmap.pdf
Pro Tip: Woke up late? Raining? Class in Shilder and you're lazy? USE THE SHUTTLE. No one told me we had a campus shuttle until my second year at UH and it honestly changed my life for the better. There are stops all over campus which make the journey to classes faster and more enjoyable (all the shuttles have AC!!!) 
You can track the shuttle with this link: http://www.uhmshuttle.com/
Do not be afraid to drop a class after the first week. If you are not fully interested in a course, do not waste time or money suffering for the credit. You can find plenty of others which fulfill the same credit! Always check the UH Academic Calendar to know important dates coming up throughout campus. https://manoa.hawaii.edu/catalog/calendar/
Backpack:
If your goal is to be the "turtle shell backpack freshman" this section is for you! My bags are typically always filled but hey at least I'm constantly prepared for absolutely anything! 
Here are some things I never leave the house without: 
-Hydroflask
32 oz because ya girls gotta stay quenched in this heat #HydrateOrDiedrate
-Pens/pencils
 Don't be that person always asking someone for a pen in class…it's annoying.
-Laptop 
You're going to want to bring the charger too… and probably a phone charger while you're at it
-Planner (!!!)
Deadass the best invention… I'm OBSESSED with my planner
Write in your class schedule and other obligation to ensure you're not committing to too many things at once
-Snacks
Food at CC/ the daily Starbucks gets a bit pricey so it's a good idea to throw a few high protein snacks in your bag to keep you fueled for the day!  Some good ones are Clif Bars, crunchy roasted chickpeas, almonds, and dried fruit.
-Umbrella/ Raincoat
Weather in Hawaii can be pretty unpredictable & Manoa always has some misty rain so it'll be smart to keep one of the two on hand.
-Emergency Kit 
You thought we were done huh?? 
Inside the kit:
-Advil (good for both cramps and hangovers)
-Chapstick
-Lotion
-Hand Sanitizers (it's a must)
-Emergen-C
-Feminine products (ya never know when you're going to sync up with your roommate!)
-Gum/ Mints
-Deodorant (always. a. must.)
-Headphones 
-Extra $10-$20
-Reusable straw (you're going to want to skip the death stare from that girl in your sustainability class but also #savetheturtles) 
Now that we prepared for an apocalypse, let's make it fashion. 
Outfits:
You are officially freed of any highschool dress code restrictions but there are still some standards of what you should wear to class. College is the beginning of getting an insight into your chosen profession. With that being said, you do not have to wear slacks and a blouse to classes; we're looking for casual, cute and comfy but put together! 
Some good options to wear to campus would be your favorite pair of mom jeans and a tank top with comfortable shoes! If jeans seem to be the worst idea of all time, throw on a pair of appropriate denim shorts, a flowy top, and some vans. If you're really looking for comfort throw on an oversized graphic tee, biker shorts, and chunky shoes.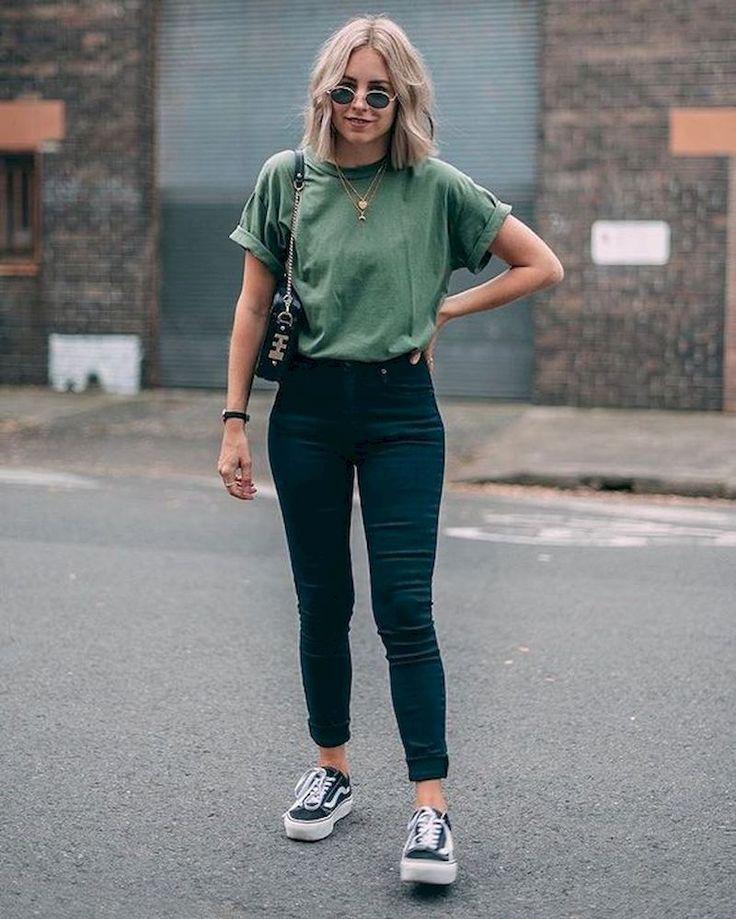 The best materials in Hawaii are for sure breathable ones. The walks from dorms to classes can get very toasty so choose materials like linen and silk so you can cool down quickly. 
Don't be afraid to accessorize!! Belts, layered necklaces, rings, sunglasses, and scrunchies are the perfect way to elevate a plain outfit and make it look like you put more effort into getting ready.  
Ultimately, the most important part of an outfit is making sure you are comfortable and confident wearing it! Stay true to your personal style but never be afraid to step out of your comfort zone :)
Warnings:
Physical changes are going to occur during your freshman year, it is completely normal. 
Your skin is going to become more oily and prone to breakouts- it's annoying but it just happens here. You will most likely ditch the daily foundation routine because you end up sweating it off anyway. My two go-to skincare products are:
1. Cetaphil daily cleanser-its oil removing yet hydrating and gentle on sensitive skin
2."Mask of Magnanimity" from Lush- just a container of minty green goodness to turn you into Shrek for a little bit.
"Freshman 15" is a thing but more of like "Freshman 8"- also annoying but hey you're most likely going to lose it sophomore year. If you are intimidated by gyms but are scared to fluctuate weight, go embrace Hawaii's beauty and go for a hike, the island is loaded with them! Working out does not mean you have to go into a gym- just find a routine or fitness class that you enjoy. 
To avoid or control both of these problems try drinking as much water as possible throughout the day, limit alcohol consumption, attempt to get some good shut-eye, increase your vegetable intake and decrease your meat intake, and get into an overall "self-care" routine.   
You will get homesick. The first semester is typically worse because you are so distracted by the new place you're in and the new people around you and then all the sudden holidays come around and you're slapped in the face with homesickness. 
It is so normal to miss your friends and family so first off, do not feel ashamed or let anyone make you feel worse for it. A thing I found was helpful during these down feelings is to take time to be ALONE (after talking to your loved ones though). Do something you enjoy doing without your roommate or friends around, it could be something as simple as watching an episode of your favorite show with a face mask on. It could be going to the beach by yourself to watch the sunset or getting some good ole comfort food, seriously anything your longing heart desires!! 
Dorms… not bad yet not the greatest. 
Be sure to make the most of it- go meet people in your building and introduce yourself to people on your floor! Some of my best friends to this day lived on the same floor as my freshman year & it was all thanks to me being annoying and asking questions during a floor meeting our first night living there. As much as you may think they're going to be lame, go to courtyard events!! Majority of the time they are offering something free & the "free is for me" motto is important during college (especially when it comes to food). The events are a great way to meet new people or just create memories with your friends. Plus the RA's put in a lot of effort to throw the events so go support them even if it's just for 5 minutes!
The bathroom situation is going to suuuuckk but you'll get used to sharing it with 24 people in like a month or so. Be a good person and don't make it messier than it already is- dispose of your feminine products correctly, pick up your hair after showers, and just tidy up after yourself.
Fans. Stock tf up on them. Get at least one good one and maybe a personal one to hang over your bed. During mid-October, the island starts cooling down a bit so hopefully, your room will be breezy but fans are a necessity while dorming.
Welp I think I've done enough rambling for the day so I'm going to leave you with this,
Freshman year is what you make it. Embrace new opportunities, get involved on campus, meet as many people as you can, go to as many events/ places as you want to and do not be afraid to put yourself out there. With everything being so fresh don't forget why you are in college in the first place and don't forget who YOU are internally. 
Basically, be open-minded but stay true to yourself. 
Best of luck and if you see me around campus be sure to say hi, I promise I'm friendly ;)!