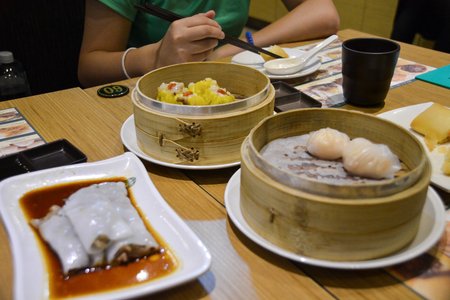 Eating My Way Through Boston: Chinese Food
1. Gourmet Dumpling House
This is my favorite restaurant in Boston's Chinatown. The food is super authentic and delicious. My parents, who are the toughest critics of Chinese food, love this restaurant so you know it is the real deal. My go-to orders are the pork soup dumplings, sautéed Chinese broccoli with garlic, beef flat noodles (chow foon), and the beef with longhorn peppers. The soup dumplings are so juicy and satisfying and the chow foon is some of the best I have ever had. Beware though, this is one of the most popular restaurants in Chinatown. You will inevitably have to wait at least 20 minutes for a table, but trust me, the wait is absolutely worth it!
2. 5 Spices (Cambridge)
I cannot rave about this restaurant enough! This is my favorite restaurant in Cambridge. I am so happy they opened a location so close to Harvard's campus. They specialize in Szechuan food, which is my favorite type of Chinese food, and if you ask, they will make the food properly spicy for you! They make the most delicious spicy sautéed eggplants that just melt in your mouth, and you have to try their Szechuan water boiled fish – it is to die for. The fish is cooked so well. It is so soft and so flavorful. The mapo tofu is amazing as well. Mix it with your steamed white rice, and your mouth will thank you!
3. Hot Pot Buffet
On a cold winter day in Boston, Hot Pot Buffet is the perfect restaurant in China Town. As the name suggests this place offers all you can eat hot pot for about $35 per person after tax and tip! There are unlimited menu options: fish tofu, udon noodles, ribeye, tripe, and enoki mushrooms your heart desires. You can choose from a couple of types of broths, but I prefer the spicy option. While the restaurant is always loud and busy, the warm soup and delicious toppings make up for it.
4. Mala
This is another delicious restaurant that serves authentic Szechuan food. If you are an adventurous eater who is new to Chinese food, try the Sliced Roast Beef & Tendon with Chili Sauce. This dish is a famous Szechuan food that this restaurant does very well. Mala is known for its spicy pots. This is kind of like hot pot except without the broth. You can mix and match meats and vegetables, and they will combine it for you with spicy sauce. If you are not good with spicy foods, don't worry because you can choose your own spice level. The taste is so authentic and reminds me of my dad's hometown (he's from a small rural town in Szechuan). You should also try to go during lunch because there is a special where you can combine 3 classic dishes for only $25!
5. Hei La Moon
Who doesn't love dim sum? For those of you who are unfamiliar, Dim Sum is food that is served in small plates, kind of like Tapas. It is the perfect brunch food! This restaurant offers an amazing and affordable dim sum. It is super popular in Boston's Chinatown and for good reason! This is the perfect place to try new foods. Every dish is small, and the dumplings come in batches of three of four, so if you don't like it, you're not wasting a log of food! Of course, try the dim sum classics like shrimp dumplings, shumai, and buns. But I also urge you to be more adventurous as try the chicken feet (full of collagen) or the sticky rice wrapped in lotus leaves! I recommend ordering the beef and cilantro soup and steamed ribs with taro bits to complement your meal!
6. Gene's Chinese Flatbread Café
This restaurant is a small hole in the wall but an absolute gem in Boston's Chinatown. Don't be misled by their humble appearance, they serve the best hand-pulled noodles ever! The prices are so cheap and the food is so good! Order the hand-pulled noodle with a tea egg. The tea egg is so savory, and the hand-pulled noodles are thick and chewy. Mix the noodles in the spicy garlic sauce well so that the spices are distributed evenly. Each bite will be bursting with flavor and amazing texture! You will not regret it! Just remember that they are cash only.