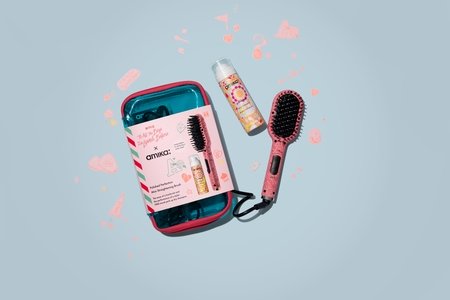 Amika's New Straightening Hair Brush is the Best Valentine's Gift Ever
This week, Netflix released the much anticipated second installment of the To All the Boys I've Loved Before Trilogy. In partnership with Netflix for Sephora, amika, a Brooklyn based professional haircare brand, launched the limited- edition Polished Perfection Mini Straightening Brush Set! This is the perfect Valentine's gift for yourself or a loved one!
Each kit includes an adorable pink, limited-edition Polished Perfection Mini Straightening Brush, covered in designs inspired by the film. Also included is a travel-sized Perk Up Dry Shampoo, amika's bestselling product! These two products are packaged inside a reusable blue and pink travel case. But, that's not all! Inside the travel case is an exclusive To All the Boys: P.S. I Still Love You sticker sheet!
The Polished Perfection Mini Straightening Brush is absolutely incredible and innovative. It combines the power and heat of a straightener with the convenience of a simple hairbrush. It instantly straightens and smooths my frizzy curls with a single stroke! I use it every morning, and I am ready to go in less than 10 minutes! Unlike regular straighteners, this brush helps smooth out kinks in my hair that is close to the roots. Don't be fooled by its small size though, this powerful hair brush heats up to 400 degrees Fahrenheit! The Perk Up Dry Shampoo is one of my new favorites as well. As a college student, I am always on the go, and this dry shampoo is perfect for my busy schedule! The residue-free spray has natural rice starch to absorb excess oils in my hair. Not only does it leave my hair smelling fresh, but it also adds an extra boost of volume! Best of all, Perk Up Dry Shampoo is vegan and has not been tested on animals. It does not contain parabens, sulfates, phthalates, sodium chloride, talc, aluminum starch or artificial colors.
The whole kit costs only $35, and it will be exclusively sold at Sephora and sephora.com! Most of my other straightening irons cost up to $100, so amika's straightening hair brush is definitely a cost-effective substitute to tradition irons. This is my favorite hair kit from Sephora so far, and I definitely recommend it for anyone with hair types ranging from loose waves to frizzy curls!