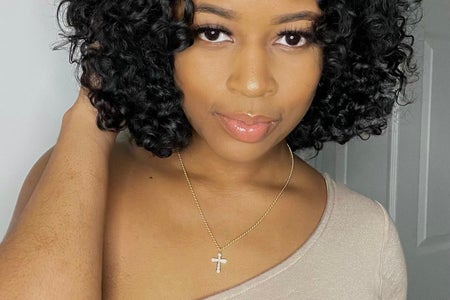 Thanks to Kibriya Kafele, I'll Never Settle Again
Kibriya Kafele is a graduating senior strategic communications major from Jersey City, New Jersey and truly a force to be reckoned with. Once known for her makeup service, KibriyaBeats, this MUA has taken her passions to new heights. On February 20th, 2021, Kibriya officially launched her new cosmetic line, Kibri Beauty, LLC, with her initial collection, Any Means Necessary, and believe me- the girls cannot get enough. Kibri Beauty, LLC is a beauty brand best known as THE go-to for all things beauty and high quality cosmetic products, motivated by the mission, "never settle." The Any Means Necessary collection included a wide range of products from lip glosses and silk lip liners, to  an eyebrow pencil dubbed the 'Brow Genie', mascara, and 3D mink lashes. As you can see, the Any Means Necessary Collection was no soft launch; Kibri Beauty has come into the cosmetic world with full force; we at HC had no choice but to tap in. 
Earlier this week, I had the opportunity to speak with the CEO herself, Kibriya Kafele, about the motivation, mission, and vision for the brand. She shares a heart-warming, inspiring story of how nostalgic moments with her grandmother birthed the drive and creativity behind the powerhouse that is Kibri Beauty, LLC. 
Where did your passions for makeup stem from?
KK: My passions for makeup stemmed from my grandmother. She lived in a different city than me, and she would go on long drives to pick me up and bring me back to her house. Our favorite thing to do together was look at beauty magazines and try to replicate the makeup looks. I was only 7, but that stuck with me. From there, I always made it a point to pick up new makeup products from the drug store whenever me and my mother would happen to go. 
What prompted the transition from MUA to CEO? 
KK: I really wanted to sell a product. Offering a quality service while being a fulltime student was getting to be time consuming, because I'm taking my time with each and every client. Nothing is rushed with me. Selling a product seemed like a natural next step and the perfect way to expand and retain my audience on a national level. With COVID-19 in mind, doing makeup appointments isn't always ideal. Selling a product is both a safe and effective way for me to build my brand because it eliminates the danger of in-person makeup appointments, and a physical product is going to last until the formula runs out, which is longer than a makeup application for an occasion. Essentially, it's a Kibriya Beat brought to your front door. 
Describe the motivation behind the "Never Settle" mission. 
KK: Never settle is the message I want to push for the brand, but it's also a message I encourage all of my friends, family, and clients to live by indefinitely. More than anything, I want to see people win in every aspect and facet of life. To me, that success is achieved by never settling for anything; whether it's bad relationships, bad friends, a bad job, or bad anything, it doesn't matter. I believe we should all strive to feel our best, at all times. Kibri Beauty is the best, and when you look good, -which you will- you feel good. 
How do you live your life in a way that embodies the "Never Settle" mission of your brand? 
KK: Simply put, I never subject myself to participating in things that aren't making me happy. When things don't make me happy, I work to get to the bottom of it, so that it can be up to standard and not bother me. However, if something is unfixable or detrimental and simply unable to serve me, I refuse to settle for it. I believe it's a part of growing up. Sometimes you have to learn the hard way. Once you encounter the effects of minimizing your own wants and needs in settling for less and learn how damaging it truly is, you'll carry that lesson with you, and you'll never settle again. 
It's Date Night: What is your go-to beat? 
KK: I'm definitely known for my soft, natural beats. When I want to kick it up a notch, I don't mind reaching for a red-lip. Nonetheless, my go-to look consists of neutral shadows for the eyes, a nude lip combo with brown lip liner and either a clear or lightly tinted gloss on top. I'm a firm believer that less is more and the best makeup looks don't obscure or alter your natural beauty, but rather serve to accentuate what's already there. 
If you could only do two steps of your makeup routine for the rest of your life, what would they be? 
KK: Lips and mascara, hands down. A good lip combo is such an underrated but essential step in makeup. Mascara gives you the perfect pick-me-up that just brightens your whole face. 
What is your favorite product from the "Any Means Necessary" collection? 
KK: I haven't been able to put down my lip gloss in the shade Top Notch. It's an iridescent nude with the lightest tint of brown that is subtle, but still significant enough that it shows up. It's perfect for everyday. 
Who is Kibri Beauty for? 
KK: Kibri Beauty is for the go-getting young lady between 21 and 26-years-old. She has a plan, but she's also learning and navigating the journey of life. She's tapping into her career, and she's coming for everything that's meant for her. 
What does beauty mean to you? 
KK: Beauty is the illumination of the soul. It's not measured by the physical, but the nature of our actions. Beautiful girls are nice and kind-hearted. It's impossible to radiate beauty when your spirit is motivated by ill intent. I try to always reflect, be kind, and treat everybodyin  the manner in which I want to be treated. It's nice just to be nice. 
Kibriya Kafele was a joy to speak with; she was open and insightful to say the least. The depth of her passion for beauty emanated even through the phone, and she is a true embodiment of her belief that beauty supersedes the physical, and extends to morality, character, and spirit. 
The "Any Means Necessary" collection is mostly sold out, but be sure to follow @Kibriya_ and @KibriBeautyLLC on instagram, and sign up for the newsletter at www.kibribeauty.com to stay up to date on all restocks and new releases!