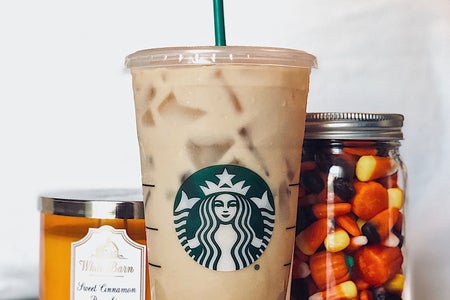 PSL Who? Meet Starbucks' Pumpkin Cream Cold Brew
Seasons have changed and it is officially fall. Fall affects all of us in different ways; whether you switch your home decor, recipes, or scents to get into the spirit, autumn's influence is undeniable. Some of us love fall for the holidays, but if you're anything like me, it's all about the coffee. Starbucks' Pumpkin Spice Latte is a season staple, and the fanbase is similar to that of the Beyhive -if you know, you know- and for good reason. 
Starbucks' PSL is composed of two shots of espresso lightened with the milk of your choice, flavored with their infamous pumpkin sauce, and topped with whipped cream and literal pumpkin spice. The bestselling latte first hit Starbucks' menu in 2003, and easily surpasses any fall themed beverage from any coffee chain in relevance and loyalty from customers. 
With all these things said, I never thought I would depart from my PSL- that was until I met the Pumpkin Cream Cold Crew. The newest addition to the fall menu at Starbucks has made quite the splash and has even the loyalest of latte consumers cheating on their PSL this year. The Pumpkin Cream Cold Brew is Starbucks' Cold Brew flavored with vanilla syrup, decorated with a pumpkin cream cold foam, and topped with pumpkin spice. In addition to being delicious, the image of freshly brewed coffee acquainting itself with the light walnut colored cream is visually satisfying enough to purchase two; yes, I'm guilty of such. 
As an avid coffee connoisseur, I do not always appreciate a coffee so sweet that it loses its strength, and that slight wince you're supposed to have with each sip. I rave about the Pumpkin Cream Cold Brew because it is the perfect balance of the dessert-like decadent taste that the PSL possesses and the slight bitterness that true coffee lovers crave. Furthermore, sized at a grande, the Pumpkin Cream Cold Brew comes in at 250 calories, while the PSL is 370. Sugar is sugar, but the opportunity to have a treat not count as much is always a plus. 
The question is, is the Pumpkin Cream Cold Brew better than the Pumpkin Spice Latte? In short, it depends on your preference. If you're a coffee drinker that considers coffee to be a sweet treat and nothing more, chances are you'll remain loyal to the PSL while dabbling with the Pumpkin Cream Cold Brew. However, if you're looking for a less sweet way to get your Pumpkin fix this Fall, the Cold Brew is definitely the way to go. While the PSL will remain the Beyonce of Starbucks' Fall menu, the Pumpkin Cream Cold Brew definitely has a fighting chance at becoming a fall favorite, and dare I say it, an autumn essential! PSL lovers, don't be afraid of being converted to cold brews; this is the season of change, after all.