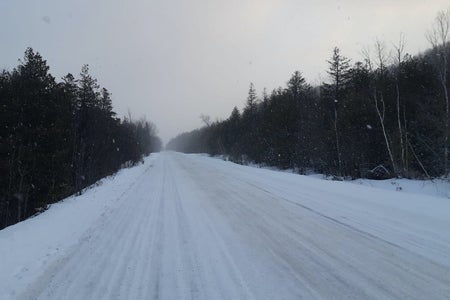 My Project Serve Reading Week Experience
This year, I was so lucky to be chosen as one of the volunteers for Project Serve reading week program. With eleven other students, I had the chance to volunteer on the Nawash First Nations reservation in the Saugeen Peninsula (also known as the Bruce Peninsula). To say it was a great learning experience is an understatement of the time I had. I thought I would reflect on it here and hopefully get more people excited for Project Serve.  
We stayed with host families during the trip, and when we arrived, we were instantly welcomed. Everyone was so kind to us, and this was extended at our volunteer placements as well. I was lucky enough to be a volunteer at the community's daycare, where I learned so much from the wonderful people that work there. They put in a lot of time and effort to make sure the kids are happy and healthy each day. From the food they eat to the activities they do (one day we went snowshoeing with the preschoolers!), it was really an eye-opening moment for me. I realized I had never been to a daycare as developed and caring as this one. 
Outside of our volunteer placements, we also got to do some fun activities. Everyone got to try beading the one night, and we also got to check out some community activities at the community center on Heritage Day. What we all saw as we interacted with people in the community is that everyone seems to be connected, like they all know each other so well. If you talked to someone about another person you met during the day, they would know exactly who you were talking about. What was so amazing about this is realizing that they have such a strong community there, and all together they are as resilient as ever. Everyone continues to build this community, and a lot of effort is put into doing so. The two of us at the daycare got to check out a walking program they have at the community center for people to chat and get moving, and this just highlighted the importance of community even further to me.  
Some of the most rewarding experiences on the trip came from being outside and learning more about nature. When we first arrived in the community, our first activity was going on a nature walk with one of Nawash's elders. All of us learned more about the plant and tree life in the area, and we even got to take a shot at calling some birds. This was a wonderful way to learn more about the area, but it was also very distressing to hear about how the environment in the area is being harmed by human activity. Seeing this impact first hand really left a mark on me. Later in the week, we went snowshoeing at night. Even thought it was so cold, I looked up at the stars and was shocked-the sky was so clear, and I had never seen stars like that in my life. I will always remember that moment for the awe I felt by looking at the world around me.  
I gained so many connections on the trip, and I learned a lot about myself and Indigenous issues. I had never been on a First Nations reserve for a long period of time like this, so getting to learn about things through experience was amazing. A lot of the time, we hear about these issues in our classes, but we have a lack of connection with them-they're just names, faces, and places. But being there, I saw some issues in action, like the fact that the community is on a boil water advisory, or that to get to high schools, students have to take a bus an hour outside their community. These are real things that are happening, and I am tired of just standing by when it comes to these issues. Instead of standing by, we need to be standing in solidarity. The trip has inspired me to do many things, including to be more connected with nature and get involved with more Aboriginal Student Association events on campus. But I've decided I'm also going to take a stronger stance on these issues. This has started with me boycotting Nestle, the company that has taken millions of litres of water from the Six Nations reservation land despite the people having no clean drinking water.  
I encourage others to apply for this program next year, and to learn more about the Nawash First Nations reservation. It was a once in a lifetime opportunity, and I am so glad to have experienced it with some amazing people.