As the semester is ending and summer is approaching, you may be thinking your skin is looking a little dull. Luckily, you can combat that post-winter paleness with a gorgeous golden tan using at home self-tanning products.
Self-tanning products work wonders for anyone who needs a boost of color without dabbling into the repercussions of tanning beds or spending excessive time outside in the sun. 
From tanning waters to mousses, your ideal at-home tan is just one "add to cart" away!
For the "I'm new to this" tanner:
We've all been there! Without using the proper methods, you could be in a world of hurt when self-tanning for the first time. That's why I recommend a light to medium color for newbies. You can achieve a natural, and airbrushed look with a gradual lotion. (Don't worry, I promise you won't look like Ross from Friends in that terrifying tanning episode.)
Jergens Natural Glow + Firming Daily Moisturizer is the perfect product for an effortless and inexpensive tan. This product is a great introduction to the tanning world, and also has collagen and elastin to reduce the appearance of cellulite. Can I get a YASSSS for that?! This gradual tanner goes on easy without any harsh streaks and can be used daily to keep your glow on all summer long. Best of all, you don't need to use a mitt! Just make sure to thoroughly wash your hands with soap after applying. 
For the lazy tanner:
I'm this tanner more times than not. But, that doesn't mean we can't get a flawless color! Tanning waters are my go-to for when I have a last minute date night, but don't want to wait for my color to develop before heading out the door. 
Tanning waters are lightweight and very easy to apply. Isle of Paradise Self-Tanning Water is a must-try for gals on the go. It comes in three colors, light, medium, and dark. I recommend the medium for a golden tan and the dark mist for a more bronzed look. The only downside of this product is that it goes on clear so you must use a mitt when applying for an even application. You can get this stunning iridescent mitt from Isle of Paradise for only $6.50! 
For the experienced tanner: 
Let me put y'all on to the best product (and brand) I've ever tried. B.tan is my holy grail when it comes to a long-lasting tan with beautiful results. Not only is the packaging *chef's kiss*, it is also a sustainably sourced and cruelty free business that uses recycled materials. AND it's 100% vegan– I mean, come on, do I even have to continue?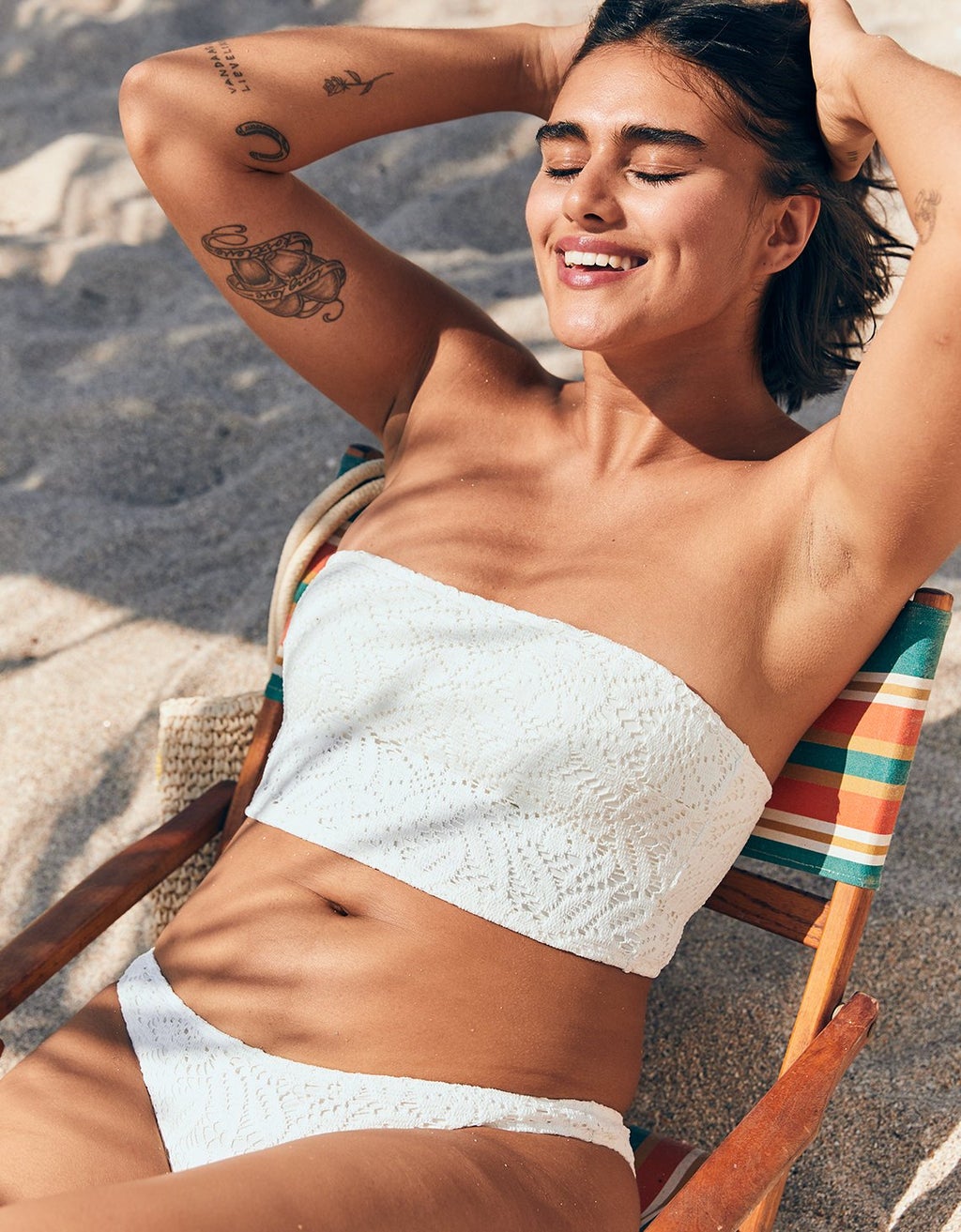 B.tan's products are unlike any others I have ever used. They have the widest range of color selection with products to fit every tanner's needs. My personal favorite is the Disco Candy Tan mousse. This mousse is for anyone who hates that nasty DHA smell from tanning products (so basically, everyone!) It smells like a delicious blend of cotton candy with a hint of SweeTARTS! This product also is transfer resistant (goodbye dirty white bed sheets!) and sweat resistant for my fitness gurus. At $14.99, you cannot beat this product if you are an experienced tanner. Make sure to apply a generous amount to your mitt for an all-over radiant bronzed look.
We all want that summer glow without the hassle of *actually* tanning. I got you girl, you will be a bronzed goddess in no time!