Rihanna & Drake "Work" in Double Video Debut
The anticipation of seeing the video for "Work" has finally come to an end! Yesterday the fiery, rebellious, Bajan star,  Rihanna released TWO new videos for this fun, dancehall-pop tune. The video begins in a very dim lit club with traditional rastafarian colors around the room, upon Rihanna's outfit and makeup. From the time she enters the room she's already turning up the heat with her indisputable and effortless sex appeal. (We always love with Ri returns to her bad gal roots and gives us "Pon De Replay" vibes.)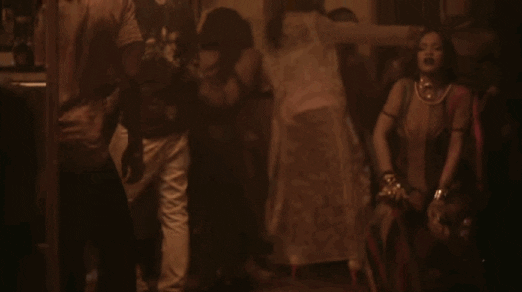 The video wouldn't be complete without seeing Rihanna and Drake come together in a steamy scene where Rihanna "wines pon Drake" as we've all been waiting for since the teaser was released a few days ago. In every video they've shot together from "What's My Name?" to "Take Care", you can't argue the undeniable chemistry between the two. Drake's has described Rihanna as "an overwhelming and incredible person" to which he gets nervous around. Rihanna also seems to love to collab with Drake on calypso sounding tracks, which would indicate a soft spot for him as well. We all know when they collaborate to make a song, it's a hit. Plus, look at how she's dancing with him, (gyal know how fi wine).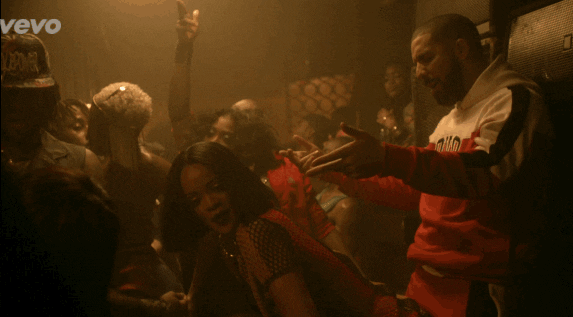 If this wasn't all enough to satisfy us, the first video cuts out and transitions into a second video in a scene where it's only Drake and Rihanna in a private room with a very similar to Hotline Bling-ish glowy, pink-colored background. Rihanna dances in an edgy outfit and begans to dance for Drake as he patiently watches. This video seemed a little more personal and less playful intitially from the looks on Ri's face, but the dynamic duo never is in each others presence without being playful and silly.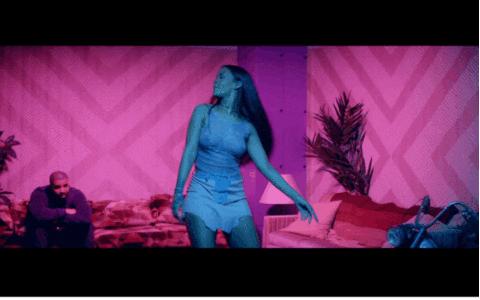 And what would a Rihanna video be without her alluring stare that'll snatch any man's heart, even Champagne Papi's... Can they just get back together already?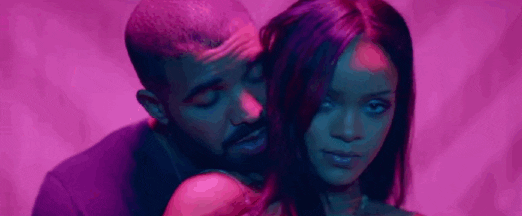 But enough of us talking about it, if you missed it, watch Rihanna's new video "Work" featuring Drake here.