Higher Foundation: An Organization Striving to Help College Students All Over Georgia
College is a time for creating unique experiences, enjoying newfound lengths of freedom and irreplaceable growth. But on the not-so-bright side, it can often be a time of hardships, struggle and stress. Factor in the mounting class assignments, a job that doesn't always cut it, and the desperate attempts to maintain a social life, what are we left with? A tragically broke and stressed college student, something we all may have been at once or are now (it's all right sis, we'll get through this).
Thankfully, we don't have to endure these dilemmas alone. Higher Foundation is an organization that helps Georgia college students in common areas that students struggle with. Created by the Georgia Institute of Technology alumna Mallorye Crowell, she designed it to provide assistance to college students in areas that she struggled with herself. Keep reading to find out the development of this organization and all that it entails!
The Early Beginnings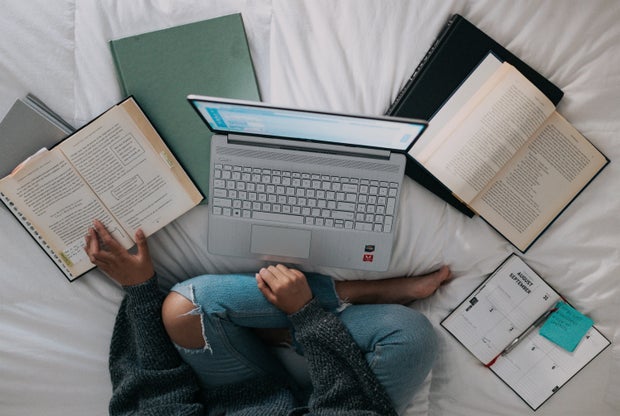 Photo by Windows from Unsplash
As a first-generation college student, Crowell faced countless struggles throughout her college career. Yet, through financial strain, housing instability, food insecurity and more, she was able to make it to her last semester of college. By the grace of God, as she credits, she made a vow to Him that she would start a non-profit organization as soon as she graduated to help college students get through all that God helped her get through. 
"College is already hard enough. I created this organization as a way to extend help to students going through exactly what I did," Crowell expressed.
Crowell indeed kept this promise. Established in February 2017, she shared her project with the public in May 2018. Higher Foundation is the help that Crowell once needed as a college student. Aiming to help students overcome college attainment barriers, she is determined to do all that she can to make post-secondary education easier and more attainable for Georgia students, allowing them to go higher in their education and career.
Aspects of the Higher Foundation
Higher Students, those enrolled in the organization, receive access to several resources, one of which being grants. If you're experiencing a financial strain, Higher Foundation offers grants for all sorts of expenses such as textbooks, food and groceries, mental and physical health expenses. The organization also offers an annual scholarship to help fund students' education.
If you've ever found yourself in need of school supplies before a new semester starts, the organization provides a back-to-school college kit at the beginning of the Fall semester. And for when finals week comes around, they offer finals week gift boxes to help ease the stress of this especially overwhelming period.
Aside from financial assistance and generous gifts, Higher Foundation also provides mentorship services. Whether you need help in your career advancement, professional development or academic success, Higher Students have the opportunity to sit down with a mentor and discuss what actions they should pursue.
How Higher Foundation has Helped Me
I discovered Higher Foundation when their scholarship flyer was dropped in a group chat. Where there's an opportunity to decrease my student debt, I take it, so I instantly looked into it. At first, I wasn't expecting to do anything more with the organization other than just submit my scholarship essay and anxiously wait for a decision email. But after reading more about its purpose and the services provided, I became enthusiastic about how it could improve my time in college. So far, I've had the opportunity of receiving a grant, been given advice when I felt stuck on my career plans, and gained knowledge on various career and professional aspects through their Instagram Live sessions.
Experiencing lows throughout college is inevitable, but with Higher Foundation, there's a team behind you ready to extend their guidance and support wherever it may be needed. If you're interested in becoming a Higher Student, fill out this enrollment form and get ready to go higher!