When you're at a club fair looking around at all of the various activities that you might be able to participate in during your time at college, joining an equestrian team might not be something that sounds like an option. After all, you might think, don't I need to be an experienced rider who owns a horse to do something like that? And while that might be true in some cases, many schools have an alternative model, such as the International Horse Shows Association, IHSA.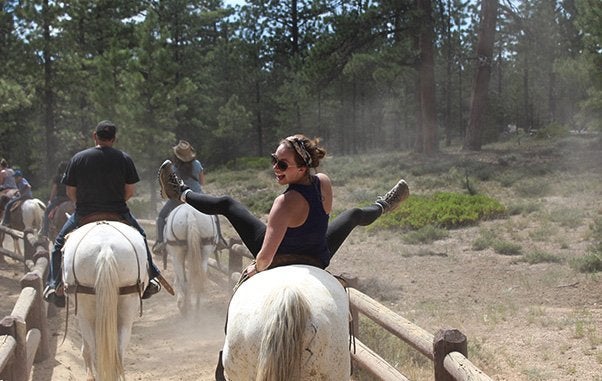 The Intercollegiate Horse Show Association (IHSA) allows college students with many different levels of experience to compete in English-style flat and over-fences classes. They also provide the horses, so students do not have to (and cannot) bring their own. 
At Gettysburg College, where I am a student, we have an equestrian team that is a club sport, so literally anyone can join. You can start taking riding lessons for the very first time ever if you want. Competing through IHSA is optional, but it's perfectly doable even for complete beginners or people who haven't ridden in a long time and want to start again, such as myself. Here, the only necessary club costs are $40 per hour lesson, as well as the annual club dues of $30. If you choose to also compete through IHSA, that costs $45 to register for an annual IHSA membership and an additional $45 per class you compete in. But all in all, joining our equestrian team is much more affordable than it would be if you had to own your own horse! 
Not only does joining an equestrian team provide you the opportunity to try this exciting sport you may never have partaken in before, it also gives you the opportunity to surround yourself with a new group of friends. At Gettysburg, we carpool to lessons and shows together, participate in team bonding activities, and see each other at weekly meetings. Personally, I'm very glad that I took the chance to start horseback riding again after having quit for about seven years. My teammates are supportive, I've gotten to ride and to know many different horses, see the barn cats, and learn from an amazing coach.
If your college has an equestrian team, I hope you will consider joining and taking advantage of this unique experience!