10 Time the Bachelor Described College
When you realize how much work you have to do and you just want to go home and hide:
http://31.media.tumblr.com/9b592225acff33565364d3eed26f8d90/tumblr_mjnkndFFLV1s4fo97o1_400.gif
2. When you have to do a bunch of papers at once and your professor assigns another project: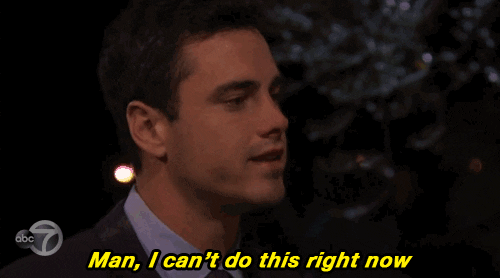 https://media.giphy.com/media/3o7GVPK88MOkwO6xeE/giphy.gif
3. When it hits that time of the semester that attendance becomes less regular:
https://media3.giphy.com/media/26gsrNJp6aqck9rHO/giphy.gif
4. When a first year is super excited on the first day of classes:
https://575717b777ff8d928c6b-704c46a8034042e4fc898baf7b3e75d9.ssl.cf1.rackcdn.com/13198658_get-ready-for-the-bachelor-recaps-again_t1c26360d.gif
5. When you wake up on a saturday:
https://the-hollywood-gossip-res.cloudinary.com/iu/s--6MwyMHhP--/t_slideshow/cs_srgb,f_auto,fl_strip_profile.lossy,q_auto:low/v1424999364/youve-got-a-sparkle.gif
6. When you realize that you forgot to do an important assignment:
https://nwonline.com.au/wp-content/uploads/2017/01/giphy.gif
7. When you learn something new and interesting in class:
http://www.flare.com/wp-content/uploads/2017/01/Corinne-tells-about-nanny...mind-blown.gif
9. When you just really need to get some sleep in before you finish your work:
http://aliluvs.com/wp-content/uploads/2017/01/Corrine-Bachelor.png
10. When you finish all of your homework early so you can watch some netflix (or catch up on the Bachelor):
https://lovelace-media.imgix.net/uploads/141/f7392a10-d8b1-0131-bf96-0eb...?