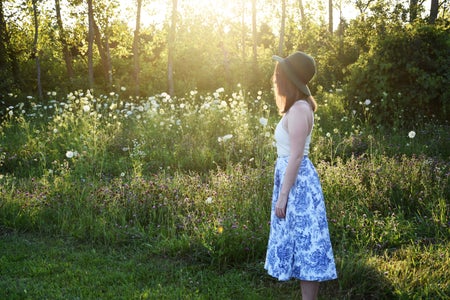 Anna Thetard / Her Campus
Spring into Sun-Kissed Fashion
Springtime is quickly approaching! Is your wardrobe ready?
The season of spring can be recognized by blossoming flowers, blooming trees, a sunny sky, buzzing insects, and winds. The array of bright and pastel colors are oh so beautiful!
What better way to enjoy the aesthetic of springtime than to incorporate fashion into it?
Whether you're in need of more inspiration or simply do not know where to start, here's a little help. After surfing various fashion websites, I've gathered some suggestions and must-haves to share with you all.
Let's spring into sun-kissed fashion!
Depending on where you live, the temperature during this season is normally warm/hot. Yet, sometimes fluctuating between warm/hot and cool. This is a factor to consider when selecting clothing. I would suggest purchasing apparel for both warm/hot days and cold days.
Pastel and Bright Colors
Pastel and bright colors are the natural palettes of the season! Colors such as lilac, mint, yellow, orange sherbet, white, pink, aqua, and etc. are staples. You can wear one color alone or mix and match these colors if you're feeling bold. By the way, the pastel colors go well with nudes (shoes or lip colors).
Lace Fabric
Apparel with lace fabric is chic and lovely on every woman. It's even lightweight. Also, lace does exert a sex appeal. Feeling sexy? A lace look is a go-to option. You can choose to either dress up or down your lace look.
Floral Prints
If you're aiming for a soft or delicate look, you will like floral prints. Floral prints are ideal to rock during the springtime. Not only will it emphasize the beauty of flowers but the woman wearing it as well!
Jumpsuits and Rompers
These two are pretty interchangeable. Jumpsuits and rompers compliment all figures. I'd suggest rompers for warm/hot days and jumpsuits for cooler days (not to say it can't be worn on warm/hot days). These looks have the potential to be simple & pretty or very fashionable. It's all up to you.
Lightweight Cropped Sweaters
This look is great for those days of fluctuating temperatures. Lightweight cropped sweaters won't cause you to feel too hot. It is just right. The sweater fabric aligns with the airy, soft theme of spring. You can make this look more "springtime" by selecting one that is pastel or bright colored.
Maxi Dresses
Maxi dresses are a nice option for those wanting to stay more concealed during the warm/hot weather. For those who wish to show off a little skin while rocking a maxi dress, choosing one with a split along the side is just for you. These dresses tend to be lightweight and simple.