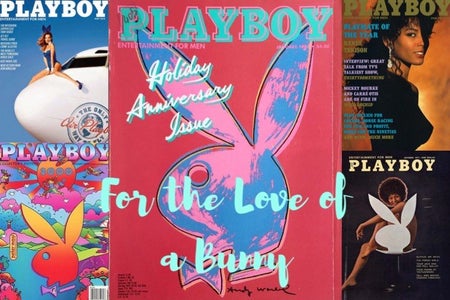 The Playboy bunny is such an iconic logo and the brand itself. My love for Playboy started when I was young and being babysat by my aunt. She loved Playboy. She had Playboy bags, jewelry, and even the cute logo as a tattoo. Some would say she was promiscuous or a slut, but she wasn't. She was a 20-something year old that was confident in herself and loved embracing her sexuality. Today, I would say I am the same and I absolutely love what Playboy stands for. 
In my opinion, I feel that Playboy stands for confidence and being comfortable in your own skin. It is empowering, sexy, and romantic in my eyes for women. When I see the playmates and celebrities working with Playboy today that are representing so many different types of people it is extremely inspiring for a girl like me.
 The Equality Issue is the first issue of 2020 and explored the equality of women showing a range of shades and sizes of women. Riley Ticotin was the January playmate, a Puerto Rican, "plus-sized" woman who has had trouble finding work because she was curvy. She confidently revealed herself within the issue in such an impactful and inspiring way that could inspire any girl in a similar boat of not feeling adequate with themselves due to the portrayal of women in the media.  Plus, she's a Sagittarius and I am a Sagittarius, she's Puerto Rican and I am also Puerto Rican, so she really inspires me. Ticotin stated that being curvy always played a role in her not accepting herself in the modeling industry and she even tried starving herself, but nothing seemed to work for her to get skinny. 
"Being a curvy model is not an "alternative." It's a natural size, and it's just as great as any other." – Riley Ticotin
Chasity Samone is the February 2020 playmate. Samone is an African American woman from Dallas who enlisted in the Army when she graduated high school. She then fell into modeling when she did not re-enlist in the Army. She stated that she wanted to be a playmate from a young age when she saw the Naomi Campbell issue for the first time going through her father's things. She also explained how the shoot was an emotional experience for her because she has not seen many women celebrated on a similar platform.
"It's liberating to shoot nude, and I feel powerful embracing my sexuality" – Chasity Samone
Anita Pathammavong is the multicultural March 2020 playmate. Pathammavong was born in Thailand and moved to the United States at age six. She has southeast Asian, native American and European roots. She states that she has always had a kaleidoscopic view of beauty standards, societal expectations, and her own beauty. She stated some of the struggles she had modeling being curvier than many models and not matching the European beauty standards that many agencies looked for. Pathammavong also has humanitarian goals of opening an orphanage in Laos and to start a nonprofit to remove the leftover land mines still planted along the border of Laos and Vietnam. 
"People should be able to open up magazines and see models of all shapes, sizes, and races. They should be able to see images of women they can relate to." - Anita Pathammavong
Besides the playmates representing diversity within the issues, Playboy does more than just make amazing shoots possible. They educate and stand up for issues important to many. On February 19, 2020, Playboy premiered its first sex education digital series hosted by Shan Boodram a certified intimacy educator. Sharing the importance of the female orgasm. 
Cannabis Reform and Federal Legalization
In addition, Playboy has fought for multiple causes since its initial release in 1953. Cannabis reform and federal legalization has been recognized since their first issue and have been a leading source of America's drug culture. Within the 1960s the first Playboy panel gathered a group of jazzmen to discuss narcotics and music. Within the 1970s The Playboy Foundation donates to the National Organization for the Reform of Marijuana Laws (NORML) and commits to giving $100,000 each year for the following decade. Throughout the 1980s – 2000s they published letters about marijuana use and the war on drugs. Through 2006-2009 The Marijuana Policy Project holds an annual fund-raiser at the Playboy Mansion, raiding more than $300,000 for the organization. 
First Amendment and Voter Rights
Within 1954, Playboy wins a civil action granting the magazine mailing privileges following the U.S. Post Office's denial of Playboy's second-class mailing permit. In 1994, The Freedom of Expression Award is established in partnership with the Sundance Institute.
LGBTQ+ Rights
In 1955, Playboy publishes a short fiction piece "The Crooked Man" by Charles Beaumont that reverses society in which heterosexuality is criminalized. In 1979, The Playboy Foundation provides a major grant to the National Gay Task Force for research to change governmental policies towards homosexuals. In 1991, Caroline "Tula" Cossey makes history by being the first openly transgender woman to be featured nude in the pages of Playboy. In 2008, The Playboy Foundation presents the Hugh M. Hefner First Amendment Award to young LGBTQ+ advocate Heather Gillman for speaking out on behalf of the rights of gay students. In 2012, Playboy publishes an op-ed by Hugh Hefner advocating for the legalization of gay marriage. As well as in 2019, Playboy launches its Pride is Good campaign to support The Trevor Project's 50 Bills 50 States initiative to end the practice of conversion therapy. 
Equality- Reproductive Rights 
In 1966, The Playboy Foundation provides funding to the Association for the Study of Abortion, which offers information and strategy advice for other abortion-rights advocacy groups. As well as providing funding to the ACLU's Women's Rights Project. In 1973, Playboy publishes more than 350 letters on abortion laws between 1963 and 1973 and files an amicus curia brief in support of the Texas court that eventually leads to Roe v. Wade. Throughout the 1980s-2000s Playboy was a platform for people to voice their political opinions on many subjects, but in 2006 Playboy publishes "Trapped Minor in the Sunshine State" an account of a 13-year-old's fight against the Department of Child Services to have an abortion while in foster care in Florida. Sharing the struggles girls and women face to have control of their own bodies. Lastly, in 2019, Playboy commits $25,000 to the National Network of Abortion Funds to protect women's access to safe abortions following Alabama's passage of the Human Life Protection Act (House Bill 314). 
So maybe this gave you a little more insight into why I love Playboy. Their works with celebrities like Kali Uchis, Dorian Electra, and so many more to be in the Speech issue. Check out their Instagram, their Website, or even their collaborations with Missguided and Pacsun.