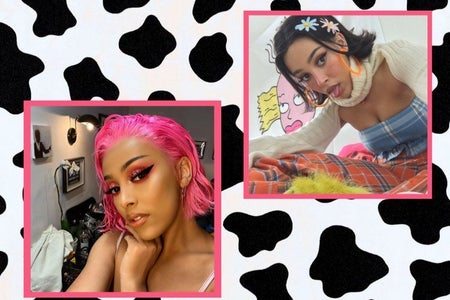 I'm in Love with E-Girl Makeup and I Cannot Lie
March the month of the start of spring, madness, women's history, and March also starts with M so let's talk about makeup 😊. Doja Cat dropped a video with Vogue on Christmas of 2019 named "Doja Cat's Guide to E-Girl Beauty" and since then the internet has been running with it. Now did I try it? Absolutely, anyone who knows me knows I love Doja and she brings the excitement and joy I had growing up with Nicki back. 
Now over the past few months, many YouTubers have been recreating the look she had done and so did I. The makeup look is pretty easy to follow, and you do not need the most expensive brushes or palettes to play with to recreate this look. Today I will be explaining a few of her techniques, some alternative products and I will share some other inspiration for the "soft e-girl style".
1. Do not exfoliate your face twice a day
In Vogues video Doja cat explained that she exfoliates her skin twice a day. I do not recommend exfoliating every day, but before this makeup tutorial, it is a good idea to exfoliate if you do want that really red "sickly" look. Also, slap ya face apparently. I did not slap my face but pinching your checks does the same trick. 
2. We love a Fenty queen
Doja Cat uses the Fenty beauty foundation and I highly recommend this product. Minus it being by the queen Rihanna herself, it just is a great foundation that can work for anyone. I think I have pretty good combination skin, it does not really get too oily or too dry, but also, I do use a moisturizer and use a serum when prepping my face for makeup just because I do love a smooth sticky base to work on. Needless to say, the foundation is buildable I would suggest if you want a more full coverage foundation look do not use a beauty blender soaked in cleansing water as it will make the foundation blend out easier it will also dilute the foundation making it sheerer like a tinted bb cream. 
3. Blush Blush Baby  
If you are not a lover of blush this just is not the makeup style for you. It is that plain in simple, but I will add that you should try and recreate this blush look. I wore this makeup to my job and got so many compliments and was instantly compared to Doja Cat. Which made me absolutely happy because that was exactly what I was going for. I will add that you can use a different blush color so it does not look so super pink, but it will fade. I also already place my blush in an upward motion as she does in the video, but if you want just a tiny bit more "natural" or gradient place the blush under where your highlight and carve your cheekbones out up the sides of your face and a little bit into the corners of your forehead with the blush and it gives you a little bit of a like fairy princess ballerina look. (I call it this because I learned the technique from another video of a ballerina getting her makeup done for the Dance of the Sugar Plum fairies).
4. Do your eyebrows how you like to
I never follow other people's eyebrows tutorials just because people have different eyebrows. I happen to have pretty thick eyebrows and I like my eyebrows looking thick and hairy more than anything, so I did not do that step. Stating that I did notice putting the powder on top will mattify the eyebrows, but I was scared it would make my eyebrows like white from the powder and I was not trying to go to work with white eyebrows. 
5. Eyeshadow products
Doja cat used a super pigmented loose purple chrome eyeshadow and it is super cute. I did not do that, but I did use two Morphe palettes. The first being the James Charles palette shades Escape, Single, Love That, and Skip as a base with artistry over top mixed with Purple Sky and Gemstone from the 35P palette to create a very similar eye look. The only thing I did not replicate was the lashes because I am not going to lie I was running late to work and if the lashes do not come out right the whole look becomes trash and I was not here for it so I added a pink liquid liner from NYX over top and used L'oreal voluminous lash paradise base and mascara to create the illusion that I had lashes on. 
6. Freckles!!!
Now the freckles trend has come and gone and maybe it is coming back to the party. Now I love a freckled look and I wish I had more freckles for real, but I have found that to make realistic freckles use NYX brown liquid liner it is perfect for freckles. It does not dry too quickly, so you have time to press them in and spread them across your face without using a lot of product at all. I have tried many other liners and it just does not work for the best no matter if it is my favorite liner or not. For instance, for eyes, I strongly recommend Colourpop liquid eyeliners because they are so affordable and they dry super quick which means no smudging, but I tried to make freckles with it and I just looked like a mess because they didn't blend (reason I was late to work and could not put lashes on). 
Lastly, the Soft E-girl trend is super cool to many and a big inspiration for how I do my makeup. I love girly makeup looks and I seem to thrive when I can do that because I love playing with pastel colors like pinks and purples and I feel that there is so much artistry in makeup that no one can really do it wrong so definitely try this look and honestly any look you wish to. Here is a link to some of my makeup inspiration on Pinterest as well as my Instagram story where you can see this look (sorry it's all the way in the back I did delete so it could be not as many clicks 😊) Have a wonderful and amazing day.