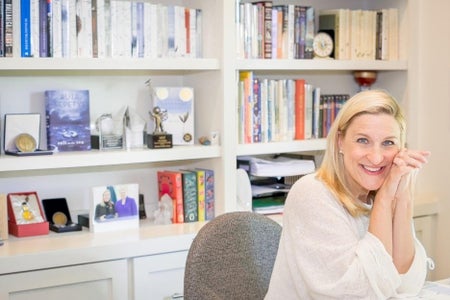 In Conversation With Bestselling Author Ruta Sepetys
When Ruta Sepetys' debut novel, "Between Shades of Gray," was released in 2011, it was met with renown critical acclaim and a spot on the New York Times bestseller list. Since then, the poignant story of Lina, a fifteen-year-old Lithuanian girl who is sent to a Siberian labor camp in 1941, has gone on to be taught in school curriculums and read by young adults in over fifty countries and thirty-seven languages. Sepetys has since written three more historical fiction novels, each containing her signature searing prose, incredible storytelling ability and a singular mission: to seek the lost stories of history. 
This past March, we read "Salt to the Sea," which centers around the largely unknown maritime disaster of the Wilhelm Gustloff. The novel follows four teenagers seeking passage on the German ocean liner to escape advancing Russian forces. However, tragedy is following closely behind them, as the liner was inevitably struck by a Soviet submarine on January 30, 1945. "Salt to the Sea" was an incredible, heartbreaking novel and it was one that we are not soon to forget. As soon as we finished the 391-page book, we knew we had to talk about it and share it with as many people as possible. Fortunately, we were able to sit down with the author herself, via Zoom, and have a lively discussion with her about her writing journey, the importance of underrepresented stories, and the power of the stories we hold dear.
Marissa Joyce (MJ): Tell us more about your journey to becoming an author.
Ruta Sepetys (RS): My journey to becoming an author is quite unusual I think. When I learn about people who were an English major and then got their MFA, I just long to have had that path. However, I wrote my first book when I was in third grade because I was inspired by "James and the Giant Peach" by Roald Dahl. I wrote this book for an assignment and it became a banned book in third grade and that stole my courage. I wish that someone then would've told me that failure is a prerequisite to success because after this incident, I didn't write another book for over twenty years. So I thought, "gosh, what else do I love?" "Well, I love music!" So, I moved to Hollywood and I started working in the music industry and for over 20 years, that's what I did. I was helping musicians and songwriters tell stories through music and I loved it! 
Working in the music business absolutely affected how I inject rhythm and flow into my books, especially in "Salt to the Sea." It was through the music business and helping other people tell their stories through song that led me to telling my own. One of the clients that I was managing said, "look, for over twenty years you've been helping artists and musicians tell stories through music and we wanna know: what's your story?" And when I told him I was Lithuanian, he had no idea what that meant. I managed the same artist for over twenty years and we were a family and they were the ones who said, "Ruta, go tell your own story." And now, here I am! And if anyone would've told me that I would be a full-time novelist and I would be the one to -- prior to COVID -- be on tour, I wouldn't have believed it. I feel like my personality is now aligned with my soul and I'm doing exactly what I need to be doing.
Nickie Johnson (NJ): Who are your writing influences?
RS: I have so many influences and I think people often expect that my influences will be other young adult historical fiction authors. Although I'm super inspired by historical fiction authors of today, my influences go back much earlier, to authors I loved -- believe it or not -- when I was young. That goes back to, let's say, Roald Dahl. He's a huge influence, centering on young people who are surrounded potentially by unsavory or difficult or complex adults. And so we have these children who are finding themselves in a lonely world. I was very drawn to that. I was really drawn to the melodramatic…Daphne du Maurier, who wrote "Rebecca" and "The Birds" and "Jamaica Inn"…I love stories about courageous women. Let's say, "West with the Night" about Beryl Markham, she was a pilot in East Africa. That book had a tremendous effect on me. I loved stories that are full of love, like Toni Morrison…The work of Langston Hughes. Things that talk about strength, finding strength within struggle and hope amidst hardship. And, of course, I'm drawn to those stories of hardship, whether it be Primo Levi or Elie Wiesel, who wrote "Night." 
I'm the daughter of a Lithuanian refugee. My dad's Lithuanian and my mom was East Prussian. Both had a really difficult childhood, but taught me that there is meaning in hardship. So I'm drawn to stories like that. I love biographies about eccentric people. You name it, I love it. Maybe because I worked in the music business. And as a kid, I was a huge "Nancy Drew" fan. I love these stories of young, courageous women, and that's not because I myself feel courageous. I think I write characters that I would really love to be like, and that's why I have these female protagonists who are so strong or so selfless and courageous.      
MJ: How did you know historical fiction fit your writing voice?
RS: This is such a great question! Thank you for asking this because people always ask, "oh, why are you passionate about historical fiction?" But they don't ask the question that you've just asked and it's super important because I did not know if that was the correct path for me. I knew I wanted to write after my book, "The Adventures of Betsy," became banned in third grade but I gave up. When I came back to writing, I wrote a humorous middle-grade mystery. I was still really interested in writing humor, thinking that would make people laugh. So, I wrote a book and went to some writing conferences and that manuscript was eventually requested. I had my eye on this one particular agent and I sent one exclusive query -- which is never done. You don't put all your eggs in one basket -- but I did and I sent it to this agent and he requested the manuscript. I was so excited! 
This was back in the day that your agents didn't accept manuscripts via email. You actually had to mail the thing. I was putting my middle-grade mystery in the envelope, and at the last minute, -- I had written maybe five-ten pages of what would become "Between Shades of Gray," just for another conference -- and I thought "you know what? I'm gonna put this in the envelope so Steve can see I'm a versatile writer. Maybe he wants to represent someone that can do middle grade and YA." After I sent the manuscripts, he called me and said, "yeah, I can see that you're a huge fan of Roald Dahl, like me. Basically, it's a derivative. It's already been done." He said, "I absolutely see why the editor is interested, this manuscript would sell and it might do marginally well. However, your authentic voice is in these ten pages. Ruta, if you want a career in writing, this is the path that I would suggest that you take. You get one chance to make a first impression." 
Even though, at the time, I said "but Steve, historical fiction doesn't sell!" He said, "I know. But with your passion behind this, I really think you could make it into something." He also pointed out that what I was doing with humor was that I was saying, "ha ha this is funny this is funny" and I was trying to tell someone to look away instead of looking in my heart. Where is when I wrote historical fiction, I was sort of turning myself inside out and revealing the authenticity and vulnerability of myself.
NJ: What initially interested you in telling the lost stories of history?
RS: Thank you for that question because that hits very close to home. Growing up in Michigan as a Lithuanian, I felt so misunderstood. Besides my brother and sister, I didn't know any other Lithuanian kids. I didn't know any other Lithuanian people. When people would ask me what I am, I would say, "I'm Lithuanian," and the story would just end. Also, because, for so many years, the Baltic countries were Soviet Occupied, those names of the countries weren't even on maps. I felt very badly for the Baltic people because they were so passionate…People just didn't understand the story. 
So, I embarked on this! At first, it was truly just maybe my own identity crisis or the love for my parents and my family to help share their story…Because I come from an underrepresented ethnicity and culture I wanted to share that and give people a chance to learn about that. It's not that we've forgotten human beings. It's not that we don't care about human beings. It's literally sometimes history is hidden in the shadows. If one person reads the book and feels less lonely, I have done my job good. That's really my mission. I'm just so passionate about this. I have seen how sharing story, the power of story, how it can create pathways for progress. It can change lives. All of the sudden our heart opens and we care about someone we've never met through a book. That's really powerful.      
MJ: If someone wants to seek lost stories like you, how can these stories get on writers' radars and how can we do justice to these untold stories?
RS: I'll share my process -- everyone has their own process -- but I have found this works for me and has worked for other authors. If I find a piece I'm interested in, I try to do a lot of what I call introductory reading. I educate myself on the topic. I read nonfiction books, academic papers, dissertations, -- which I know doesn't sound like fun, but I love it! -- and I do a lot of research on my own. I research databases. I research ancestry.com. You would not believe how many families put up their journals -- and it's public! It's not like I'm snooping or being a voyeur -- they put it up for the public! I do all this research and then I start interviewing people. 
People say, "would you ever write something set in the 1700s?" Yes, I would. But right now, we have human beings who have experienced things and events that still aren't common knowledge. So, while those true witnesses are alive, get to the true witness. People sometimes feel intimidated and think a true witness has to be someone famous. No, no no no! Start by interviewing your own family, which is what I did. Be sensitive about the way you ask questions because the way you ask questions can deliver different information and I learned that the hard way by asking yes or no questions. I began to ask questions that evoked sensory memories, things like smells, sights, and sounds. I always recommend you take them back to that scene. Tell me what you smell? Tell me what you see? What's going on? Can you imagine being in your kitchen? 
If you can't get to the true witness, you really need to delve into some more academic research and oral histories. Some people think it's only historians that can get oral histories. No! If we record our family members on our iPhone or via Zoom Audio, that could be an oral history. Right now you're capturing an oral history with this crazy author! First and foremost, I believe that you need to go to the real story. There are real human beings who have experienced these events, who might believe the world has forgotten them and you need to start there.
NJ: What writing process have you found to be the most effective for you?
RS: This pertains just to me because I know there's a lot of information out there that says you must write every day. I would love to write every day, but it's just not possible. What I do is…I block out chunks of time to write…A process for me that really works is when I carve out a protected window of time and that's all I do. I sit twelve, fourteen hours a day. I don't shower. I eat right at the table in front of my laptop. But that immersive feeling of being with the characters and being with the story for a longer period of time, that is one thing that helps me. 
The other thing that I highly recommend to novelists...is I sit down and read my draft in one go. When you read the draft--and how uncomfortable is this, I read it aloud--listening to it in one go, and of course I'm hoarse by the end of the day, but I see the rhythm and flow. I see the repetition of words that my editor or even the copy editor has missed. I see the way I'm building a phrase. I have these common go-tos. The other thing…I let others read my drafts. I am always looking for beta readers. I am always looking for feedback. I've been part of the same writing group for it'll be sixteen years in February. We read each other's work. There are five of us in the group, so I have four separate opinions on my books. They are so tough on me. They read my book before my agent, before my editor. Let in someone you trust, and what do I mean by that? 
Creative endeavors require creative courage. If, in fact, you share your work with someone who might be envious or jealous or something, they might give you feedback that is hurtful, and that can really harm the creative process…If there's someone you trust, share your work with them. And if they give you honest feedback, take it seriously.  
MJ: What is your biggest advice to young, female writers who want to be published?
RS: I want young, female writers to show strong women in their books. I'm of Lithuanian culture, and all of Lithuania is what they consider the intelligentsia. These very talented men were executed and it was up to the women to trudge forward. It was the women who decided they were going to teach their children -- even though they were told to speak Russian -- they taught them to speak Lithuanian. It was the women who saved the country. 
These stories of strong women are out there, and when I say strong, I don't want people to strip away the vulnerability or even, trauma. I truly believe that we find strength through struggle. I know it's cliche to say, but our scar tissue is stronger than skin. I desperately want you to show that. We need young female readers to see strong female heroines. Please look at the history, there are so many hidden female heroes. Write about those.
NJ: At the Wave Learning Festival, you mentioned that your next novel is set in Romania, what has the research process been like and what can you tell us about this new book?
RS: I feel like I can speak about my works in progress because I don't have ownership necessarily of the plot because it's based on history. It's set in Romania in the '80s. It tells the story of the Romanian regime, which was so insidious that they recruited citizens to be informers. What was particularly difficult was that they recruited young people, middle schoolers and high schoolers, to inform against their parents, against their teachers, against their neighbors. They promised these kids that they would get to go to college, or that they would give them medicine to cure their parent's illness. And they did none of that. 
So the story follows a 17-year-old boy who's recruited by the Romanian secret police to be an informer. Thinking that they trapped him, he feels obligated. But then he decides that he's gonna turn the tables on them. So it's a bit of a historical thriller, I guess you could say. I'm so excited because I have cried so many buckets of tears writing this book. Talk about underrepresented history.   
We would both like to thank Ruta Sepetys for taking time out of her extremely busy schedule to have such an engaging and informative discussion with us. Her works shed much-needed light on important, underrepresented stories that deserve to be told. Without her, many unknown tragedies, like the sinking of the Wilhelm Gustloff chronicled in "Salt to the Sea," would have remained forgotten. We would also like to thank her for providing us with beautiful, immersive works of fiction that continuously inspire us to uncover the historical events yet to be immortalized on the page. 
You can find out more about Ruta Sepetys here and purchase her novels here.