Nails have always been a way for me to express myself. They're a huge part of African American culture. Long nails, short nails, bedazzled nails, diamond-crusted nails, neon, neutral and more. Oh my! For years, the community has been frequenting salons, getting them done by friends or doing them themselves. It's a way for us all to express ourselves through our fingers.
I've never been artistically gifted enough to know how to do them myself. I sat down (rather Zoomed) with Zimuzo Okala, George Mason University alum and founder of Lekki Luxe Nails, who has been doing her own nails for quite some time. Although that wasn't always her career aspiration, she told me.
"I started doing nails when I was in high school and I didn't want to do, like the professional track originally…. because I was like so pressed to get into college, but I was still really interested into doing nails I always did my nails like I was, and still am, the type of person that I would get my nails done all the time, if  I have one chip, if one broke, I would redo the whole thing…"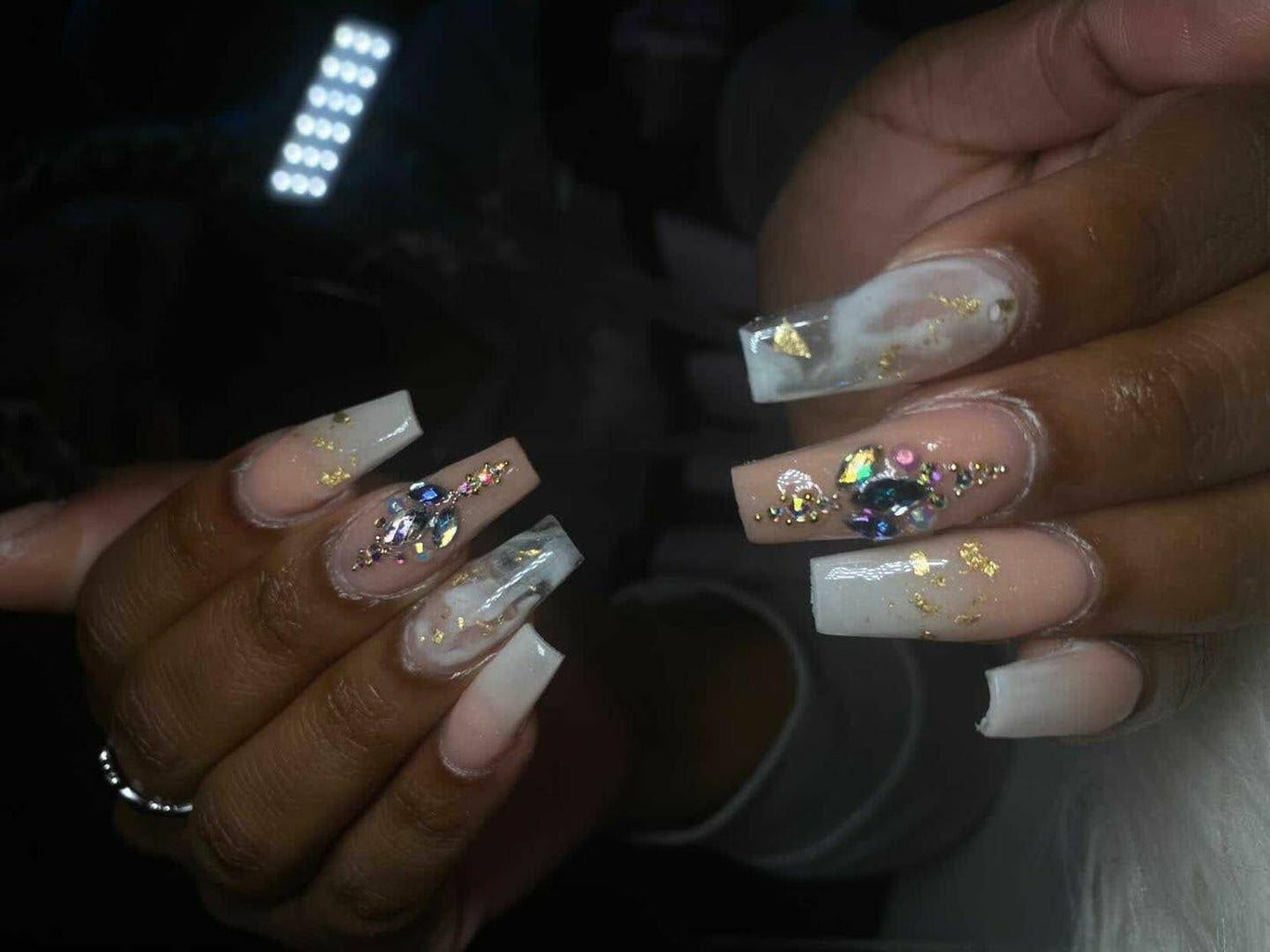 Okala really got into doing nails for others during her time at George Mason. She was a part of the Black Mambas, a dance team. Her teammates were some of her first customers.
"…we had a competition and the nail shop like was booked and like three of my teammates needed to get their nails done. So, I was like you know what whatever I'll just do it for y'all and call it a day. I didn't charge them or anything," she recalled. According to her, people always used to compliment the nails she'd done on herself. It shouldn't have been a surprise that her teammates loved the nails she did for them.
"And they were like, these look so bomb! These look even better than my nail tech…And I was like dang maybe I could take this seriously and start doing it. So that's when I decided I wanted to start doing nails," she said. 
After graduating, she decided to make it official by going to get her license. Shortly after getting her license, her business, Lekki Luxe Nails, was born named after a city in Nigeria the country her parents are from. Her mother, one person who inspired her to be her own business owner due to her own business ventures.
"I'm first-gen American, so it means a lot to me, so I wanted to keep that. Specifically, because Igbo girls, like the tribe I am, are known to be really bougie so I wanted to keep that aesthetic…what better place than to name it after than like the up in coming like it's a really hot and poppin place in Nigeria, so I was like you know what this is gonna work…" she laughed.
She stressed the importance of the 'Luxe' title. She wants those who shop with her or get their nails done by her to know that although her brand is an accessible luxury, customers are still going to receive top-quality service and products. Speaking of products, Okala got into selling press ons shortly after the pandemic.
"You can still achieve a lot of the same designs and stuff that you can with acrylic…it's more portable and reusable…So I look back into it again at the start of the pandemic because, obviously, it was a pandemic so nail salons and stuff were closed," she explained to me. "I still wanted to be able to like do what I loved…and still be able to do it in a way that I didn't have to sacrifice the quality of like my products or sacrifice anything I was trying to build the brand around which is luxury products and luxury services."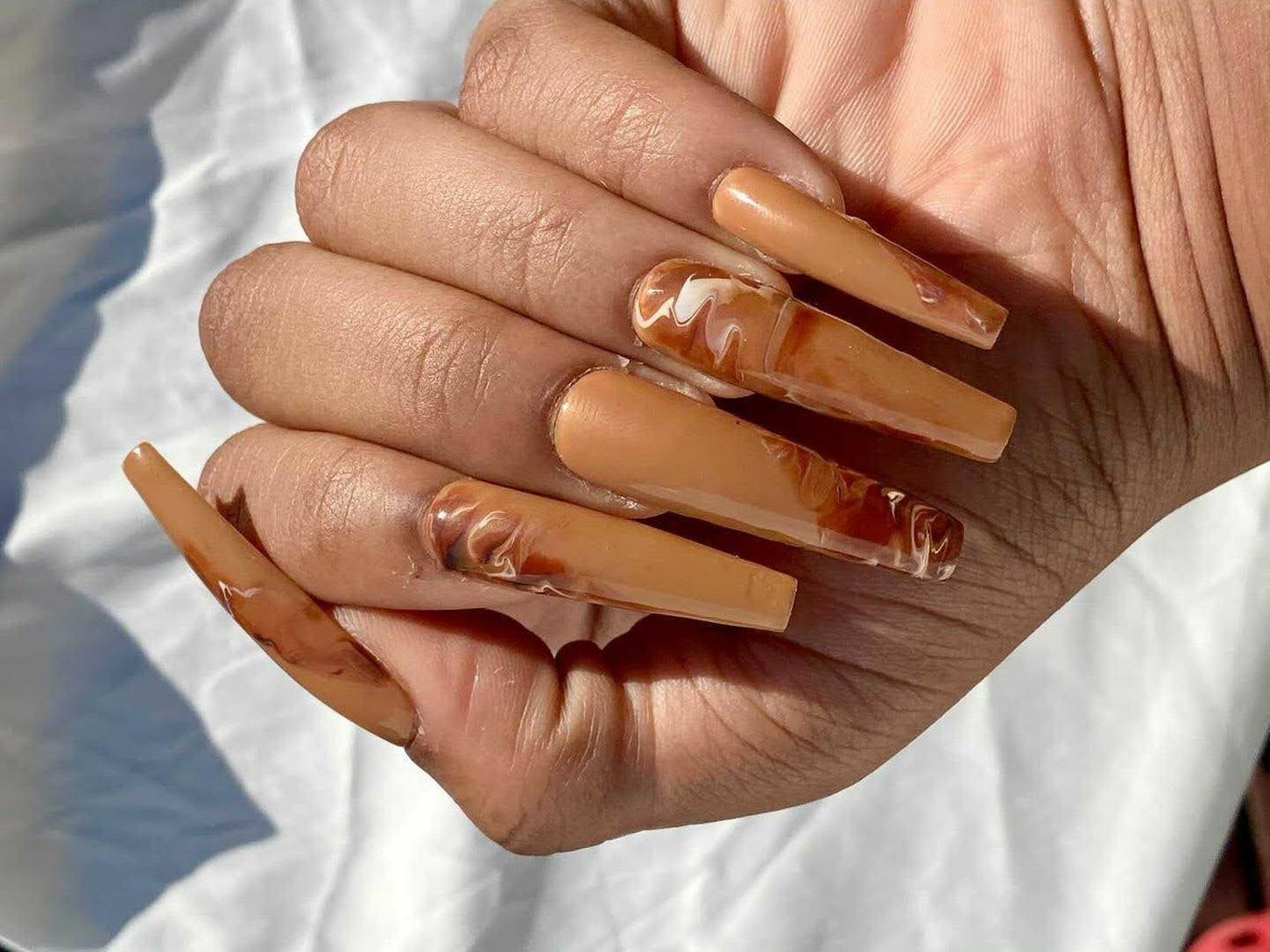 At the end of the interview, I asked Zim Okala what was some advice she would give to others like herself trying to open a business. Here's what she said:
"Plan like plan till you can't plan…I feel like there's a lot that comes with opening a business and like rolling with that in itself is a task so if you're rolling with stuff you didn't expect and what you did expect you're not prepared for I feel like it's really easy to get caught up and you're just like lost, and it can get really stressful and then also," she expressed.  "Patience is key. Patience because, like I said, people expect like Oh, once you open up you'll be selling out every day, which is very possible. But a lot of times, it takes a lot of like revisiting and a lot of months…where you don't sell anything or. You feel like you're not reaching anybody, or you feel like maybe you're not good at this, but like patience with yourself… Trusting that process and, like understanding, if you really are talented and you really are like passionate about what you're doing, then everything you want will come…."
Check out Lekki Luxe Nails on Instagram or on her website here.