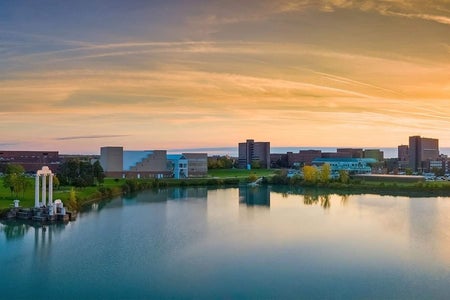 Original photo by Katie Skoog
Welcome to the University at Buffalo!
University at Buffalo is located in Buffalo, New York, just 30 minutes southeast of Niagara Falls. Our university has both a north and a south campus, approximately 20 minutes away from each other. I have only lived on the north campus, which has a lot of restaurants and places to shop in the surrounding area. Our campus is fairly large, with lots of places for students to hang out within walking distance. For example, we have a man made lake on campus where people enjoy taking pictures as the sun sets on the lake. Although it's windy and freezing during the winter months, the sunsets never disappoint!
My favorite thing about the city of Buffalo is how there are endless amounts of activities to do.  We are in close proximity to both nature attractions, such as Niagara Falls, and many restaurants and bars, such as downtown Buffalo. Some of my personal recommendations are as follows: the New York Beer Project has the most delicious burgers!!! My favorite one is the breakfast at Tiffany's burger, which has a fried egg and bacon on top. They also sell all types of beer, and you can even see all of the fermentation vessels in the restaurant which is fascinating. Another restaurant that is near north campus is Duff's, where they sell the best wings in the area! Some people argue that Anchor Bar has the best wings, but I beg to differ. Duff's has been up and running since 1946, so there is a lot of history there. Barack Obama even visited once; his picture is hung up on the wall! Long story short, if you're looking for the best wings in Buffalo, go to Duff's.
I also recommend visiting Niagara Falls if you have not already.  I know it's a basic tourist attraction, but it really is beautiful (especially on the Canadian side). You can even walk down and see the falls from the bottom which is scary but a memorable experience. 
Overall, there are a plethora of activities to do in Buffalo! There are both touristy attractions and places not many people know about. The exploring in this city is endless, so if you ever find yourself in Buffalo, you will never run out of things to do.