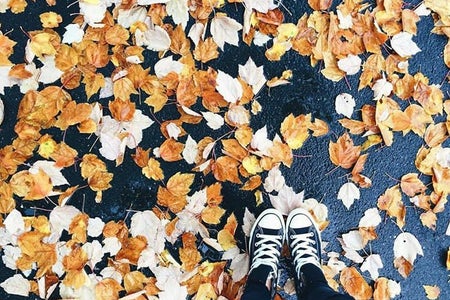 Get The Most Out Of Fall In Western NY
Whether you prefer lounging in the sun or rolling in fresh piles of snow, we can all agree that fall in Western New York is absolutely stunning. If there's one thing western New Yorkers know how to do, it's how to make a good corn maze. With COVID-19 things may be a bit different than in previous years, but these socially distanced activities are still worthwhile!
1.

Stokoe Farms, Scottsville, NY

Only a 25-minute drive from campus, Stokoe Farms offers a day of fun for you and your friends! Spend your day taking wagon rides, picking out pumpkins, enjoying the petting zoo and even riding a zipline! Admission starts at $16, and you can buy your tickets ahead of time at their website!

2.

Roanoke Apple Farm, Pavilion, NY

Roanoke Apple Farm is 23 minutes away from Geneseo, and is definitely worth the drive! Try some fresh apple cider and donuts while you pick from some of the finest orchards in the area! There is no price for admission, but be ready to pay for some delicious apples and cider!

3.

Grizzly Trail of Terror, Nunda, NY

A 28-minute drive from campus, Grizzly Trail of Terror is for the thrill-seekers! Taken from the Trail's Facebook page, "(The Grizzly Trail of Terror) is a "One of A Kind Haunted Attraction." Take a wild bus ride to your destination. You will be locked away and then released when it's your turn into the Field of Screams. Follow your way past grueling monsters and see if you can make it out alive! Tickets are $20 cash and $21 credit/debit card. Tickets can be purchased on their website!

4.

Vintage Drive-in, Avon, NY

Looking for a cozy night out? The Vintage Drive-In is perfect! Grab a blanket and cuddle with your friends as you watch scary movies under the stars! The Vintage Drive-in is a mere 20 minutes away, and tickets are $9.99 a guest! They can be bought online or on-site.

Want to do something fun but don't want to spend a ton of money to do so? Look no further than the beautiful Letchworth State Park! Take a hike on one of the many trails or watch the leaves change by one of the many waterfalls! Park admission costs $8 per vehicle

6.

The Great Pumpkin Farm, Clarence, NY

Our last fall-fun idea is a bit far, coming in at an hour's drive, but believe me when I say it's worth it! With a corn maze, a boo barn, good food (and a LOT of pumpkins), the $ 10-weekend admission price is definitely worth it! Busy on the weekend? Admission is not charged during the week, aside from Columbus Day! Tickets can be bought at this link and at the gate—if the website is not sold out!

Are you a thrill-seeker? Look no further than New York's famous Rolling Hills Asylum, located just outside of Batavia. You and your friends can take a self-guided tour or hunt for ghosts in the dead of night! Tickets range from $49-$89 and can be purchased on the asylum's website!
Whether you're planning on carving pumpkins or getting your spook-on, hopefully, this article made you as excited for fall as I am!