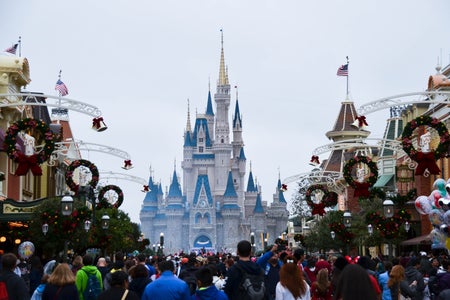 5 More Incredible Performances from the Disney Family Singalong: Volume II
Disney answered the call for another special from my previous article. It made me want to be a "Part of [Disney's] World" forever! Well, I know the second special wasn't actually for me. Since I covered my top five performances from the first special, I had to do it again.
Disney gave us quite the star-studded sequel with the Disney Family Singalong: Volume II on Sunday May 10. With Ryan Seacrest returning as the host, the special once again raised awareness for Feeding America, which has been helping families affected by COVID-19. Instead of a warmup, the cast of The Muppets performed the opening number—a song written about the Singalong. It was a fun way to get everyone excited about the upcoming performances.
Since the special aired on Mother's Day, many performances honored mothers and workers on the front lines, such as Katy Perry and her interesting costume for her performance of "Baby Mine" from Dumbo with her pooch Nugget. 
While the performances were still amazing, the special didn't quite live up to the first one, in my opinion. Maybe it's because the chosen songs on this special were from Disney movies I didn't love as much as others. For example, Miguel and Christina Aguilera sang "Remember Me" from Coco, "Try Everything" from Zootopia was performed by Shakira, and "Almost There" from Princess and the Frog was sung by Anika Noni Rose—who voiced Tiana in the movie—and Chloe x Halle—who will be the star of the live-action Little Mermaid.
Once again, ABC has not posted all the videos to their YouTube channel. So, I'm only going to share my five favorite videos that are available in high quality via ABC.
In another random order, here are my five favorite performances!
1.

"A Whole New World" performed by Idina Menzel and Ben Platt

I assumed Menzel would sing something from Frozen or Frozen II. However, since she's probably sick of both movies, I was excited to see that she performed something from one of my childhood favorite princess movies, Aladdin. Seeing that Platt was joining her was just the icing on the cake!

When two Broadway stars get together, you must expect perfection, and this performance was precisely that. Their voices blended well together, and I enjoyed their solo moments, too.

2.

"Zero to Hero" performed by Keke Palmer and Dancing with the Stars Pros

Palmer was also a big part of my childhood. A few weeks ago, she had joked about a True Jackson, VP revival, which has yet to be officially confirmed. Even if the reboot does not happen, it was awesome hearing her fantastic voice again. It was even better than when she was in the movie Rags. 

The Dancing with the Stars cast was a bigger bonus. I loved the dance number on the first special, so adding another one made me extremely happy. The cast members included Lindsay Arnold, Alan Bersten, Witney Carson, Val Chmerkovskiy, Jenna Johnson, Sasha Farber and Emma Slater. 

The whole performance was enjoyable to watch. I recently began to love Hercules again, and I'm excited for the live-action version that's in the works. Palmer's vocals on "Zero to Hero" were just as great as I remembered them, and the dance had me wanting to learn ballroom!

3.

"Part of Your World" performed by Halsey

As everyone knows, there's also a Little Mermaid live action in the making that was delayed by COVID-19. So, hearing Halsey sing this classic song was heartwarming and sweet. I also learned that Halsey was a better singer than I had realized. What really impressed me was her acting throughout the song. She not only sang; she performed.

4.

"Step in Time" and "Supercalifragilisticexpialidocious" performed by Derek Hough, Hayley Erbert and Julianne Hough 

I would have to be insane if I didn't include the Hough-Erbert dance of the Mary Poppins medley. From the Hough's actually singing this time to the special effects, it was a spectacular performance! I even loved the stepping that Hough and Erbert did because it showcased yet another great style of dance. Seriously, they all need to go on tour again.

5.

"You'll be in my Heart" performed by Disney on Broadway Stars

This cover from Tarzan was performed by seven amazing Broadway stars—Merle Dandridge, Heather Headley, Adam Jacobs, Caissie Levy, Kara Lindsay, Kevin Massey and Josh Strickland. All of these performers have been in a Disney Broadway musical, such as "Newsies," "Frozen," and "Tarzan."

 

In addition to incredible harmonies and breathtaking vocals, there was also a slideshow of pictures. These pictures featured the stars' children and family members, and they made me melt when they flashed on the screen. It was a beautiful dedication of love to all the mothers and front-line workers out there.

6.

Honorable Mention: "Beauty and the Beast" performed by John Legend and Jennifer Hudson 

The only reason this did not make the top five list was that there is no full version from ABC's YouTube page. As I've said in this article and the first one, I don't want to include blurry versions in the article that ruin the magic. However, I beg you all to look up the full performance. Two powerhouse vocalists singing the titular Beauty and the Beast was something we all needed.

Other honorable mentions include "Poor Unfortunate Souls" from The Little Mermaid by Rebel Wilson and "When I Am Older" from Frozen II by Olaf himself, Josh Gad. Finally, there was "Hakuna Matata" from The Lion King sung by Seth Rogen, Billy Eichner, Donald Glover and Walter Russell III.
The final song was "Your Mother and Mine" from Peter Pan sung by Sabrina Carpenter. It was a perfect way to end the Mother's Day special and thank everyone on the front lines of this virus.
Once again, I'm not afraid to admit I love Disney. I'll be re-watching the first Disney Family Singalong on Disney+ and Volume II on ABC until that one probably ends up on Disney+, too.
Maybe if I wish upon a star for a third special, it will happen!