5 Halloween Movies for Scaredy Cats
It's finally the last week of October, and you know what that means-- time to pull those skeletons out of your closet and dust off your old It's The Great Pumpkin, Charlie Brown VHS tape! But speaking of VHS tapes... do you ever feel left out of Halloween festivities because you're not a fan of grisly horror movies? If so, you're not alone; lots of people would like to carve pumpkins and eat their weight in candy corn rather than sit through one of eight films from the Saw franchise. But that doesn't mean you don't have other options for that party you're throwing on the 31st! Here's a list of classics that everyone will enjoy.
Not only does it come from Halloween movie master Tim Burton-- Beetlejuice features Winona Ryder in her breakthrough role, and has some pretty disturbing special effects working for it as well. And, oh yeah, it's hilarious. This one's also a huge cult classic! If you're a big fan, Etsy can supply you with your very own Handbook for the Recently Deceased -patterned scarves, jewelry boxes, coasters, and even ID badge clips.
Casper might not be a film that critics were wild about, but man, does it play up to that college kid nostalgia. Everything about this movie, from teenage Christina Ricci to the Ghostbusters references you didn't get when you were six (and there are a lot), will take you back. And don't pretend that you didn't have a crush on human Casper when he turns up at the costume party near the end-- it's okay. We all did.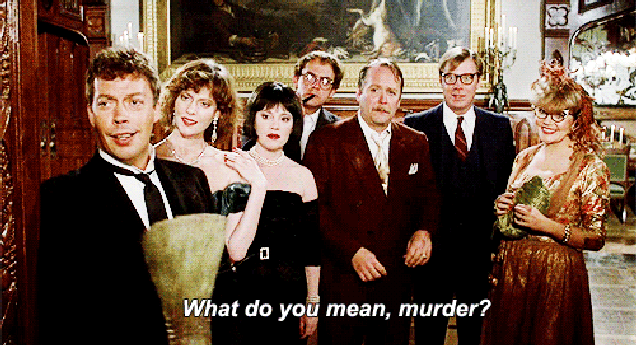 I know, I know. A movie based on a board game? Jumanji much? But this diamond in the rough actually came before Robin Williams' hit film by a decade. Clue is an awesome cult movie, with everyone's favorite spooky dude Tim Curry as the lead: a mysterious butler. No spoilers, but believe me, when you get to the end of this kitchy whodunit caper, you'll have no idea exactly WHO done it.
The Nightmare Before Christmas (1993)
A well-known classic for both Halloween AND Christmas, this movie boasts incredible artwork, an award-winning soundtrack, and a plot of a skeleton having an existential crisis. Not to mention a great love story!  The Nightmare Before Christmas is another one of Tim Burton's creations. Fun fact: while this critically acclaimed movie was Burton's idea, it was Henry Selick who actually directed the film. Selick is also known for Coraline and James and the Giant Peach.
You didn't think I would leave out everyone's favorite, did you? Let's be honest, we've all seen this one a dozen times. But between a great cast (Bette Middler! 90's Sarah Jessica Parker!), Max's unforgettable tie-dyed shirts, and how absolutely fierce little sis Dani was, it's always going to be a Halloween party fav. It really is "just a bunch of hocus pocus". 
Do you agree with this list? Or do you prefer your seasonal flicks on the scarier side?