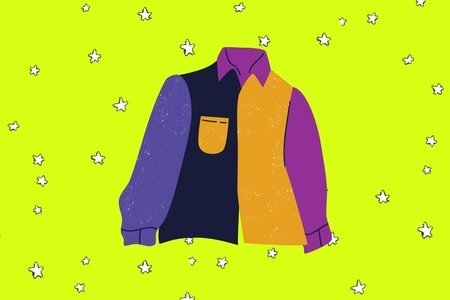 Original Illustration in Canva for Her Campus Media
Macy Eleni: The Fairy Godmother of the Online Thrift
The TikTok goddesses were looking down upon me the day they put one of Macy Eleni's videos on my 'For You' page. She quite literally shimmied onto my screen and has been one of my favorite creators on the app ever since. Her unique style, gloriously decorated apartment, and thrifting adventures make for some seriously good content. Not only does she share her love of fashion and style secrets with her viewers, but she also keeps it real by speaking on topics of mental health and her personal eating disorder recovery. Macy brings the most positive vibes to the party, constantly reminding us how fabulous we are and making it easy to stick around for more videos.
Eleni's main gig is pulling off the most fabulous thrifted looks. Her go-to pieces being the self-titled 'shimmy-shake tops' that make up much of her wardrobe and thrift finds. These tops are lightweight, button up tops that are usually very easy to find at a thrift store. They are completely versatile and can be worn buttoned up, draped around the shoulders, tied up, or left open so you can, as Eleni often encourages us to do, have a damn shimmy. She doesn't skip out on accessories either, Eleni has quite the collection of vintage designer bags, some authentic and some clearly bootleg but way too fabulous to leave behind, as well as vintage 2000s sunglasses for days. Not only does she live for a y2k moment, but she is also a connoisseur of 80s fashion and particularly home decor, noting that she often turns to the movie, The Wedding Singer, for both fashion and decor inspiration. 
The key to Eleni's compelling style is her second-hand garments. You will not catch her shopping at the mall when we all know the real gems live at the thrift store, probably hiding between the racks of funny smelling tee shirts. Another place where Eleni finds vintage treasures are at estate sales around Los Angeles and Beverly Hills. Some of my favorite videos of hers are the vlog-style TikToks where she takes us along with her and films her experience at these estates. There is usually a follow up post where she hauls the items of clothing, shoes, bags, and other things she may have found there. Eleni also makes similar style videos where she takes us thrifting with her to different spots around L.A., pointing out the places that have the best selection and those that maybe didn't strike her fancy as much. 
Another type of video from Eleni that I enjoy are her day-in-the-life Tik Toks where she shares a short glimpse into her daily happenings. These are typically the videos where she mentions her struggles with mental health and relationship with food, as she is in recovery from an eating disorder. She also goes more in depth on these topics in the sit-down style videos she posts on her YouTube channel, Blazed and Glazed. On her channel she opens up about depression, body image, setting personal boundaries, how to gain confidence, and lots more. Aside from the amazing fashion and thrifting content that I can always count on her to deliver, it is Eleni's decision to be open and vulnerable with her audience, in hopes of connecting to others and making them feel less alone, that I truly keep coming back for. 
If you're looking for some outfit inspiration, thrifting tips, styling advice, and a whole lot of shimmying, Macy Eleni is your girl. She is currently on TikTok, YouTube, and Instagram, and hopefully will be on many more platforms in the near future because trust me, everyone needs her energy in their life, even if it's only for one 60 second video a day. The self-proclaimed virtual hype woman is sure to charm the vintage kitten heels right off you with her fun and fabulous fashion content! Happy watching and in the words of Eleni herself, peace queens!