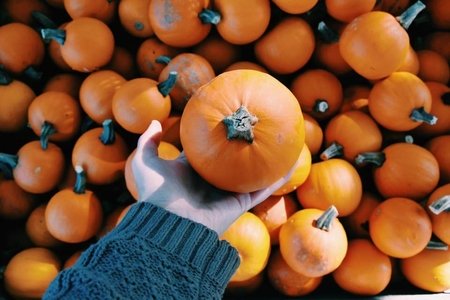 Anna Thetard / Her Campus
Don't Miss out on These Fun Fall Activities
Even though it still feels like summer in Greenville, the first day of fall was September 23rd, and there are many activities within 45 minutes of Furman to explore! 
Apple picking is an important (and free!) tradition that every college student must experience. Luckily, living 30 minutes from the mountains, Furman is only an afternoon's drive away from the famous Sky Top Orchard in Flat Rock NC. Sky Top Orchard is a small family owned farm that has everything from ripe crisp apples to tractor rides to an animal petting area. But, they don't just sell apples. Sky top sells the most amazing apple cinnamon donuts you will ever have. They also have apple cider, caramel apples, and hot dogs! Definitely one of my favorite spots around Furman.
If apple picking isn't quite the fall activity you were looking for, this is! Voted number one in Greenville South Carolina, Madhouse the haunted house is an attraction 30 minutes away from Furman. This haunted house not only has the scariest rooms to walk through, but it also has food and drinks, DJ parties, escape rooms, and bonfires!
If haunted houses are too scary, there is a much friendlier fall activity within a 15-minute drive from Furman, located in our very own downtown Greenville! Fall for Greenville occurs during October 11-13 on Main Street, and consists of over 40 of Greenville's favorite restaurants, live music, drinks and more! Some of Furman's favorite restaurants will be vending on the street, including: Cantina, Mellow Mushroom, Soby's, Sidewall and many more!