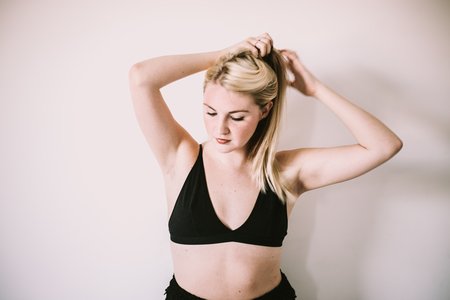 Arianna Tucker / Her Campus
Ditching Victoria's Secret Once and For All
I remember throughout my early teens being so excited to watch the Victoria's Secret Fashion Show each December. I was enthralled by the makeup, hair, musical guests, extravagant set design, and undeniable hype around the entire event. The magic aura that seemed to surround the "angels" that walked down the runway defined femininity and what was sexy for so many women and girls. But in 2018, the bedazzled glamour of it all began to peel away as countless scandals came to light, and the brand's inherent culture of misogyny was revealed to the world.
In 2018, former Victoria's Secret CEO, Ed Razek, stated that transgender models were not a part of the VS fantasy. This statement resulted in immediate backlash, a half-ass apology from Razek, and a significant drop in sales for the brand. I'm sure most of us are also aware that the show had been cancelled for the year 2019 and has no plans of returning. In a recent New York Times article (that I highly recommend reading), several journalists dive deep into the scandals that poison Victoria's Secret's image. Here's a brief run-through of a few of the disturbing instances of misconduct, harassment, and silencing that has gone on since the birth of the brand that consumers need to be privy to. 
L Brands, the parent company to Victoria's Secret, is where top executives like Ed Razek and Leslie Wexner could be found. These two men who harassed and demeaned not only models, but female employees at both companies. Razek has reportedly tried to kiss models, get them to sit on his lap, give him their phone numbers during castings, and even touched one model's crotch at the 2018 VS Fashion Show. 
Last summer, when Jeffrey Epstein was charged with sex trafficking, many of his close friends and connections were exposed in the media. One of those being L Brand and Victoria's Secret's own, Leslie Wexner. As if his ties to Epstein aren't enough, Wexner had known of Razek's behavior and chose to not only ignore it, but to threaten those who chose to speak out with the loss of their jobs and a blackballing from the company altogether. 
I also encourage you to examine the message of a brand, who for years, outright excluded anyone who didn't embrace the image of push-up bras and perfect abs. There are so many lingerie companies out there that are female-founded, have sustainable business practices, and preach messages of size-inclusivity that we should be giving our business to. I'm tired of seeing women and girls wearing clothes from Victoria's Secret and their sister brand PINK after the misconduct within the brand has come to light. It's time to start giving our hard earned coins to businesses who deserve it, and Victoria's Secret is not one of them.