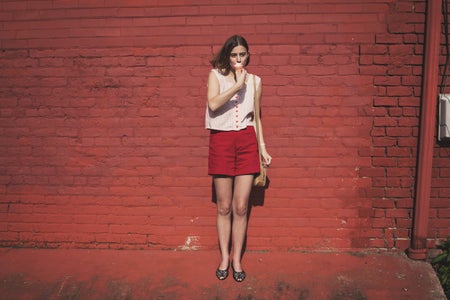 Kristen Bryant / Her Campus
Pulling money out of my wallet after getting a wax is like taking candy away from a baby...I can't help but think "Did I really just pay for that torture?" Not only do you have to lay there silently as someone violently rips your hair out while being completely invasive in your private areas, but you have to pay 50 bucks for it too?? Something's not right…
(Gif Courtesty of GIPHY)
As much as I can joke about the torture that is waxing, the following shave-free weeks make it all worth it. Smooth, soft skin without having to worry about shaving? I'll take it. 
But waxing at places like European Wax Center and Ultraskin Wax Center has become completely out of my tight college student budget. To help you avoid these overpriced services while still avoiding stubble and razor bumps, I will let you in on a little Greenville secret. 
This summer I discovered a waxing gem downtown called Rio Body Wax. Don't let the staircase into the basement fool you, this place is full of friendly employees and best of all, CHEAP services. That's right...queue the dollar sign eyes. 
Your first brazilian is only 25 dollars...compared to the other waxing places offering 50 dollars and above, this is a steal! While you're there, add on eyebrows for only 10 dollars or upper lip for 5 dollars. If you're really feeling spicy, try out their full body special for 65 dollars…. leave that place without a hair left on your body. 
Rio Body Wax also has a deal where if you bring three friends for a brazilian wax, yours is free! So, grab your girlfriends and head downtown for your waxes (It's a good bonding experience anyway, right?). 
Stop overpaying for your smooth skin! Don't let going hairless break your bank.