A little-known fact: FSU has one of the best study-abroad programs in the country. With campuses all across the world from Panama to Italy and various countries in between, this university does a great job at making study abroad an easy experience. Despite the accessibility of this program, only about two percent of students study abroad. FSU offers a variety of programs for a lot of majors while also offering many scholarship opportunities. One of these unique programs is First Year Abroad. This program takes FSU freshmen to one of the school's campuses for a full 12 months before coming to campus. I wanted to understand what life is like as a freshman abroad, so I chatted with my friend and First Year Abroad Student Zoë Dessoye to learn more about the challenges and triumphs of this experience.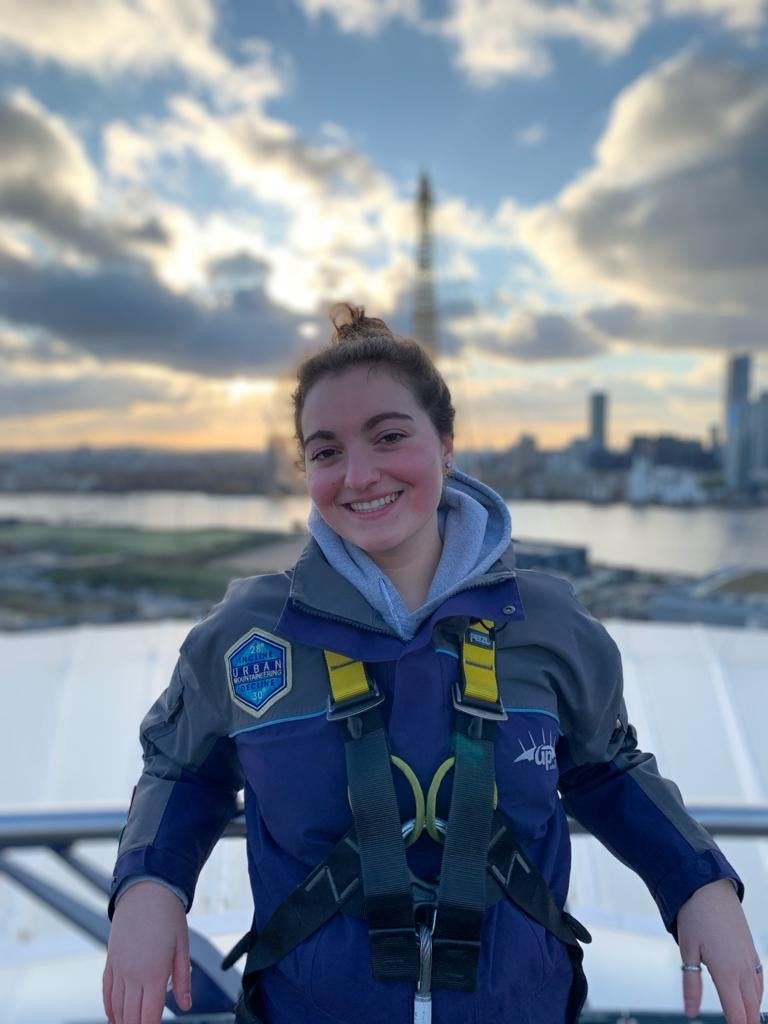 Her Campus: So, tell me about yourself.
Zoë Dessoye: I'm a first year abroad student studying at the FSU London Centre from upstate New York. I was an exchange student in Austria my junior year of high school, and I speak German. That year abroad helped me figure out what I wanted to do in college: International Relations. I love travelling; I have been to 22 countries and three continents. I like singing a lot, particularly classical arias and such. I like playing lacrosse and swimming competitively. I am very interested in the military and my senior year of high school I received a congressional nomination for the United States Military Academy (West Point). I also received a three-year ROTC scholarship to FSU and I'm really excited to be a part of it in the upcoming fall semester! I love foreign languages and would learn all of them if I could!
HC: What made you choose FSU?
ZD: I applied to FSU a couple weeks before the deadline. I knew I didn't want to go to school in New York, so I decided to look up schools in Florida, and FSU popped up. People that I know that I talked to about FSU spoke very highly of it, so I figured it would be a good school to go to. I chose FSU over the other schools I was accepted to because it offered the First Year Abroad Program. I got accepted to FSU via the Seminole Pathways program, which means I got in but there was no physical room for me in campus. They offered the option of studying abroad for a year, and since I had already done it before, I jumped at the chance. I found out about this program through my acceptance to FSU.
HC: Were you nervous to be away for this long?
ZD: Absolutely not. This isn't my first rodeo.
HC: How did you feel before you left?
ZD: I felt a little anxious; whenever I'm in the states and know I'm going away for a while I get jitters. I was just ready to go leave and explore.
HC: What did you expect from this program going into it?  
ZD: I expected it to be a little more rigorous than it actually is. I expected my time to be filled with classes, but I created my course schedule each semester to give me four days off, with two and a half class days. That's nice because it allows me plenty of time to do homework or travel. I also expected them to be very in tune with the culture of the country and exposed us to everything London and the UK has to offer; I'd say FSU London succeeded with this. I also expected there to be a lot more drama with people I lived with, but I have been fortunate enough to have great flat mates. I did not expect us to be so centrally located. Everything is within a 20-minute radius, so it's great being able to have everything at my fingertips.
HC: What's it like living at the Study Center?
ZD: I live with five other people in flat ("flat" is the British word for "apartment") and share the study center with over a 100 different people from different schools. It's nice when you're late because your building is connected to the flats. You would never have to leave the study center – everything is here. You get to know the professors here really well – they are on first name basis. Comfortability in British culture is high and helps with class sizes which range from one person to 20.
HC: What's your day to day life like?
ZD: I wake up at like seven AM. Between eight and nine AM I go to the YMCA (a two-minute walk) to work out. I come back, shower, go to class at 9:30 AM. Each one lasts three hours. Then after class there is an hour and a half between morning and afternoon classes. After that, Dobby is a free elf. I'll typically go out into London or hang in the flat with friends. On Wednesdays I work at the library in the study center, which is nice because it helps fund my travel.
HC: Overall how has this experience measured up to your expectations?
ZD: It is more than I was expecting. There are some things that I don't necessarily appreciate about the program. It met my expectations with a few exceptions.
HC: What exceptions?
ZD: It is definitely not the full college experience. Coming here straight out of high school, it feels like I am somewhere in between high school and college. There is a lack of campus life and four days off of class. I still find it hard to believe I am in true university. For some people though, I would say that this is the perfect transition for people worried about fully getting into the college experience.
HC: Have you encountered any obstacles while you've been here?
ZD: Homesickness has been a thing. I miss my family and boyfriend – it is hard being away from them. The time zone makes it difficult to talk to them when I want to. Also, if I have problems with holds on my account or questions for advising, I have to call main campus from the administration office. A lot of times they (FSU Tallahassee peeps) would prefer you to come in, but I can only communicate through phone and email. It lengthens the process and makes it more difficult to get things done.
HC: What's your favorite place you've travelled to? Why?
ZD: Iceland. I went to Iceland over Fall Break. It was so fun because I got to drive there. The freedom to drive was really nice. It really tested my upstate New York winter driving skills. I got to see the Northern Lights, which has been a dream of mine forever. I went with some pretty great people.
HC: Are there any lessons you have learned while being here?
ZD: I've learned to appreciate having my own room. I love my roommate, I love my flat mates, but I definitely need personal space. I need a designated Zoë area. Biggest take away here is learning to live with other people and working around each other's living habits. Especially when six of us share two bedrooms, two bathrooms, two fridges and a single kitchen in a small apartment.
HC: Do you have any advice for people considering studying abroad?
ZD: If you're considering studying abroad but you're concerned to go to a country where English isn't the primary language, definitely come to London. It is similar to the US, but so different. London isn't just English people, its people from all over the world. You have diversity of the world with the comfort of knowing the language. But I would recommend studying abroad in general. If you can, study abroad. It takes a special kind of person to study abroad, but you don't know if you are that person until you try. Everyone should try to at least once in their life for any period of time because it gives you a new view of the world. You learn so much about yourself and are exposed to a new way of life. It forces you out of your comfort zone and makes you appreciate new things about the world that you never knew existed.
Want to see more HCFSU? Be sure to like us on Facebook and follow us on Instagram, Twitter and Pinterest!