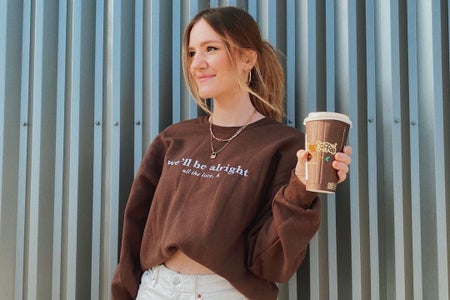 The Woman Behind Shop Sunflower 06: Gabby Hubbell
"Eh, what's the worst that could happen?" That's the question that Gabby Hubbell asked herself when she was first considering launching her Etsy shop, Shop Sunflower 06. Besides being the creator behind the successful shop, Gabby is a 21-year-old from Sacramento, California. She is a senior studying media studies and communications at UC Berkeley, and she will be walking the graduation stage (virtual or in-person) this May. I sat down with Gabby to learn more about her, how she has gotten to where she is today and what she thinks the future holds.
Her Campus (HC): If the Gabby from five years ago could see you now, would she be surprised? 
Gabby Hubbell (GH): Oh my god, yes! I was going into my senior year of high school. All I knew was that I wanted to be creative with whatever I did. Still, I didn't really think that it was an attainable goal due to the realities of "adulting." I originally went to college to study computer science, thinking that I might land a job in animation, but I quickly realized that that was not the career for me. My younger self would look to me now and be shocked that I was able to go to my dream school after transferring universities and, more importantly, that I somehow built a sustainable brand for myself selling my artwork and my designs. I also bought myself my dream car that I never shut up about in high school, so I know I would definitely be freaking out over that!
HC: When did the idea of creating the shop occur to you, and when did you officially launch?
GH: I officially launched my shop at the beginning of June 2020! I honestly started my shop with no intention of doing well, as weird as that might sound. I used it as an incentive to get back into illustration and design. In my head, I thought posting things to Instagram and Etsy would hold me accountable for actually getting back into the "art game." I thought I would maybe sell a sticker here and there, but boom! A somewhat rash decision ended up being one of the best ones I've ever made.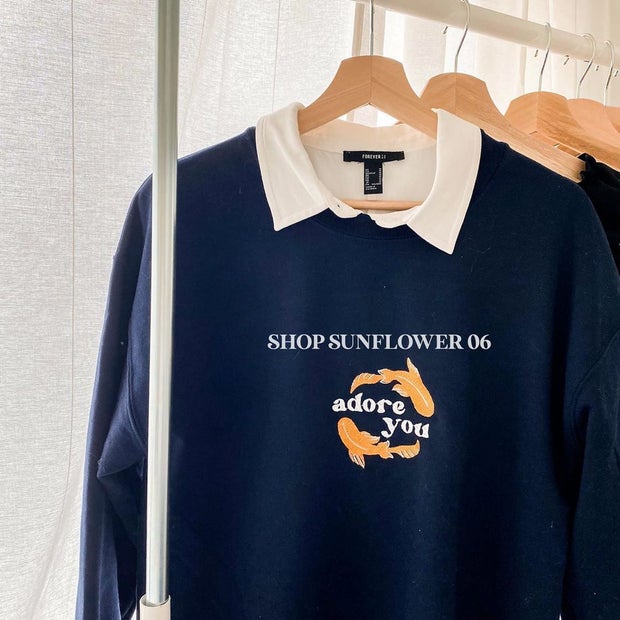 Photo by Gabby Hubbell
HC: What was the first product you launched?
GH: My first products were actually stickers! I piggybacked off the "Watermelon Sugar" music video release and released a set of stickers inspired by the song and video. Looking back at them makes me a little nostalgic; I had no idea what was to come.
HC: Do you think that TikTok and other social media platforms have helped your business prosper? 
GH: Before I started pursuing my business full-time, I actually worked in social media and marketing. So, when my hobby started becoming monetizable, I realized that I needed to apply legitimate social media strategies to my socials to turn it into a full-blown business. I actually used Instagram primarily starting out! I didn't start out with a following, so it took a lot of work and consistency on my end to grow my name. I've tried to get TikTok to work for me, but I haven't noticed that it's helped me too much in the long run. I'm still going to keep trying to make it work for me, though!
HC: What is your favorite product that you have in the shop?
GH: Definitely the "We'll be Alright" crews! I also love the "Styles Farms" and "Beachwood Cafe" crews since they're more of a subtle nod to Harry.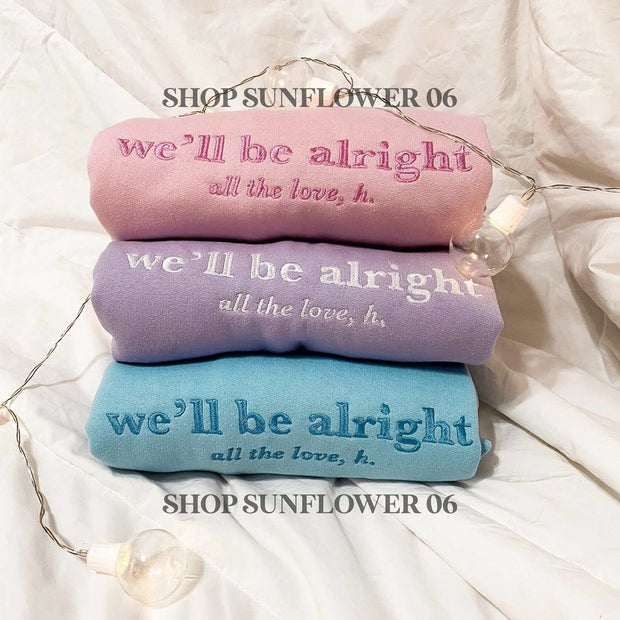 Photo by Gabby Hubbell
HC: What does your creative process usually look like? How do you come up with and create new products?
GH: My creative process is a mess! Even when I was doing art competitively in high school, most of my best pieces were absolute sh*t shows until the final brush stroke. Ideas usually come to me at the most inconvenient times, and I've definitely had to pull over while driving to write something down! From there, I take the rough idea and sketch out an initial mockup with different colorways and text arrangements to see what works best. (This is usually the most challenging part for me since I'm so indecisive!) After I decide on a color palette and shirt color, I go in and make the final sketch and once I feel like what I've designed is unique to me and my brand, I import the sketch into Photoshop to clean up the design. Then I send it over to my digitizing software!
HC: Does anyone else help you operate your shop?
GH: In the beginning, it was just me, but now my mom helps me keep track of ordering crews and also helps with the packaging! Once I'm out of school, I think I'll be able to take those aspects of the business back into my hands, but for now, I'm so incredibly grateful that she's willing to take the time out of her day to help me!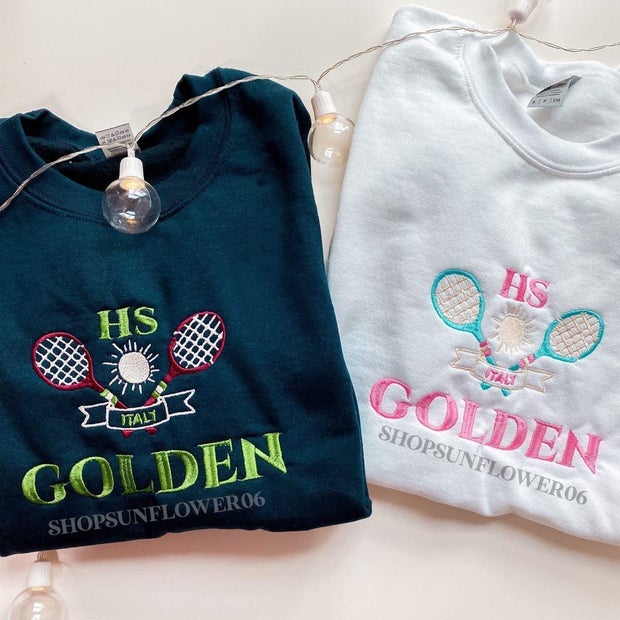 Photo by Gabby Hubbell
HC: Do you see yourself operating the shop for years to come?
GH: Your guess is as great as mine! To be completely candid, I've had so many mental breakdowns about this because the business popped up so quickly. I'm a senior in college, so it's weird hearing my peers talk about their newfound and stable careers while I'm genuinely unsure of how long mine might last. Part of me wants to push this to be a part-time position where I still have a full-time job, and part of me wants to just say f*ck it and try to run my shop full-time to see what happens! I do know one thing, and that is that I do want to work in the entertainment industry. I can see myself working for musicians by designing their merchandise or working on their PR team on the marketing side of things. 
HC: Your shop is mostly Harry Styles centered, but do you ever see yourself branching out to other artists who were not members of One Direction?
GH: For sure! Funny enough, Harry Styles isn't actually my favorite musician, even though I love him and his music. I definitely want to branch out to design products for other artists! I'm obsessed with classic rock, so I really want to put out collections for Queen, Elton John, Pink Floyd, Bowie, The Rolling Stones, Led Zeppelin and more! I know that they're probably going to sell pretty poorly compared to the Harry merch based on the audience demographic, but to be honest, I don't care! I think there's a lack of cute classic rock merch, and I'm going to fill that void, even if it's just for myself!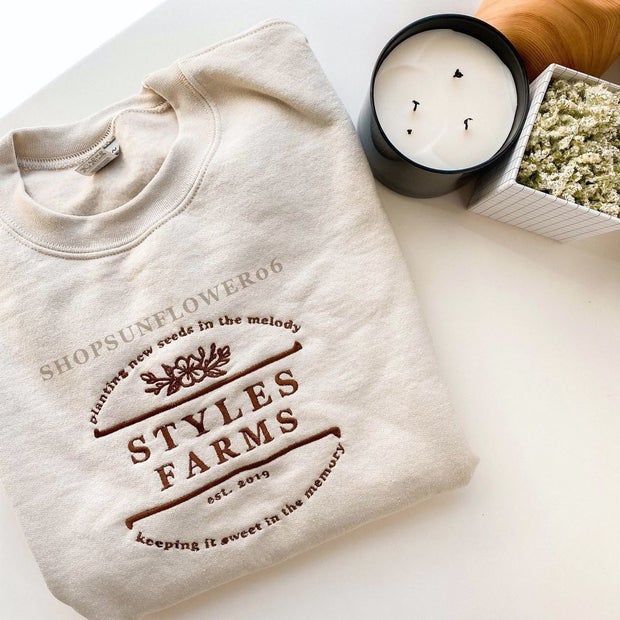 Photo by Gabby Hubbell
HC: What advice would you give to someone considering opening a merch shop on Etsy?
GH: If you're even thinking about it, just do it! But I wouldn't recommend going into the business solely to make money. Go into it because you're passionate about it! If you're passionate about what you're creating, that passion will shine through, others will definitely see it and they'll want to follow you on your journey! Running your own business is so rewarding, and I've learned so many life lessons from this experience that I would have never learned working in a traditional nine-to-five job!
HC: Now for the fun questions! Harry Styles or Fine Line, "Medicine" or "Anna" and favorite song off of Harry Styles?
GH: Fine Line, "Medicine" and that is such a hard one! It honestly flips between "Only Angel" and "Meet Me in the Hallway."
HC: Favorite song off of Fine Line?
GH: "Fine Line," because that song got me through some tough sh*t!
HC: Were you a "Directioner?" If so, was Harry always your favorite?
GH: I was, but I didn't tell anyone! I was bullied in middle school as it was, so I definitely didn't want to make the bullying worse! Harry has been my ride or die since day one. 
HC: What is your favorite Harry Styles quote?
GH: "If you're happy doing what you're doing, nobody can tell you you're not successful."
HC: Have you ever seen Harry Styles in concert?
GH: Yes! Sacramento 2018, I swear to God my soul left my body that night. 
Want to see more HCFSU? Be sure to like us on Facebook and follow us on Instagram, Twitter, TikTok, Youtube and Pinterest!