Why "FSU Homecoming Live!" Is A Big Deal
This article was edited on March 22, 2021 to include an update from Florida State University. Please scroll to the bottom of the article to read the latest addition. 
FSU Homecoming is a week full of events meant to cultivate school spirit and long-lasting memories. These events range from Homecoming Court nominations to a parade, but the most popular event is the pep rally. The tradition of holding a pep rally stretches back to 1965 when the performing headline comedian was Peter, Paul and Mary. In 1965, education on indigenous culture and caricatures was scarce. Unfortunately, the education on the indigenous Seminoles at Florida State was and still is rare. Perhaps this is why the pep rally was named PowWow until 2021. 
On Jan. 29, FSU Homecoming announced on their website and various social media platforms, including their Facebook, that this April's pep rally was to be called 'Homecoming Live!' It is still planned to host several student performers, a Spear-It Talent Show, Comedians, Fireworks and more. The name change was previously unannounced and came as a pleasant surprise to many students, but not to Progress FSU's Activism Seminole History and Awareness SubCommittee Point Person, Sneha Kapil, "I think the name change has been a long time coming. I had been anticipating it for a while now as many students have been voicing their concerns and seeing it finally come to fruition was great."
Using PowWow as a title for the pep rally was harmful to indigenous cultures. Even the word itself is a white-washed and anglicized version of the word "Pauau" and "Pau Wau" from the Narragansett and Lenape languages of the Algonquian tribe located in the Great Lakes area and the Lenape Delaware tribe. The term PowWow became popular with interested white settlers and was quickly stereotyped to all Native American tribes. In the late 1800s, the US Government focused on assimilation. For many Native American tribes, it was illegal to wear their hair traditionally, it was illegal to speak in their native language, and it was illegal to dance or sing. Modern PowWows are used to remember the culture that was almost lost.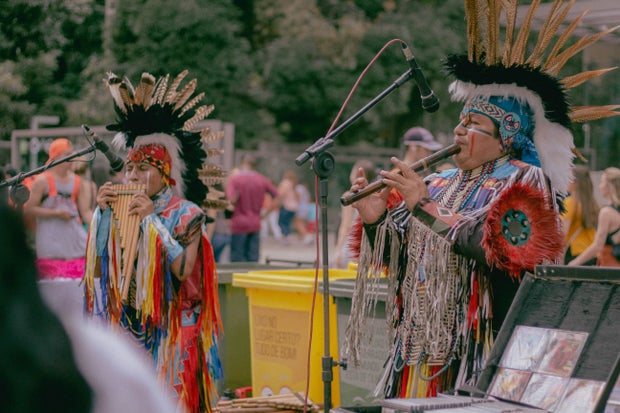 Gabriela Custódio da Silva
Although not every Native American tribe celebrates or meets with PowWows the Seminole Tribe of Florida does. The Seminole Tribal Fair and Pow Wow meet annually to remember their culture, their history and their bravery as the only Native American tribe to have not signed a peace treaty. They dance and they sing and they teach their traditions to new generations. It is a beautiful festival that does not correlate with the celebratory events that occur at FSU Homecoming's pep rally. 
Vanessa Ramos, an indigenous student senator in the College of Social Sciences and Public Policy shared her response to this groundbreaking name change, "I wish this would have been a more public thing. I feel like we still need to educate the students here on why PowWow was a negative name and why it needed to be changed. Ultimately, I am very pleased because I always felt we could have celebrated Homecoming without the reference of indigenous Seminole culture especially because PowWow was not honoring or showcasing indigenous culture, to begin with. The name change makes me happy because I feel it is more appropriate for what the school does in terms of celebrating. I also feel very heard and valued because I feel like indigenous students feel as if their voices will not matter since the whole institution here at Florida State uses indigenous culture to their advantage."
There has been no clarification or confirmation that the term Homecoming Live will stick after the event in April 2021. The title PowWow is still used in various places on the Homecoming website and on the (@fsuhomecoming) Instagram highlight reels. Positive student response to the shift from PowWow to Homecoming Live! will likely encourage the student-led Executive Council of FSU Homecoming to make this as permanent a change as possible.
The following information was added on March 22, 2021, after the initial article was published. 
As of March 17, the FSU Homecoming team released a statement regarding the name change of the Pep Rally. This statement announced the name change to 'Homecoming Live!' is official and here to stay. 
The statement acknowledged that the usage of the term, 'PowWow', was disrespectful as it disregarded the cultural and historical significance of the word's original meaning. 
For more information: http://homecoming.fsu.edu/news/homecoming-live
Want to see more HCFSU? Be sure to like us on Facebook and follow us on Instagram, Twitter, TikTok, Youtube and Pinterest!