What You Need To Know About Biden's Press Secretary Jen Psaki
With Joe Biden's inauguration, the United States of America welcomes one of the most diverse and female-driven administrations the country has ever seen. One of the most notable firsts in diversity for this administration is the all-female senior communications team, including Press Secretary Jen Psaki. The Press Secretary is one of the most influential figures in the White House as they are the ones to communicate directly to the press on behalf of the President daily. During the Trump Administration, many people were hired and fired in this role, so many eyes are on Psaki. Here is what you should know about Jen Psaki. 
Early Life
Jen Psaki is from Stamford, Connecticut, and graduated from the College of William & Mary with degrees in Sociology and English. Most of Psaki's career over the past two decades has been all about politics. In an interview with Elle, she uncovered some details about her childhood and past career aspirations. Psaki had her first job in high school, where she was a lifeguard and gave children swimming lessons. She cited that job as giving her an introduction to communication and the importance of trusting a person in a position of power, which is extremely applicable to the White House. She also mentioned watching 20/20 as a child and wanting to be like Barbara Walters. 
Outside of the White House
Beyond her role as Press Secretary, she is also a mother of two children and is married to her husband, Gregory Mecher. He is also in the political realm as a deputy finance director for the Democratic Congressional Campaign Committee. She holds her children very near to her heart. She has said multiple times, including in the previously mentioned Elle article, that Biden emphasized the importance of keeping family as a top priority when interviewing with him. She is also very proud of being a working mother and the history she is making in this position as the second Democratic woman to be Press Secretary and with her historical communications team standing by her side. 
Joe Biden is not the first President Jen Psaki has worked for; in fact, Biden is her second and third presidential campaign! In 2004, she worked for John Kerry as the deputy press secretary. She then worked for the Obama Administration during both terms as the traveling press secretary, and during his second term, she continued this role and was also a senior advisor. While not in the White House during Trump's term, she continued in her communication-related role as a Vice President for Communications and Strategy at the Carnegie Endowment for International Peace and actively contributed to CNN's programming. 
The Biden Administration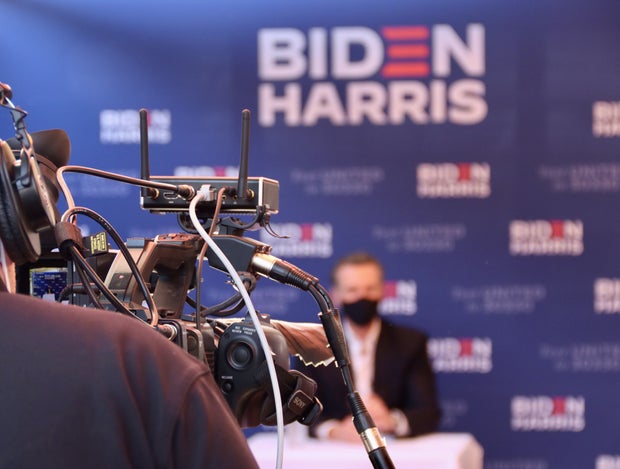 Photo by Manny Becerra from Unsplash As the acting Press Secretary for the Biden-Harris Administration, Psaki is responsible for gathering information regarding the administration's actions to release those details to the press, who then disseminate it to the public. She does this through the form of daily press conferences, which she began on Biden's first day, inauguration day. If you're interested in seeing Jen Psaki in action, you can click here for her archived press briefings that are updated by the White House daily. She and Biden agree on many foreign and domestic issues, so America will see how her influence impacts the White House and how her political communications career is progressing from this role and beyond! 
Want to see more HCFSU? Be sure to like us on Facebook and follow us on Instagram, Twitter, TikTok, Youtube and Pinterest!