What is John Krasinski's Show, Some Good News?
Media and news outlets everywhere have been completely saturated with news on coronavirus for weeks upon weeks, with seemingly no end in sight. Many people, John Krasinski included, have noticed this dreary theme in the news, but he decided to do something about it. If you aren't sure who Krasinski is, you may recognize him from his role as Jim Halpert in The Office, or his roles in Jack Ryan or A Quiet Place. His most recent role, however, and perhaps more important considering the circumstances, is as producer and host of his YouTube show Some Good News. His children painted the iconic logo now used to promote the show on multiple social media platforms, and according to TV Insider, he uploads a video every week telling positive, uplifting and heartwarming stories from around the globe.
In the first episode of SGN, he talks about the positive stories happening amid COVID-19 about COVID-19. He speaks on the drive-by birthday parties, crowds of people cheering on hospital workers from parking lots and balconies, how couples are celebrating love while social distancing and the kindness of strangers to each other throughout the world. In the later segment of his show, he gets on a call with Steve Carell (Michael Scott of The Office) where they discuss good times from the show and give viewers some behind-the-scenes information. The first episode has over 16 million views on YouTube alone and the whole brand quickly went viral. Since the first episode, Some Good News gained not only its own YouTube channel, which already has almost two million subscribers but also a Twitter with over 100,000 followers and an Instagram with almost 450,000 followers.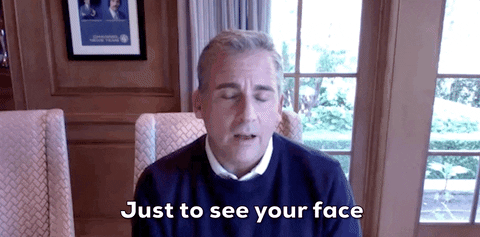 Some Good News on Giphy
The second official episode of Some Good News aired on YouTube on April 5 and has over 11 million views. John Krasinski shows people all over the world, from massive corporations turning sports gear into protective clothing to individuals spending hours sewing masks to give back to health care professionals in desperate need of supplies. He also highlighted more drive-by parades, including teachers driving by their students' homes to keep their school spirit alive, as well as giving shout outs to parents everywhere doing their best to homeschool their children. Krasinski outdid himself at the end of the episode, when he got on a Zoom call with nine-year-old Aubrey, a fan of not only his show but also of the musical Hamilton, which she was supposed to see live but was unable to due to coronavirus. To cheer her up, John Krasinski got the cast of Hamilton to join their call and sing her a song from the musical.
The third and most recent episode of SGN aired on April 12. In it, Krasinski highlights health care workers celebrating patients everywhere who are being released from the ICU and slowly but surely recovering from COVID-19. He also shows viewers some of the funny and inspiring things people are doing while in isolation to stay positive and stay a community. He also has a "sports" segment, showing people's (and pet's) athletic achievements at home. To end the episode, Krasinski decided to give back to his hometown healthcare heroes in the COVID unit who were missing sports as much as the rest of the world by surprising them with a video call with him and former Red Sox player, David Ortiz.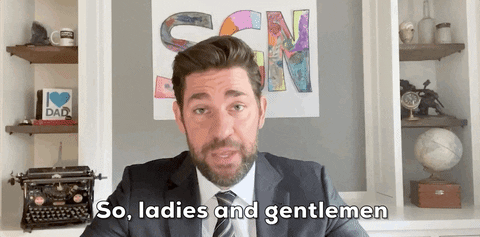 Some Good News on Giphy
To see more of what John Krasinski is doing to cheer up the world, check out the Some Good News YouTube channel to watch the full episodes, or SGN's Twitter to join the conversation and the good news. Stay safe, stay positive and if you get the chance, thank John Krasinski for showing us the light in all the dark.
Want to see more HCFSU? Be sure to like us on Facebook and follow us on Instagram, Twitter and Pinterest!