What It's Like To Blow up on TikTok With Sophia Madden
This week I sat down with my dear friend Sophia Madden to talk more about her experience with TikTok. The 21-year-old is an aspiring influencer from Palm Beach, Florida that just happened to blow up on the app. Sophia has 112,000 followers and is still growing. In this exclusive interview, she provides us some insight into what it is like to be a TikTok influencer and where she plans to go from here.
Her Campus: When did you and what made you want to join TikTok?
Sophia Madden: I have actually been doing TikTok since the app was called Musical.ly. I started making videos the summer of my freshman year of high school. I actually started getting bullied for making these videos which made me stop making them for around a year. After that break, I decided that I didn't care about others' opinions. This is something that keeps me going and is a hobby for me. I've never looked back since then.
HC: What were your fears when you first started posting TikToks?
SM: Honestly, being judged was a huge fear. People are so mean nowadays and I feel like they always have been. There is definitely more pressure now to having a following on social media. I don't want to be judged but I also want to put out content that people actually like. You kind of have to have the mindset that people may not like you but it shouldn't matter.
HC: What kind of TikToks do you enjoy making?
SM: I make a lot of dancing videos. A lot of my videos are outside by my pool because I literally live in a bathing suit. I also do some beauty and fitness videos. I would love to get more into the fashion side of TikTok.
HC: How do you think the pandemic has changed the app and the growth of your account?
SM: I feel like when COVID hit, the app definitely got a boost. We went into a lockdown therefore a lot more people were spending time at home. The app's engagement was at an all-time high because there was not much to do during this time at home. I feel like it has affected my account positively. I have gained a lot of supporters during this time period. Making videos has also become a source of happiness for me during the pandemic. All positive things!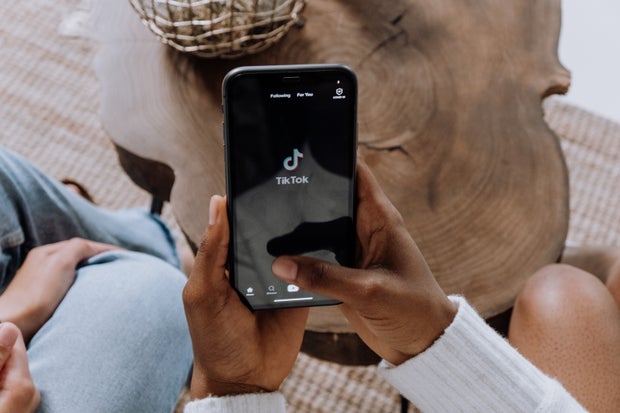 Photo by cottonbro from Pexels
HC: How do you find inspiration for your videos?
SM: I follow a lot of people on TikTok that do a lot of the same things that I do. This includes dance, lifestyle, fashion and beauty. I get a lot of inspiration from them. I also recently have become a "Pinterest queen" so a lot of inspiration for beauty and fashion comes from there.
HC: What has been your favorite brand to work with?
SM: There is a specific brand that I have been obsessed with for the longest time. I have always been so scared to self-tan. I have tried drugstore products but none of them stuck. I grew up watching beauty and lifestyle influencers like Alisha Marie, Remi Ashten and Sierra Furtado. They have all worked with this brand called Loving Tan. Their whole team is very supportive and is the sweetest people to work with. They are the type of brand to consider your opinions and be considerate of your time. Time extensions for posts are never a hassle to ask for. They have 100 percent been my favorite brand to work with.
HC: Do you think your followers respond well to your sponsored posts?
SM: This is both a yes and a no. If I don't like a product or brand I won't take the deal. I have some followers that respond well and will congratulate me on my endeavors. Obviously, there are always a few that will respond negatively but overall I get great responses.
HC: How can people turn their TikToks into a job?
SM: A lot of people start it to turn it into a job. This is similar to many other social media platforms. Consistency is key. The more consistent you are in pushing your content, the more your name will get out there. Being passionate about your content is also important. Usually, your followers can tell where your passions truly lie, therefore they will be quick to spot if you are doing something for financial gain.
HC: What are your long-term goals as an influencer?
SM: I've always had the dream of moving out to L.A. That is a huge long-term goal of mine. I would love to move out there to work with more brands and connect with other people that are in the same digital space as me. I would love to make more friends that will encourage me to continue to make videos. Another one of my goals is to make people happy. If I can do this and be an influencer simultaneously, I will feel accomplished.
HC: Where do you see yourself in 10 years?
SM: In 10 years I'll be 31! I'm constantly thinking about my future and where I'll be. I honestly don't have a definite answer. I just want to be happy and successful. I've always looked up to Aspyn Ovard and her family's YouTube channel. I love the idea of everything being documented one day to show my kids. I would love to have a family one day and hopefully stay in the social media world in some capacity. My number one goal has been to be financially stable. I never want to depend on anyone. I just want to be happy and loving life.
With Sophia's numbers constantly growing and TikTok's unpredictable algorithm, who knows where the app will take her in the future. Check out her TikTok and Instagram here.
Want to see more HCFSU? Be sure to like us on Facebook and follow us on Instagram, Twitter, TikTok, Youtube and Pinterest!